W700 Thermogenic Review – Is W700 Thermogenic Safe for You?
Ideally a thermogenic should work well, just not so much that it creates hard to cope with circumstances. Over stimulation can possible push you into a series of side effects, not enough added and no good reason for supplementation arises. Assuming that reading a label will provide all the key details is not a proper way of choosing a supplement. Much more needs to be unleashed for a good decision. A fully exposed understanding is needed to properly form not just an opinion, but a strong showcase of possible outcomes.
Since every human body has different expressions to a thermogenic it is key to fully know every little detail. So to rely on strictly the supposed results is not strong enough to make a product really stand out. Getting the bare essentials without any fluff or extra baggage should be number one. Luckily this outline has just that, the information needed for a proper assessment.
Supplementation should be done proper with a guide to help you understand. All laid out are the customer opinions, examination of company practices, mix of ingredients and everything else needed.
What is it?
Created to help burn fat for those in athletics and for exercise trainers, this weight loss supplement intends to give what it deems professional level results.  However they also add if one is looking to get into shape that this product will prove effective. They claim that unlike other products which claim to work, that this actually works. A bit of a confusing explanation for showing it works but it is their words not mine. There is a clear and highlighted warning featured on the label that this product is very effective and that only healthy adults should consume it. This is highlighted with a silver plaque and big bold words sorrounding the front. It is unclear what the W700 part means in the brands name but it states this with a bold red background that makes the bottle really pop.
Looking at the product it appears they have rung up quite a lot of reviews on Amazon.com. They currently house over 10,000 reviews on their products which is one of the most available reviews I've ever seen on this specific website. More details about the quality of reviews is uncovered in the "Does W700 Thermogenic work?" portion. Since they add they sell the number one selling weight loss products on Amazon it requires a full breakdown as this claim is quite lofty if it is true.
Another aspect of this brand is that the ingredients have been formulated with a scientific process which is intended to increase metabolism. Of course saying it is intended to do this is kind of a meaningless statement. It implies that it will not necessarily accomplish this but that it is created with the hope that it will produce results. Still since it exists to make weight loss occur, it deserves a full review.
Who makes it?
Ubervita offers plenty of supplements for all types of purposes from testosterone boosters to of course weight loss brands.  The offer emails and a 24/7 phone line in order to provide answers to any and all questions.
Looking at their many reviews on Amazon it appears the company has a lot of popularity. Well this has been suggested to be a form of alleged review tampering that the company has been alleged to follow. Apparently they offer a free bottle for people who leave reviews, the company has spoken about this very practice. According to them they do offer free bottles but for even low ranking reviews. Also it is known that the company asks people to post reviews after sampling their products. Though it cannot be confirmed to be true it does raise a potential red flag.
The company does produce their supplements in a GMP certified facility which ensures a quality manufacturing process was made to handle the product. Also they are made in the USA, which of course is mandatory for GMP facilities since they are FDA approved.
Does W700 Thermogenic work?
Well this is where there is a lot of issue. First off the official website for the company does not have any testimonials, reviews, or form of evidence in any form. They allow the online customer reviews on Amazon.com to do all the heavy lifting.
Looking at these reviews it remains highly suspect seeing as how the company gives out free bottles which may promote a more favorable review.  Over 2,000 reviews left have been in the negative, this is of course an incredibly high amount that must be dressed. If a product has this many people who are displeased and without results, then it calls into account whether it truly is a universal product intended for weight loss.
Suitable options that have been highly ranked are now available for an easy purchase.
W700 Thermogenic Ingredients and Dosage
The most noticeable aspect is that all the ingredients have been mixed into a blend. Of course since caffeine is inside it makes it hard to accurately track dosing. Caffeine of course is often added to produce a thermogenic or metabolism increase. However the effects can be overwhelming to many. Guarana also is another stimulant with the same potential effects.
Scizandra is added to increase energy levels as well as beta aline.
A few other thermogenic ingredients are found here in capsicum, green coffee, raspberry ketones, and garcinia cambogia.  Green coffee is bean is the only one without much proven benefit, and of course the rest really depend on how much you are taking in. The proprietary blend does not allow for the knowledge of intake strength.
Due to the mixture of stimulants it is highly recommended to seek a physicians advice. One capsule twice a day are recommended with a meal and water. Also it should not be consumed too close to ones natural sleep time. What is not clear however is the recommendation for it to be consumed by healthy adults only. Maybe that is when a physician is supposed to step in but what exactly are they looking at? Without displaying the full amounts of each ingredient is remains impossible to know what is needed in a persons diet.
A quick display of W700 Thermogenic and its proprietary blend are represented in full: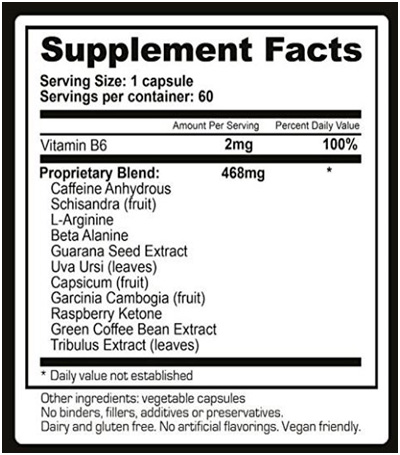 Are there possible side effects?
Yes quite a few side effects are possible and in fact many customer's have added their own. Some of the most common include irritability, mood swings, dehydration, constipation, diarrhea, headaches, increased heart rate, anxiety, paranoia, jitters and difficulty concentrating. All of this can be attributed to a high amount of caffeine, however the other ingredients may also play a role.
The broad recommendation to take this product only if healthy is a bit hard to understand. What exactly denotes healthy has not been explained and it needs to be in order for people to track their own progress. Due to the lack of understanding of each ingredients strength it is also impossible to know what the culprit is if a side effect were to occur.
A cocktail of stimulants added here greatly increase the risk of hard to deal with symptoms and difficulty in keeping a steady heart rate. Often stimulants of this kind are intended to be taken only for a short period.
Avoiding stimulants and their inherent issues is now a possible outcome when you supplement with these proper products.
Conclusion
There's no doubt by looking at the front end of this supplement that there is a lot of impressive qualities. First off it is said to be for professionals and it mentions only healthy people should try it. So it implies it works at a heavy rate and that it means can expect some changes. However when reading the ingredient list it becomes difficult to really know what can be expected. Sure there are a lot of ingredients which can work, but no details are given why this specific brand is better than others. Many of the common stimulants here can be sourced from other more beneficial sources such as natural foods. For example caffeine can be found in many places and the stimulant effects from capsicum can be taken from chili. The amino acids here are also already present in many common foods. The other ingredients still aren't of a known quality so it limits the knowledge available.
The product is a niche supplement intended only for extreme types with a high stimulant threshold. The multiple accounts of the negatives some have seen shows this case. What is not a good sign however is how stimulants here are added into a blend of unknown individual strength. Any supplement even ones without stimulants would do best to reveal their strengths. With no way to ensure one is receiving a specific amount it makes it hard to trust.  Also the effects that come from a stimulant are not long lasting and they can be troublesome and loaded with side effects for some.
Without knowing if the positive reviews are true and with a lack of understanding for the exact amount of stimulants, the uncertainty factor is far too high.
Making the switch to a highly ranked product ensures you get all the details required to make the decision right for your body.
Buy W700 Thermogenic
Top 10 Diet Pills of 2023
Top 10 Diet Shakes of 2023