Vintage Burn Review – Is Vintage Burn Safe?
Sometimes brands will appear seemingly of nowhere that cause a big stir. Often they will fall from sight suddenly only to be replaced by the next giant thing. It is often the case especially with products with caffeine, since there is initial confusion of exactly the mechanism behind it. See plenty exists on caffeine and there is no doubt it has an effect. The question is how long lasting is it and what can one expect to benefit from it?
Looking at just a level of caffeine is not sufficient as it could be substituted with tea or plain coffee. So what is necessary is then a focus on not just one particular ingredient but the sorrounding formula. Vintage Burn has more than just caffeine, but what is the overall result? This outline has this plus many more questions filtered for you to examine with a clear head.
Establishing for yourself what is needed can be an easy process right here. All the key details are mapped, and all the hype is thrown aside with only the most juicy parts remaining.
What is it?
This fat burner has been created to provide not just a drop in fat, but it is meant to sustain muscle. According to the makers this is not often seen in supplements that often neglect the staying power of muscle. They gladly market this product as being the world's only fat reducer that keeps muscle intact. So not only does it preserve muscle but muscle in turn burns more calories than fat alone, so it adds another element in weight loss. Another benefit intended to help out is the ability for this product to increase the rate of energy and even improve mood.  All of this is said to come in a sleek bottle with vegetarian capsules. One note about this product is that it is manufactured in the US with a GMP certification to ensure a control on the overall quality and manufacturing. On the label itself there is a picture of a stoic mustached man. As of now it appears the only way to receive this product is through Amazon.com, of which there are several reviews listed.
Although it appears to be a masculine product they add that it is not only intended for bodybuilding types. Men and women looking to retain their lean muscle mass are also intended customers. What makes this product interesting is that they add it does not produce any unwanted side effects such as a crash or jitteriness. The claim added here is that all the ingredients are safe and natural while still able to optimize overall results. So far it appears the front end is good, but still much more knowledge is needed in order to make a well educated decision.
Naturally the pitch here is intriguing as they promise something I've never seen yet in a weight loss supplement. So here is a proper guide around this product.
Who makes it?
The products are adorned with the company label of Old School Labs, but it is really operated by the company COSIDLA Inc. which operates out of the state of California.
All that is known about the company is that they have been in business since 2023. Other than that there isn't much knowledge about their practices at all.  They do have sponsorship deals with a physical trainer, a former bodybuilder and former truck racer. All of them claim to have seen results with these series of supplements.
Many of the products offered here are intended to provide support for bodybuilders, but they do add regular people can take it as well. Some of their offerings include muscle builders, pre workouts, multivitamins, and a testosterone booster. Still without knowing about their business dealings it should be forewarned to cautiously approach until further information exists.
Does Vintage Burn work?
One issue that cannot be avoided is that any and all support for this product can be accounted on the addition of their caffeine. Of course some of the effects felt by people such as an increase of energy can be attributed to caffeine only. Also there are some reports on Amazon.com that state people lost weight, while 102 people mentioned no effect. So clearly there is a dividing line which is often seen with supplements like these. It still remains to be seen whether or not caffeine did all the work. The answer to this is important as it may cancel out the products use.
Unfortunately the manufacturers do not provide any resources to ensure that it has been tested on people in real trials.
More proven ingredients can be found elsewhere which are well rounded enough to provide help in weight reduction.
Vintage Burn Ingredients and Dosage
One good aspect showcased here is that each ingredient has an explanation as to its intended use.
Chrysin for example is intended to help preserve muscle by limiting the growth of estrogen. However no studies have confirmed this stated purpose.
There have been studies on the use of forskohlii for asthma and bacopa leaf for memory, but not for the intended purpose of what the manufacturers claim. Green tea leaf has been studied for its role in antioxidant function and the caffeine content can also increase the thermogenic rate in the body. But this can be purchased for much cheaper elsewhere.
Finally green coffee bean is added to increase metabolism alongside raspberry ketones and garcinia cambogia. Ketones and garcinia may possible have an effect while green coffee bean still has lacking information for its use in helping stave off weight.
Due to the caffeine found here it is recommended to slowly introduce it and to consume only twice a day in order to avoid any of the side effects. Of course they also add that diet and exercise would be beneficial and of course to see the input of a medical professional. An up to 2 week break is recommended with every 2 months of use. Cycling is what it is often refereed to when one takes a product only for a short period as to avoid any harmful or reduced effects. Staying true to their approach towards providing bodybuilding products, cycling is most commonly for illegal steroids.
Represented here is the detailed information on Vintage Burn: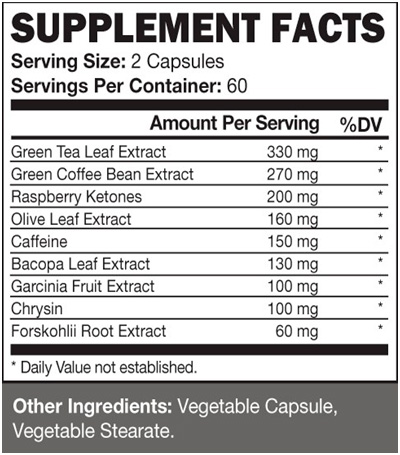 Are there possible side effects?
Luckily the makers add some of the potential side effects here. They include rapid heartbeat, irritability, insomnia, restlessness and nervousness.   It's not often a manufacturer will add the truth and really let people know of the harmful potentials that have been recorded. Any and all changes should be closely monitored and checked in order to avoid what has been seen in some. Also to those with caffeine sensitivities, this will greatly increase the potential side effects to an even greater degree, so consideration must be applied.
Other customers add that the product was harsh even at the low recommended dose.  This came from people who were already used to caffeine but apparently this product was too much for certain people.
Non caffeinated supplements exist without any of the concerns found in caffeine.
Conclusion
There is definitely a lot of open faced information allowed here by the company. They add how only certain people should supplement with this product, and of course to watch out for any warning signs. While the company profile is fairly hidden and it can be only purchased thru one online retailer, they still did have a lot of information to give. It is rare for a company promoting a stimulant to be so honest about their dealings. However one cannot overlook the potential pitfalls and not see why Vintage Burn may prove too extreme for many.
The caffeine inside is something that cannot be avoided. Since they add a warning label of potential side effects it is clear that some may face this issue. Slow gradual supplementation is recommended and since it is heavily reliant on this ingredient, it still lacks information as to why one couldn't simply take in extra caffeine. It's hard to know what the intention is behind the product when some of the ingredients have not been studied to work. So this leaves us with many reviews from customers who note that with diet and exercise the product does have an effect. Well the boost of energy can be attributed to caffeine, and the increase of physical exertion can also be linked to caffeine. So as far as weight loss goes it then depends on a lot of factors.
For example this product intends to keep muscle mass, this is something that can be achieved through exercise which is recommended. Their added ingredient for retaining muscle has not been proven. So all we have left is the ability to reduce weight. Well if one gets any form of caffeine there will be a thermogenic effect which will burn off calories. So far the expectation is fairly low and can be linked to only one cheap ingredient.
Taking all this information into consideration there still needs to be a lot more presented here in order to make it stand out as something that isn't just a caffeine surge.
Taking advantage of the top notch products will simplify the process of finding the right brand for you.
Buy Vintage Burn
Top 10 Diet Pills of 2023
Top 10 Diet Shakes of 2023