Thermoxin Review – How Safe and Effective is it?
I've reviewed a lot of diet pills, and all generally have the same points that they enjoy illustrating to people. What these companies seem to downplay, is that most of the time, there is still a disclaimer at the bottom of the screen, saying that the Food and Drug Administration (FDA) has not evaluated any of the statements that this product gasconades. Eye catching colors on their website, sexy models and exciting word usage go a long way to convincing people to buy a product. And as I have seen for the most part, it works.
What is it?
Having its name featured in all capital letters, Thermoxin storms into the market, asserting like many other products, that it is the weight loss product that will trump any and all of it's competition. Knowing that weight loss requires the attention of multiple different facets, this product declares that it will trigger thermogenesis, smolder fat off of the body while maintaining muscle, step up energy levels, and elevate the metabolic rate. With a website featuring fitness models who stare at the viewer intensely, it's as if there is a subtle urge that is supposed to get the viewer to buy the product. Which I think, wouldn't be very far from the truth.
While the official website for Thermoxin does feature different sections that users may click on, each page is surprisingly sparse on information. Instead there are a lot of eye catching visuals that draw any potential viewer in, but at the same time I can't help but feel that this is all filler.
So is this product really as superb as it attempts to market itself as? Or is it really subpar, being nothing more than a confident image? Find out in the article below.
Who makes it?
I-Force is the Vista, California based company that is responsible for bringing Thermoxin into existence. In addition to weight loss, the company focuses its energies around the fitness world, and as such also produces products that are meant to enhance the general workout experience, be it before, during or after the physical exertion has taken place. The company also produces testosterone supplements, as well as samples for people who are curious about buying their products, but not sure if they want to make a complete commitment yet.
Like many other companies, I-Force also feature different sections of its website that aren't centered around the products that it sells. Other features include profiles on athletes and articles that are related to fitness and nutrition. What makes their site a little confusing to me, is that not only is there a section that displays their products, but there is also a Store section. The difference between the two is that the Product section just has information on the products, while the store itself is where you actually buy things. Why they decided to split this into two sections when it could have easily have been one, I have no idea.
Does Thermoxin work?
While the advertising copy to this product is incredibly confident, there are a lack of clinical studies provided by the manufacturers that prove that any of the ingredients may in fact have a substantial effect on weight loss. That's not even taking into consideration the product as a whole. Without any of this information it is not easy to surmise that the product does much of anything. That doesn't mean that there is a lack of positive reviews of this product. From what I have read, there are people who have found Thermoxin helpful in reaching their goals. However I feel it is important to note that these reviews were all from people that are already in shape and have exercise ingrained into their daily routine already. There is a void where the voice of the overweight and casual dieters are. Because of this it seems that yes, this product may work, but that's if you are already very deep into the fitness world prior to using Thermoxin.
Top Rated Products are known to support weight loss in people of different body types, not just people who are already athletic.
Thermoxin Ingredients and Dosage
Unlike other diet pills that may feature only a couple ingredients, Thermoxin contains within it four separate proprietary blends that are used in conjunction to get people the results that they are looking for. While it has been labeled that a serving, that consists of two capsules, contains 1.7 grams of Thermoxin, there are no individual measurements of each and every ingredient that is put into this product. Nor is there any daily value that is mentioned either. The contents of the blends are as follows:
The AdrenaPlex contains both acacia rigidula extract and caffeine anhydrous. This is meant to step up not only the metabolic rate but energy levels as well. However acacia rigidula has had a minimal amount of clinical trials performed on it, so it's relevance to weight loss is questionable.
The ThermoPlex contains AMP Citrate and glucuronolactone. While glucuronolactone may be commonly found in energy drinks to intensify physical performance, AMP Citrate is made up of 4-amino 2-methylpentane citrate, which is known to be chemically similar to DMAA, which is known to cause adverse reactions such as seizure and heart attacks.
The RetainPlex is made up of raspberry ketones and lemon verbena extract. While there is some evidence that the latter of the ingredients may support in the alleviation of intestinal issues and a possible healing of damaged muscles during the post workout period, the former ingredient has only been able to show results in weight loss when applied to rat test subjects. Trials on humans have shown inconclusive results.
The MetaPlex consists of green coffee bean extract, olea europaea leaf extract and garcinia cambogia. While there is some chance that cholesterol and blood pressure levels may sink from the olea europaea, none of the three ingredients are known to be in any way beneficial for the goal of weight management.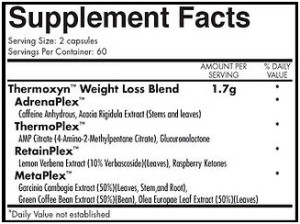 Are there potential side effects?
With the variety of stimulants included in this product, there is definitely a risk of users experiencing adverse reactions to this product. Side effects from stimulants may include palpitations (accelerated heartbeat), anxiety, insomnia, tremors, hypertension (high blood pressure), nausea and headaches. The stimulants within Thermoxin are not all of the same caliber, as some are more powerful than others. One such example is AMP Citrate, which is known to be chemically similar to DMAA, which may raise the blood pressure of it's users to dangerous levels. What's more, is that there weren't any human trials done on this substance to confirm that it's even safe to consume! Acacia rigidula is also known to act as a stimulant, but is comprised of forty different compounds that are active, and it is not known the exact ways that this may adversely react with people. Furthermore, there have been no studies to show how this reacts with people in the long term.
While it isn't known to be a stimulant, garcinia cambogia is not a substance that is free from side effects. Some users have reported experiencing diarrhea, stomach discomfort and headaches after using this substance. Moreover, Thermoxin is not meant to be used for a duration that is longer than twelve weeks. People under the age of eighteen are not advised to use this product. Because of the stimulants present within Thermoxin, it is not recommended to take other caffeine related products while using this concoction.
Top Rated Products contain ingredients that are recognized to be safe, and at worst, only cause mild side effects, if any.
Conclusion
From the lack of clinical trials performed to the lack of ingredient amounts being listed, there is a lot that has me questioning this product. With the variety of stimulants that are concocted into this brew, the range of adverse reactions would be enough to turn away some potential users. That's not mentioning that this product seems to center itself around people who are already in shape. So if you are someone who is overweight and looking to drop pounds because of health related issues and not because you are about to be in some sort of competition, I'd suggest looking into other weight management products.
Top Rated Products include only the most dynamic ingredients within them, and have cost effective price tags as well.
Buy Thermoxin
Top 10 Diet Pills of 2023
Top 10 Diet Shakes of 2023