Thermolift Review – All You Need to Know About This Product.
Years ago the Food and Drug Administration (FDA) saw fit to make ephedra illegal, because it has been associated with a plethora of serious negative side effects. Since then there have been many diet pills that have attempted to find a substitute to ephedra, with some being successful while others are not. Despite the ban on this substance, there are companies out there that still advertise their products to contain ephedra anyway, knowing that there is still a pool of users who would use it regardless. Sometimes these assertions are false, and what is called to be ephedra turns out to be something else instead.
What is it?
Thermolift declares that it is a product that for some reason, acts as if it had never heard of this ban on ephedra before, or maybe it has, but it just doesn't care. This product asserts that it will quash appetite, heighten energy levels, skyrocket the metabolic rate and  enhance the state of mind of it's users. After this short description, the official website then breaks down the different ingredients that comprise this concoction. Left vacant are any customer testimonials from people who were happy to take this product.
If this product actually does contain ephedra, I would be incredibly wary of ingesting this concoction. There is also the possibility that the company is just saying that they have the substance in their blend to make money off the people who believe it is actually there.
So what is the real story behind this product and how it works? Is it even safe to consume? If you are curious to find out the answers to these questions, read the article below.
Who makes it?
The company that is responsible for bringing Thermolift into existence does not see fit to reveal itself in a very outward way, but with some research I was able to ascertain that the company is known as Changes International. The company chooses not talk about itself, and instead what they have is the Thermolift brand name that it hides under, which also sells a plethora of other health related products. The company, which apparently has been in operation for 20 years, provides a customer service number that people may call and an email address where messages may be sent, but there is no other information provided, not even a physical address. I find this concerning, as companies that hide information about themselves usually do so for a reason. In the case of this company, it may be because they openly state that have a product that contains ephedra, that is if it is the real substance. The reasons that they really do this however, I can only make assumptions on.
Furthermore, all the company's official website offers people who view it, are the products that they sell. There is no community page, where users may exchange information and stories with one another, there is no blog that would be filled with health and nutritional articles as I have seen with countless other companies employ. Also I find it strange that the people behind the Thermolift website don't have any social media presence whatsoever, as in today's society having a page on Facebook, Instagram, Twitter or whatever other social media platform has become nothing short of essential. The lack of all these different facets makes the overall brand feel less legitimate, and more as if I was looking at a giant commercial.
Does Thermolift work?
While the product description may sound confident in what this diet pill is able to accomplish, there are no clinical studies that have been provided that show that the ingredients that comprise this product will in any way be beneficial towards weight loss. There are studies that are mentioned, however these are on the individual ingredients, not the product as a whole. The website also fails to mention how regular exercise and a diet that is devoid of excessive amounts of sugars and fats plays into overall weight management either. Both of these facets of weight loss are incredibly important, and to not even so much as use the words "exercise" or "diet" in regards to this make the abilities of this product seem much more unrealistic. Furthermore, the company provides no customer testimonials, despite it declaring that it ranks first in the choice of products that people choose to use when looking to manage their weight better. Even if there was some chance that this product could get people to lose weight, I would advise to still not use it, as the side effects associated with ephedra use are extremely hazardous to health and wellbeing (more on this below.)
Top Rated Products always provide more than just an list of ingredients, but also clinical trials and user testimonials as well.
Thermolift Ingredients and Dosage
13 is known to be a prime number, and it is also the number of ingredients that may be found within Thermolift. The ingredients that comprise Thermolift amount to be a mix of stimulants, blood pressure and blood sugar regulators, as well as ingredients that assist the metabolic rate, give the body nutrients that are essential and that may also be used as a pain relievers. Of all of the ingredients, only two are not included in the brew's proprietary blend. These ingredients include ephedra extract also known as ma huang which comes in at 315 mg, and chromium in the form of chromium polynicotinate, which comes in 200 mcg, which is 100% of the daily recommended value. Chromium is the only ingredient in the entire list that has it's daily value included. As for the proprietary blend, the substances that comprise it are white willow bark, bladderwrack kelp, rehmannia root, guarana seed extract (which has 39 mg of caffeine),  siberian ginseng root, reishi mushroom, bee pollen, astragalus root, gotu kola leaf and ginger root. The amount that this proprietary blend in comes in amounts to 260 mg, yet there is not a single mention of the amounts of the individual ingredients. Users are simply told to take 1-2 capsules a day. There is no mention as to if there is a daily maximum that shouldn't be exceeded, when in the day to take the capsules or if to take them with a water or a meal.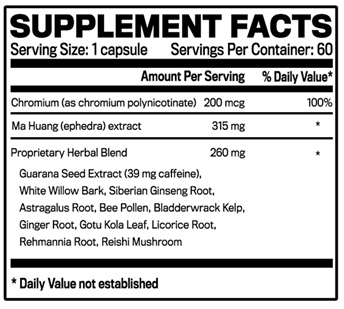 Are there potential side effects?
I find it troubling that despite containing ephedra, the makers of this concoction don't list any adverse reactions that may result from its use, especially considering that the makers of this product don't mention how long Thermolift should be used. Ephedra is known to cause serious adverse reactions, which include vomiting, headaches, palpitations (accelerated heart rate), restlessness, muscle spasms, anxiety, arrhythmia (irregular heartbeat), nausea, cerebrovascular accident (stroke), loss of consciousness, heart attack (myocardial infarction), irritability, dizziness and death. If taken in amounts that are greater than 32 mg (as it comes in this blend) the risk of brain hemorrhages is increased by a multiple of three. People with diabetes may experience circulation problems after ingesting this substance. Individuals with hyperthyroid disorders, hypertension, tumors in the adrenal gland, anxiety, seizures, narrow angle glaucoma and a disorder known as essential tremor will all experience their symptoms becoming exacerbated with ephedra use. In reaction to the kidneys, kidney stones may also be produced after using this substance. Women who are in stages of pregnancy or nursing are advised to stay far away from this substance as well. With the addition of guarana, the likelihood that an adverse reaction to this stimulant is only increased.
Top Rated Products would never contain ingredients that are illegal and that may potentially harm their users in serious ways.
Conclusion
I have found no evidence to support the assertions that Changes International makes about their product being beneficial in regards to weight loss. If it is true that this concoction really does contain ephedra and not just some knockoff substitute, I would strongly advise people to stay away from it, as users would be putting their well being and health at risk. Furthermore, there are no clinical studies provided that show that the product as a whole will aid people in losing weight. With such a lack of information, a company that hides information about itself as well as an ingredient that is known to be dangerous, I would suggest that you look into other diet pills that are known to be safer, and not cost the $60 that this product will take away from you.
Products that have successfully achieved a Top Rated status are known to be affordable, as well as safe for the users who consume them.
Buy Thermolift
Top 10 Diet Pills of 2023
Top 10 Diet Shakes of 2023