Thermo Cuts Review – All You Need to Know About This Product.
Not all diet pills are able to remain for sale on the market. For one reason or another, some of these concoctions are discontinued. Sometimes the reason is because there are found to be unsafe substances that are found in the ingredient lineups. Sometimes these ingredients are mentioned, and other times they are hidden. In other cases, it may simply be the case that the product in question simply did not sell well enough, and it ended up costing the manufacturer too much to keep it's sale going. Whatever the case, these have fallen into the dustpan of weight management products. Such is the case of Thermo Cuts. From all the information that I was able to gather, it is not available for purchase, save if you happen to find it on an auction site such as Ebay, or if you happen to be the lucky buyer who purchases the last of this product that is in stock on Amazon.com. For one reason or another this blend has been destined into obscurity.
Why is this and what was it exactly? Read on to find out.
What is it?
It is a bit difficult to ascertain information regarding Thermo Cuts, as the product itself has largely become discontinued. The company that was known to manufacture it, Optimum Nutrition, no longer features this concoction on their website. In fact, when looking at the catalogs of third party suppliers, it seems as if this product is almost impossible to find. There is a single bottle of Thermo Cuts left on Amazon.com, but past this, it seems as if this product has all but become a phantom.
When Thermo Cuts was available more widely, it was advertised to act as a thermogenic agent (quite obviously), as well as intensify the metabolic rate and annihilate deposits of fat wherever they were on the body. This is in addition to supplying the user with a surge of energy. This last point was because there are multiple ingredients, such as caffeine anhydrous, green tea and guarana that were found within Thermo Cuts. The audience that this was intended for are people who are very fit and athletic. Audiences that were not in the mind of the manufacturers include people who are just looking to casually drop a few pounds from their frames so they can look better in a summer swim suit and obese individuals who need to lose weight because of health related complications that are related to being in an overweight state.
This is important to note, as there are ingredients within this concoction (such as caffeine), which may not be safe for some individuals to consume in high doses (more on this below.)
Who makes it?
Optimum Nutrition is the company that is responsible for manufacturing Thermo Cuts. The company has its consumer affairs department located in Aurora, Illinois. The company is not known to be independent, as it is an owned subsidiary of a larger corporations known as Glanbia, which acknowledges itself to be a powerhouse in the industries of nutritional ingredients and cheese. Established in 1986, the company gasconades that it's products are all of exceptional quality, and that there are unreached levels of innovation that go into all of their creations.
The official website offers more than just a catalog of the different goods that it sells. Also included are a list of the different events that their brand has or will soon attend. Moreover, the website features a list of athletes who are known to represent their brand. These athletes originate from all across the United States. This is much more than other diet pill websites offer, especially ones that are recognized to be nothing but scams. Moreover, Optimum Nutrition understands the importance of social media, and as such has a presence on Facebook, YouTube, Instagram and Tumblr.
Does Thermo Cuts work?
Thermo Cuts was known to contain a lot of caffeine, yet at the same time, having a lot of caffeine doesn't necessarily mean that a product will operate as well as it should. Some of the ingredients were known to be effective towards weight management, while others were not quite as much so. Additionally, the amounts of the majority of the ingredients are not listed, as they are within a proprietary blend. Not only was this excluded, but also were any scientifically driven clinical trials that would have shown that indeed, Thermo Cuts was as robust a product as the creators of it attempted to gasconade it as. In addition to this, there were users who derogated this product, reporting that using this blend did nothing much for them, besides give them adverse reactions (more on this below.)
Top Rated Products don't base themselves off excessive amounts of stimulants, that may result in the people who consume them experiencing side effects.
Thermo Cuts Ingredients and Dosage
When it was available, Thermo Cuts consisted of 14 different ingredients. Of all these ingredients, chromium is the only one not included in the proprietary blend, coming in an amount of 300 mcg, which is 250% of the daily value that is recommended. The rest of the ingredients present in Thermo Cuts were found in the proprietary blend, and the total amount of these substances was 2970 mg. There was no daily recommended value established for these, nor are there any individual amounts listed either. The ingredients included white and purple willow bark extract, green tea, L-carnitine, bioperine, guarana extract, Phase 2  brand white kidney bean extract, garcinia cambogia extract, conjugated linoleic acid, promilin, grapefruit extract, vanadyl sulfate, caffeine anhydrous and NeOpuntia extract. Guarana, green tea and caffeine anhydrous (of course) are all known to be sources of caffeine. Furthermore, this concoction contained grapefruit extract and bioperine, which are known to extend the amount of time that caffeine stays active within the body, which in turn, only exacerbates any adverse effects that may be experienced. In addition to this, substances such as vanadyl sulfate are known to affect the levels that blood sugar reside at, as does promilin. NeOpunita extract is known to prohibit the rate at which fat is absorbed into the body. Not all of the ingredients are known to be efficient in regards to weight loss however. These substances include chromium and white and purple willow bark extract.
Users were instructed when starting to only use 1-2 capsules to assess tolerance. After this had been established, the dosage was increased to 2 capsules of this blend in the morning and repeat this process again at lunch. These were to be taken a half hour to a full hour prior to these meals. It was advised not to exceed 12 capsules in a given day.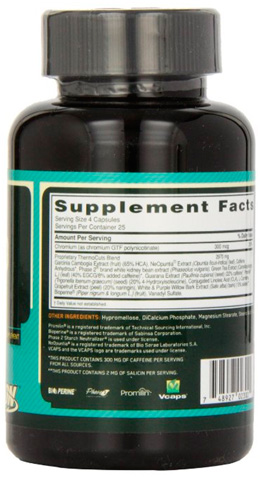 Are there potential side effects?
Because of the high caffeine content that comes from multiple ingredients, there were likely adverse reactions that were experienced from people that used this concoction. Adverse reactions related to caffeine include anxiety, jitters, palpitations (rapid heart rate), nausea, irritability, stomach discomfort, problems sleeping (insomnia), high blood pressure (hypertension), nervousness and headaches. Individuals who were on other forms of medication or were advised to consult with a doctor before ingesting this product. Persons with a frail relation to stimulants were not advised to use Thermo Cuts, as one serving of this product contained the equivalent amount of caffeine that 3 cups of coffee would have. Persons under the age of 18 years and women who are nursing or in stages of pregnancy were not advised to ingest this product.
Top Rated Products are not meant to be used by women who are in stages of pregnancy or breastfeeding unless it is otherwise explicitly stated.
Conclusion
There's a reason why some products no longer exist on the market. As with this one, I may surmise that it had to do something with the utter overload of caffeine that was found within this concoction. If the user was not already well accustomed to stimulant use, the amount that this concoction had may very well have been too much. While some users may have enjoyed using this brew, the fact is that there were not enough to keep this product in production.
Top Rated Products have the exact right amounts of the ingredients that they are comprised of, no less, no more.
Buy Thermo Cuts
Top 10 Diet Pills of 2023
Top 10 Diet Shakes of 2023