Tenuate Review – Is Tenuate Safe?
When it comes to eating, there is not a one of us that may say that the necessary action is bad to partake in. What may make it possibly not optimal for health, is when it happens in excessive amounts. Overeating is a common problem that not only plagues our country, but many obese people as well. The urge to eat comes from the serotonin receptors in the brain being stimulated, which therefore gives the pleasurable feeling when eating. When not stimulated, the body begins searching for a way to find that trigger, and it is all too easy to give in to. And thus a cycle of overeating may commence and take over the lifestyle of an individual. It is because of this issue, that there were diet pills created to address just this, one of the more well known products being phentermine. Yet this is not the only appetite quasher available on the market, as there is also Tenuate, which attempts to solve a problem that has been weighing down too many people.
So is this possibly the supplement that you have been looking for to alleviate yourself of excessive pounds? Scroll down and read to find out.
What is it?
Tenuate is a suppressor of hunger pangs and an intensifier of the metabolic rate. While the generic name for this substance is diethylpropion, it has been known to go by other brand names as well, such as Nobesine, Anorex, Regenon and Tepanil. This substance was originally fabricated in the later 1950s, right when obesity was starting to become a public health issue. It is now known to be a prescription based diet pill that is meant solely for the consumption of obese individuals. It is not to be used by people who may be occasionally interested in dropping a few pounds, or fitness minded individuals who are looking to have more muscle on their frames, rather than fat.
It is also important to mention that this product was not created with long-term use in mind. Instead it is only to be used in the short-term. This may be because Tenuate is chemically similar to amphetamine, which is notoriously known for being an addictive substance. Also vital for success to be seen with this product, is regular exercise and a diet that avoids excessive amounts of fats, sugars and calories is needs to be implemented as well.
Tenuate is not some synthetically created miracle and as such, it should not be depended to be operating in such a manner.
Who makes it?
Upsher-Smith Laboratories Inc. is the Maple Grove, Minnesota based company that is acknowledged for creating Tenuate. Established in 1919, this family-owned company with a pharmaceutical emphasis has been working to serve the interests of medical professionals, patients and healthcare organizations. The company highlights the importance of its ethics, corporate culture, leadership and values, all of which are expanded on in greater detail on the company's official website, under the About Us section. The company is known to manufacture goods that are meant to be used by people with CNS (Central Nervous System) disorders, as well as products that are meant for a broader consumer audience. Despite there being an ever growing importance of social media in the contemporary marketing world, this company lacks any kind of presence on those platforms whatsoever.
Does Tenuate work?
Being known to quell hunger pangs, the scientific classification that Tenuate would fall under would be an anoretic. The way that this weight management pill operates, is by invigorating the cardiovascular and central nervous systems, which in turn magnify the metabolic rate. It is because of this however, that there may be adverse effects that may be experienced. While this is known to assist some individuals in managing their weight in a more optimal manner, this is only for the group of people that are not restricted from using this product, due to prior health-complications or medications that they may be taking. In this sense the product is rather limited, as it is not really meant for everyone. Moreover, appetite quashing is only a single facet of weight management that is being addressed with Tenuate. More auspicious diet pills also make sure to address these other aspects of weight subduction, which include metabolic intensification, through thyroid support, thermogenesis or otherwise, fat absorption embargos, energy level magnification and fat deposit destruction.
There have also been people who have taken Tenuate and saw no substantial change in their overall weight, nor a change in their appetites.
There are some Top Rated Products which are known to act as anoretics, while others are known to enhance the metabolic rate. And that's not the only ways they are known to operate.
Tenuate Ingredients and Dosage
The only thing that Tenuate is made up of is diethylpropion, which is acknowledged to be a relative of amphetamine. This substance is known to act as a prodrug to ethcathinone, and does not have an affinity to monoamine transporters. Because ethcathinone is known to be a rather frail serotonergic and dopaminergic, it falls into the NRA (Norepinephrine Releasing Agent) class of drugs.
There are 2 different forms that Tenuate may come in, which are tablet and extended release. The amounts that this is available to be purchased in are in either 25 mg or 75 mg increments. Being a prescribed drug, it is important to ingest this as advised by your own physician. A doctor's advice is also advisable because there are different instructions that would pertain to either the extended-release or instant-release versions of Tenuate. Generally however, these should not be taken past 4pm, as this may result in the user having problems with sleep.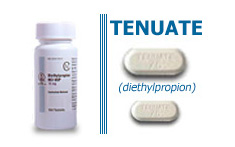 Are there potential side effects?
As is true with many other weight subduction products, Tenuate too has side effects associated with it's use. This may include diarrhea, hair loss, changes in sex drive, fatigue, anxiety, dizziness, headaches, xerostomia (dry mouth), jitters and nausea. It is important to take note however, that these are the more mild adverse reactions that may result from use of Tenuate. More severe side effects may include hypertension (high blood pressure), seizures, heart disease and psychosis. If any of these are experienced in either you or someone that you know who is taking the product, it is essential to contact a medical professional on an immediate basis. In regards to women in stages of pregnancy, there is some evidence that shows that animal test subjects revealed no harm to the fetus. Even so, it is not recommended to take this product while pregnant unless it is an absolute necessity. In regards to women who are breastfeeding, it is known that Tenuate is excreted from the mother, yet it is unknown how an infant may react to this. Because it is unknown, it is better to err on the safe side, lest something potentially hazardous to the health of the child manifest.
Top Rated Products may cause their users adverse reactions, but none of these reactions is as severe as psychosis or seizures.
Conclusion
There is a bit of truth to the assertion that this product may indeed assist people with weight loss. However, with the adverse effects taken into consideration, this comes off as a bit of a risk to health if anything. Furthermore, results may only manifest themselves when exercise and diet are tossed into the equation. To leave them out would not make this a product that is recognized to work at all. Tenuate is only to be used for short-term use because of the risk of becoming habit forming may surface with continued use. As such, this excludes people who may have a history of addiction who want to lose weight, but will have to find other means to get there. Weight loss is the goal that everyone wants to strive toward. However it just isn't worth it if your health may become compromised by the very diet pill that is mean to make you healthier. Alternatives with all natural ingredients are a better option, as compared to this laboratory made ersatz. There are plenty of exceptional weight subduction products available that are safer to use and easier to access, as they may not need a doctor's prescription to be obtained. All it takes, is something as simple as an internet search.
Top Rated Products, unless clearly specified, are safe for both long-term and short-term use.
Buy Tenuate
Top 10 Diet Pills of 2023
Top 10 Diet Shakes of 2023