Supera Complete Review – Is Supera Complete Safe?
With so many options to choose from in the diet pill world, it may become difficult to decipher which products really act as they are marketed to, and which ones will have you losing nothing but the money you spend on buying them. It's also important to be aware of the substances that make up these products, as some may be hazardous to health, especially if you are someone with pre-existing health conditions. Other ingredients however aren't known to be dangerous, but in reality act no better than ingesting a placebo would. Then there's Supera Complete.
What is it?
There are products available, that are much like Supera Complete, which state that they are able to multi-task and enhance the quality of life for their users by addressing such facets of weight loss that include smoldering fat from the body, decimating hunger pangs, level up the metabolism, skyrocket energy levels, keep the skin healthy, as well as intensify the user's state of mind with positivity. I've reviewed a lot of other diet pills in the past, and many have similar assertions to this one. The question always is though; can it actually get people to drop excess pounds from themselves?
The website of this product home page gives a general spiel about how the product is known to be competent in meeting its stated goals, and there is an additional page that goes into detail on what the different ingredients are and how they positively affect weight management. Yet in spite of the information that is displayed on the official website, I could not help but feel that something was lacking in the presentation of this product. The fact that their blog page is made by WordPress does not do anything to assuage my concerns that this product may be more an elaborate way to get people to spend money, rather than make them healthier.
So is that the case with this concoction of well known substances, the majority of which have been endorsed by a certain doctor who is also a well known television personality? Read on to find out.
Who makes it?
Supera Complete is manufactured by a company known as Super Diet Alternatives, which has its offices located in Everett, Massachusetts. The company has no website and has no listing with the Better Business Bureau (BBB). I've seen other companies in the past that have neglected to list any information about themselves, and to me this comes off as a warning flag. Because why wouldn't a company want to be known, especially since after all, their goal is to make money? Why wouldn't they want to improve their chances of earning more by not supplying any information about themselves? Is there something they are trying to hide? Any theories I have on the truth behind this company really can not expand past the realm of theory, but it still doesn't look good to know you are buying a product from a group of people that you know absolutely nothing about.
Does Supera Complete work?
While it is true that there are well recognized ingredients included into Supera Complete, being popular doesn't necessarily translate to a product working as it should. It is true that the ingredients do supply explanations as to how they work, but there have been no clinical studies provided by the company that ensure that this product will at all get the people who consume it to lose any significant amount of weight. In fact there is an asterisk at the end of some of the statements on the webpage, and when you go to check what the asterisk is for, it is to a disclaimer that states that results vary from person to person, and that results should not be seen as typical. Furthermore, it is also known that certain ingredients that are found within this concoction are known to be impotent in aiding weight loss, the likes of which include raspberry ketones and african mango. There are testimonials that have been posted on the official website, but I have cause to be skeptical as to the validity of them. One of these users declared that she lost 84 pounds in only 3 months without regular exercise and a proper diet. These are two essential components to weight loss, and to just state that they aren't necessary to shed excess pounds does not seem very believable to me.
Top Rated Products don't make ridiculous assertions about themselves, but are instead grounded in the reality that the users may expect to experience.
Supera Complete Ingredients and Dosage
In mathematical terms, the amount of ingredients included in Supera Complete would be a prime number. These ingredients are not obfuscated into a proprietary blend that neglects to inform users of the amounts of its ingredients. There are 7 different ingredients in this concoction, all of which contain exactly the same measurements, which are 100 mg. For none of these substances is there a daily recommended value provided. The ingredients that are incorporated into this product are raspberry ketones, white kidney bean, caralluma, garcinia cambogia, moringa, green coffee bean extract (4:1) and african mango. While there have been studies that show that green coffee bean may positively affect weight loss, these studies were performed by companies that sell this substance, and as such their findings may be skewed to their favor. African mango is commonly used to aid weight management, but studies have shown that benefits were reached at 300 mg per day, and with the dosing of this product, users would only be getting 200 mg a day, not enough to show any effects. White kidney bean has also shown potential in it's ability to combat excessive weight, however like african mango, this is true in larger quantities than what is supplied. Lastly raspberry ketones have shown positive effects in test subjects that were rats, however when the trials included humans, the results did not carry over. Users are advised to take 1 capsule before 2 of the day's biggest meals.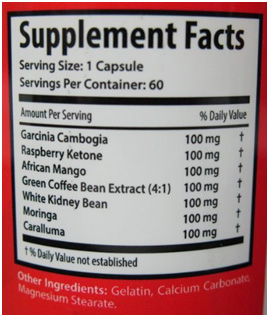 Are there potential side effects?
While none of the adverse reactions from Supera Complete are certainly not abhorrent enough to put someone's general health at risk or irreversibly damage their internal organs, that isn't to say that there are absolutely no side effects associated with consumption of this byproduct of natural substances. Users who have ingested this product have reported to have experienced nausea, palpitations (rapid heartbeat), gas, abdominal discomfort jitters and other generally mild side effects that may be attributed to stimulant use. If you are an individual that has a brittle relation with stimulant ingestion, there is a higher chance that you may experience these adverse reactions; however your tolerance would probably need to be incredibly low. Women who are pregnant are not advised to take this product, as moringa is known to act as a naturally made contraceptive. If you are currently on any kind of medication or have a pre-existing health condition, you may want to contact a physician before deciding to use this product.
Products that have been Rated to have Top quality may also only give their users mild adverse reactions after they have been consumed.
Conclusion
While it may seem like an incredibly great idea to combine ingredients that have been become beloved thanks to the endorsement of television personalities, the reality of the matter is that the proven competence of these substances is not at the same high mark that the marketing that was written about this product may have you believe. And even if some ingredients are known to promote weight loss, they do not come in large enough amounts in this product to make any substantial dent in the amount of pounds that you will be carrying around with you on a daily basis. Furthermore, the company has failed to provide any scientific clinical studies that support the assertion that this truly is a dynamic product.
There are a lot of products out there that promise their users the world and them some. Some of these products mention that not only will people see weight loss, but other aspects of their health will be positively affected as well. Some may also declare that it isn't even necessary to exercise regularly or change your diet for the better to see the results that you may be yearning for. While these points may all sound good, the fact is that these extraordinary allegations have no basis within the reality of which we live. It's best that you ignore products that seem to be so good, that they would only be real in fairy tales.
If you are tired of diet pills that announce to the world that they are miracles put in pill form when they really aren't, check out our list of Top Rated Products, all of which, are grounded in reality.
Buy Supera Complete
Top 10 Diet Pills of 2023
Top 10 Diet Shakes of 2023