Stimerex-ES Review – The Truth About This Product.
The 2004 FDA ban on the sales of the plant Ephedra were a huge blow to supplements who relied on its properties for weight loss. The reason why it was used was because alongside diet and exercise, it showed upwards of 2 pounds lost in a months time span. However the ban was completed for obvious reasons, some have actually died from supplementing with this potent ingredient. Heart attack, stroke, and other life threatening issues were seen in it.  So there was legislation passed early on to make sure it was no longer allowed in its full form.
However supplements looking to ride the coattails of ephedras use started retaining extracts of the potent ingredient. While the full fledged form is banned in athletics and in the US, it remains in a much less potent extract form to give off similar effects as ephedra. Even with the negative history brands like to add that this extract of ephedra is potent and that it can cause weight loss to occur.
While it is not illegal to have it in a different form, it should be viewed with a cautious eye to prevent any potential issues. So this Stimerex-EX analysis is here to do just that, to offer the tools for you to make the proper decision for your own demands.
What is it?
"Rapid weight loss" and "Maximum strength" are some of the claims presented by this product intended to rapidly decrease weight. There is a claim that whether one is looking to lose 5 pounds or even 125 pounds, that there is benefits to be had here. The belief is that the ingredients here serve to prevent water retention, appetite, and to further decrease fat while giving swift energy. This swiftness is built into the formulation of the brand, which an extraction process intended to quickly produce results in the body. The name of this process is "Extend-Rx", which makes it sound like a medical prescription. It works as a time release which are intended to burn fat all day long.  Although they throw a lot of scientific names and make it sound very legitimate with the addition of RX, there isn't much to support it. In fact the rate of positives is just explained to be possible, without a full explanation as to how exactly they implemented it into these pills.
The formula is for both men and women. They even promise abs for the men and chiseled curves for the women. Although the pitch is strong no evidence is provided to show how they came up with exact figures and details surrounding the brand.
Still the claim of doing research on over 120,000 Americans is quite promising(even though no proof is provided). So to help you understand the gist of Stimerex-ES, here lies all the details for an informed decision.
Who makes it?
Hi-Tech Pharmaceuticals is a Georgia based company operated by a former marijuana distributor. They sell many different supplements for weight loss, libido, and other demands for men and women.
The Federal Trade Commission handed down a $14 million dollar penalty and incarcerated the CEO after the company made major unsubstantiated claims for fat loss.
In 2023 the FDA seized approximately $2 million in product from the manufacturer's facilities for the addition of the now banned DMAA. DMAA was banned after many serious side effects were reported from customers.
Another scandal in 2023 marked 3 of the manufacturers products for containing an FDA unapproved ingredient which also showed potential for serious side effects.
Does Stimerex-ES work?
The ingredients added here definitely will produce results, but in the "Potential Side Effects" section, it will reveal all the potential consequences.
This stimulant mixture does produce some results in the form of weight loss and energy, however it must be taken very seriously. A close watch has to be placed on the product due to the ranging level of potential issues. Also, with this many stimulants one may experience a tolerance issue. Natural tolerance means having to have more or to cycle the product, meaning it might not be useful for long term usage.
You can make the right decision with the weight loss products that customers know work.
Stimerex-ES Ingredients and Dosage
At first glance it looks like a chemical cocktail. It contains the nasal decongestant 1,3-Dimethylamylamine which is often linked to several side effects.  It is also known as DMAA and the FDA has actually singled out this ingredient for its use in supplements. Apparently it is now seen as useful and has been banned from use. Another stimulant entitled Acacia Rigidula which is a substitute for ephedra has also been banned by the FDA. It is known as BMPEA as well and it was the reason why the FDA sent a letter to this company urging them to stop using it.
Other stimulants include bitter orange, caffeine, and theobroma. Keep in mind that bitter orange and caffeine are said to be powerful. However they are often not advised to be mixed together due to the rate of potential issues inherent in the mix.
Yohimbine is also added which may have fat loss properties, but it is also linked to anxiety. Green tea of course has antioxidants and supplies caffeine.
Many long restrictions exist for this product. Some of the common one's include having to be over 18, not pregnant or nursing, and to be of good health. Other caveats include only taking it for 8 week stretches, avoiding alcohol and caffeine, and to consult a doctor for a proper dosage.
Recreated here are the Stimerex-ES ingredients label: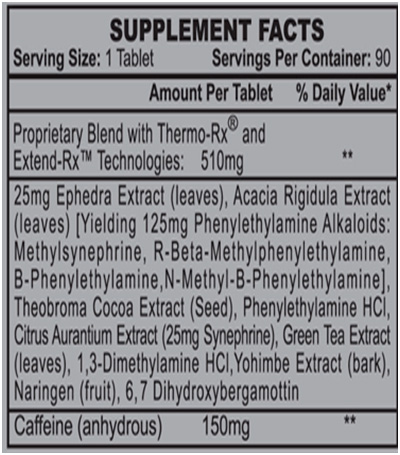 Are there possible side effects?
There are a few banned ingredients in this supplement that are still sold. Oddly enough some of them have been banned for years now yet they continue to be used. Even more concerning is the fact the company adds a ephedra extract which they happily brag about.
Both DMAA, BMPEA, Bitter orange and caffeine mix are bad just by themselves. DMAA has been linked to heart attacks and stroke. Meanwhile Bitter orange and caffeine blended together has also been linked to elevated heart rate and stroke. Finally BMPEA specifically was targeted by the FDA, with a warning letter sent to this company for including it into their supplements. The fact it still exists is a huge red flag requiring immediate attention.
It really is confusing to see this many potentially fatal ingredients mixed together. Keep it known that the mixture has not been approved for supplements according to the FDA because of potential threats to health. It cannot be overstated, people have died with just one of the ingredients found here. Adding a cocktail of stimulants is not the right way to go, and in fact it is banned.
Avoiding nasty side effects is attainable while still keeping necessary results.
Conclusion
In probably one of the most odd combination of ingredients, this product has far too many potential consequences.  The FDA sent warning letters to quit using some of the ingredients listed here. In fact warning letters and lawsuits are an often seen sight for this company. It is unknown how they continue to market this brand considering there are easy to see warning letters available online. Unfortunately the consequences for taking these ingredients has seen a potential life threatening harm. It is no joke to see how many have fallen prey to just some of the ingredients. Mixing them together is another threat that would be best avoided.
The company lawsuits in the past have amounted to millions of dollars in penalties. Also jail time was served by the CEO for false claims made about these products. The continued sale of it is not recommended according to the FDA for good reason, they are far too potentially unstable to the body.
So looking at the lawsuits, banned ingredients, lack of customer guarantee, and a blending of stimulants. It makes it easy to see why this brand is not worth the investment. Far too many potential consequences plague this brand in a huge and dramatic way.
Getting the right brand should not be a guessing game, take part of this helpful guide of reviews to steer you in the proper direction.
Buy Stimerex-ES
Top 10 Diet Pills of 2023
Top 10 Diet Shakes of 2023