Stacker 3 XPLC Review – Is Stacker 3 XPLC Safe?
Stimulants are one of the most often seen additions to weight loss pills, with the inclusion of caffeine being the most prevalent. Unlike a cup of coffee there is less consideration taking into caffeine infused pills due to the nature of it being small. However, keep in mind that taking caffeine of any kind can produce some effects on the body, whether good or bad. So to make sure you actually get the proper does it is important to know not just how much caffeine is inside, but what it is surrounded by. What else is inside the mix to make weight loss occur?
For people of all strides it is essential that you know exactly how much you need in your body. So by taking the time to read this Stacker 3 XPLC review you will get the full understanding of what one might expect. Diet pills often make the rounds and it is hard to know what is to be expected.
So to secure the essentials you can find out what other customers have experienced, and what the common themes are for this weight loss product.
What is it?
Lipid mobilization is the key selling point behind this thermogenic fat loss product. The idea is to run up the fat reserves in the body and then converting it into a wholesome energy source. So not only does fat get loss, but it goes to a good cause. According to the makers fat cells have a signal that gets turned on, making it more likely to hold onto fat for protection. Well the ingredients found in Stacker 3 XPLC are meant to deactivate the holding and instead allowing it to freely flow through the bloodstream. It is important to note however that there are 2 different versions of this brand. A European version exists with a few more added ingredients. Apparently the European version claims that it has the power to lead one towards feeling more productive for many weeks. It is unclear if the regular version has the same appeal. Also this product comes as a sequel to 2 previous versions. The second version of this product has less caffeine but more of the proprietary blend than Stacker 3 XPLC. Some confusion does exist about this product's potential however. Some 3rd party retailers add their own twist while the manufacturers websites is more hushed on the potential effects. For example in one marketing campaign from a different site they mention this product has effects within 45 minutes. It is unclear if this is true.
A lot of history exists for this manufacturer and there is plenty to reveal about the ingredients used.
Who makes it?
NVE Pharmaceuticals is from the state of Maryland and they have been producing supplements for weight loss for some time. They began by marketing herbal supplements to bodybuilders who needed an extra push in the gym.  For a time their Stacker 2 pills were marketed as the world's most advanced fat burner.
Unfortunately a string of lawsuits has kept the company from actively doing business. In 2003 the FDA reported 2 of their famous brands for containing unsafe ingredients such as Ephedra. Ephedra has been linked to heart attacks, strokes and death. Around $5 million of the company's products had to be destroyed in order to live up to the ban.  Specifically their Yellow Swarm brand caused the death of a teenager.  Accounts like this forced the company into chapter 11 bankruptcy, after complains of over 100 pending lawsuits were handed down.
During the bankruptcy hearing the president admitted to never testing the ingredients for quality or safety. In fact the president formulated all the brands without any knowledge of science or background in supplements.  The man spend 18 months in prison for laundering money for methamphetamine sellers who sued ephedra to make their drugs as well.
In 2003 the company also had a warning letter from the FDA for lacking GMP practices, which ensures quality control and overall safe handling of ingredients.
Does Stacker 3 XPLC work?
There are numerous accounts of this product giving an energetic pull. This is of course most likely due to the addition of caffeine. As far as weight loss most add they are not sure if they lost weight from it.  There are also some people who claim to have had negative results which will be outlined later.
Shedding weight can be easy when you have the right brands backing you up.
Stacker 3 XPLC Ingredients and Dosage
Meant to be taken at a 3 a day maximum after meals. It is also recommended to seek medical supervision if one were to supplement.
The ingredients here are not really unique. Of course green tea, yerba mate, and guarana are all caffeine sources and they also contain antioxidants. Capsaicin is essentially an extract of spicy peppers which does have modest effects on increasing metabolism. Finally the chemical sounding ingredient 6-7 Dihydroxybergamottin is an extract of grapefruit juice intended to improve the strength of overall ingredients.
Finally there is 200 mg of caffeine per pill, meaning a 600 mg maximum a day is what can be expected when supplementing alongside the label requirements. A lot of these ingredients are easily found within most supplements, no real assurance is given as to the GMP standards as there has been previous run ins with the FDA for quality manufacturing.
Here is the American label for Stacker 3 XPLC: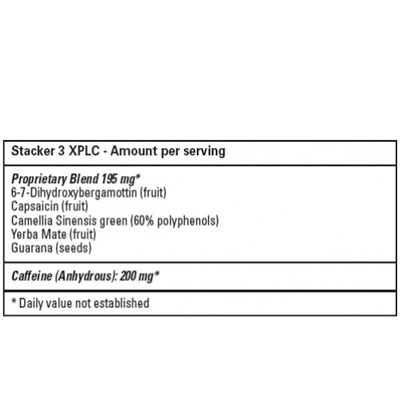 Are there possible side effects?
By looking at the customer reviews; for some reason shifting ingredients featured from country to country, these ingredients have caused ill effects in some.
This is seen in many different ways with many claiming odd side effects such as mouth watering excessively to the point of drool.  Stomach ache and jitters are another of the noted side effects according to customers.  Others report having shivers and goosebumps which are likely due to the mixture of stimulants.
Some issue to look out for is the past history of the company not practicing GMP standards despite their bottles clearly stating GMP certification. This is telling as to why there are numerous side effects that are odd and cannot be attributed to caffeine. Without a watchful eye keeping track of the quality of the product, one is relying on a company with a back history of hundreds of lawsuits for their ingredients. At the very least a GMP certification allows for the knowledge that safe handling was involved in all parts of the product. So with prior violations it could lead to even more side effects potentially.
It is not necessary to experience any level of side effects, make the switch to a proper brand.
Conclusion
Much of the back history of this brand has been a lot of sour experiences and hard to comprehend circumstances. The hundreds of past lawsuits, issues with the president being incarcerated, and deaths because of brands from this company are all giant red flags.
Looking into the present of what Stacker 3 XPLC has to offer, gives off too much doubt. The ingredients here are often all featured in generic weight loss products. Also the idea here is not as groundbreaking as it appears. It claims to work within to activate fat signals but it really has simple caffeine sources for ingredients. These standard run of the mill additives are not anything new or really exciting. Unfortunately the combination of it has shown some potential side effects as well. So the fact even the positive reviews left by people explaining they felt energy is good, it is essentially a caffeine buzz people are talking about. This same caffeine source of energy is easily gained from any old source of caffeine such as tea or coffee for a long cheaper. Also you are set to avoid the shady history with the company which shows that they were more interested in profit instead of customer safety. The fact people had to die before action was taken is one serious issue that is necessary to take into account.
Getting a top notch supplement is now simplified, with all the details surrounding ingredients such as this one now outlined.
Buy Stacker 3 XPLC
Top 10 Diet Pills of 2023
Top 10 Diet Shakes of 2023