SlimQuick For Women Review – How Safe and Effective is it?
Specialty products for a specific gender appear in a different fashion, a lot of marketing appeal is placed on providing what is seen as good for each sex element. If a product makes a difference in each body, it can be concluded with the hormones of men and women there would be a change. However how much can this change cause a shift in the body and is it healthy? Hormone manipulation is often a fine tuned doctor prescribed thing, not something to be played with.
Well SlimQuick For Women intends to appeal towards strictly the female gender. Since it is a fairly new brand by the company a lot of the claims are left by the makers. Of course this is no way of delving into anything, as of course a manufacturer would paint the most rich wholesome picture.
So what is needed to distinguish the key elements is a discovery of all the information available. This outline privies strictly that, the options available with a full representative scope.
What is it?
Claims of being a groundbreaking weight loss supplement abound this product, the real unique thing however is their claim it is made just for women. It's not just a product for women, it intends to be the best product for woman's weight loss. They claim their breakthrough formula has the added benefit of containing an all natural potent extract which makes it produce results. It manages to add a supposed benefit for helping alleviate appetite, increase the rate of energy and metabolism, reduce stress and water retention and then finally helping support good hormones in the body. Apparently this product is the only one that targets the aforementioned benefits.  This is all said to occur with the company's complete lineup of supplements. There is currently 6 different women brands from gummies, capsules, powders for shakes and even a men's formula.
The company also offers a 13 week challenge of taking these products with an expected result of 25 pounds lost. One has to stick to the regimen provided here however which includes a lot of dietary and fitness changes.
One interesting aspect is that these products are readily available in major retailers such as Target, Wal Mart and several online stores.  The money back return policy also depends on the individual retailers where you purchase these products from, though several retailers would not allow for an opened supplement to be returned as it cannot be re sold.
All in all looking at the website it does have a few customer before and after photos as well as an area where people can post their opinions, both positive and negative. While the idea behind a woman's only weight loss supplement is not explained here. There is no way to tell the difference of a men's and woman's brand. However since it does have a catchy marketing campaign and a lot of promises it is worth digging into. So without further ado, here is what SlimQuick For Women has to show for itself in full.
Who makes it?
The main head behind this line up of weight loss supplements is the company named Wellnx Life Sciences USA. They have a series of different brands under their belt.
Looking at reviews for the company they rank at a C plus rating on the Better Business Bureau website. This was brought on do the problems customers had with their products from allegations that they simply did not work. Unfortunately this specific brand has a return policy that is shoddy as it can only be negotiated with whatever business it is purchased from.
One of SlimQuick's products was actually the reason for a lawsuit pitted against a former user of the supplement. There was liver toxicity linked to the supplement that caused serious health issues.
Another lawsuit filed against the company was due to their marketing claims that were deemed as unproven. Many wild health benefits were reported as being attained with the company's brands without evidence or linking to any shred of evidence.
Does SlimQuick For Women work?
The overwhelming consensus by people is that these line up of products may produce some effect, but they're not the effect wanted. Many actual customers have mentioned how they experienced detrimental side effects which I will cover later.
Looking at the promises made by the company which assert one can expect 3 times the weight loss. What is confusing is they do not mention what the 3 times weight loss is compared to. They also mention women showed weight loss by taking in 1,350 calories daily for 13 weeks. Apparently the women tested did lose 25 pounds. However this can be done with anything. 1,350 is not a lot and when adding exercise it really makes it a small number. So this claim is true but completely misrepresented. If one were to eat 1,350 calories in cheeseburgers you could also get the same weight loss benefits. Clearly the marketing is sneaky and while not full of lies, it is more of a half truth than anything.
Real results are attainable when you have the right product to back you up.
SlimQuick For Women Ingredients and Dosage
There is a degree of difficulty in trying to decipher these ingredients as each brand has their own unique set of traits. However the key ingredient added intended for weight loss is a green tea extract. Of course green tea is fairly inexpensive and at this price point it would be far cheaper to get it in a tea.
To breakdown these ingredients on their decaffeinated blend it does show some some, which has estrogen in it. Estrogen is beneficial in small amounts in women but really hormone manipulation is often best left to a trained medical professional. Also here are antioxidants in the form of acai and green tea of course. L-theanine is a non essential amino acid which is found in green tea, it is meant to produce a calming effect.
Nothing really groundbreaking is here, just a bunch of proprietary ingredients which does not showcase the exact amounts of each.
One of the many supplements offered by this brand is featured in full here: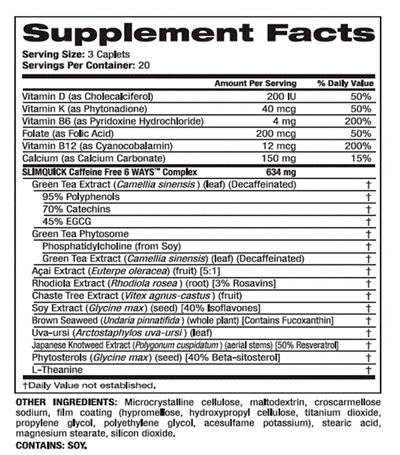 Are there possible side effects?
Many issues have been reported by customers of these products. Even the non caffeinated blends have shown a lot of side effects. Some people have reported that the pain taking these supplements was not worth it.
People often reported that it left them completely distraught and with a lot of hard to deal with symptoms. Many reported extreme stomach pains, others dizziness and a severe bout of confusion. It is unclear how this may come about as only in extreme dosages would any of the ingredients cause these effects. But since the overwhelming reviews are not only not positive, but left to show how terrible it left customers it is a bit alarming.
Looking at the lawsuits of liver toxicity found in this particular series of brands makes it even more of an issue. If these is a huge safety concern as many have noted then it should be addressed immediate.  The amount of people who said it was really "unbearable" is a sight I haven't faced with many supplements, Typically there might be some bad reviews and even sometimes they're all negative. But hundreds of these reviews have added it was hard to cope with and that they immediately stopped taking it. With a lack of money back guarantee from the company it also calls into account the potential for negative results.
Taking advantage of the very best side effect free products is easier.
Conclusion
This product may have hit a new record for the amount of reviews left that were not positive. Most of the claims left by customers mention just how difficult it was to deal with the effects brought on by SlimQuick For Women. The amount of negative remarks is a sight to behold and unfortunately there might be good reason for these remarks. The company has had a few lawsuits against them over liver toxicity and for an exaggeration of health benefits. It's not just civil suits however as even the FDA has stepped in to give their own input. The FDA has noted the company made false claims over the positive benefits on their products. A history of lying is a giant red flag as this product also has a lot of lofty claims.
One concerning aspect is the science intended to back up this product. They mention that the people who took this product alongside a restricted diet faced great changes. In fact the 13 week study showed up to 25 pounds of weight loss. Wells at 1,350 calories it is no wonder, this is a small amount of calories and it makes perfect sense how people lost weight. It's not really a scientific study when it has already been known way before it was suggested. However at this few amount of calories it is hard to feel the same as fatigue and mental fog are common.
Either way the product has several negative reviews, a bad company history and a lack of beneficial reviews left by customers.
In the quest for a proper supplement you no longer have to fret, here lie all the very best in an easy to read format.
Buy SlimQuick For Women
Top 10 Diet Pills of 2023
Top 10 Diet Shakes of 2023