Slim4Life Review – Does it Really Work?
The idea of Slim4Life is quite clear, it is built for the sole demand of actually slimming one down to size. One cannot help see advertising of product's such as this to be whithin a constant and structured sight. It's so common that many other supplements have virtually identical campaigns which market to the same demands. In our age of substantially elevated obesity it is no mystery as to what made this product come to exists.
Most important of a question is what can you actually gain, if anything? Finding this answer is vastly harder than reading the marketing. Therefore considering the mass research accumulation is now required. You cannot expect it all to come together in such a way without understanding the real possibilities.  Instead, take heed and notice how this outline is presented, in a way meant to simplify and give you the information to make a good judgment.
So finding the discovery behind all about the what, who, what and other questions is all equipped for an easy read.
What is it?
All forms of weight loss are said to be found here; this company offers various supplements and a weight loss program that promises weight loss up to 100 pounds either at home, or in the company's centers across the US. They offer bars, drinks, supplements, and even pudding intended to help one shed weight off. So overall the company intends to provide weight loss through many different forms depending on a customer's demands.  Most of the company's attention goes towards promoting their programs where people come in for consultations. Apparently their programs are intended to help one lose weight without exercise, however diet plans and consulting must be followed in order to receive results. This may be too time consuming for some and luckily the company offers various supplements intended to provide a decrease in weight.
The supplements do not get a lot of exposure and only brief paragraphs are offered to explain their effectiveness. However they do add that their supplements can do wonders on all of the body's needs. One label for their most popular fat burner is intended to help cleanse toxins and to reduce appetite, increase metabolism, boost well being, aid in mental function, keep steady blood sugar, cholesterol and fat levels, improve skin look and feel and even help aid sexual performance.
That's just one of their brands labels by the way. Quite a lot of detail that seems almost too good to be actually possible. That's where I step in to take charge. Here's what I've discovered about these brands.
Who makes it?
The Slim4Life company was founded in the state of Missouri. As of this writing most of the customer attention is focused on their centers for weight loss. It does not look very good however. Many customers have complained that the staff offers health advice though no one who works there has any certification in the field of medicine, nor are they certified dietitians. Apparently a lot of focus is placed on selling their supplements which can be very costly.  In fact at a full dosage strength their number one selling brand costs $155 for 5 days. This has to be one of the most ludicrous price tags ever seen for a supplement. It's even more concerning when you realize there are 3 ingredients that are extremely cheaper when bought separately.
So far the business practices for this company seem to form a picture of a money hungry business strategy. Not much is known of the company's manufacturing processes but their pricy strategies for weight loss have been reported by multiple customers.
Does Slim4Life work?
Unfortunately there are no customer reviews or testimonials added for any of their supplements. This makes it hard to know whether or not one can achieve any results. Sure their products have some strong working ingredients, but they can be purchased for a significantly reduced price when purchased on their own.  It's very odd that a company this large with this many supplements offers no support for their own brands. All they leave behind is claims of what they can do without any evidence or money back guarantee. It appears that the overall focus is on selling as opposed to giving valid reasons as to how their own supplements function.
These High Ranking products are customer approved and overall a great solution to weight loss.
Slim4Life Ingredients and Dosage
At the very least we can observe their labels to see what they have to offer. Let's take their $155 a bottle fat burner which we described earlier as a multifaceted supplement. It has 3 ingredients. Green tea has shown potential for being a thermogenic just as the next ingredient has as well. Bitter orange has faced a bit of controversy for its use due to its effects as a potentially harsh stimulant. The belief is this ingredient will ramp up the rate of caloric expenditure and in turn reduce body fat. However many have reported feeling ill at ease when supplementing with this ingredient. There is often a warning that it can cause an irregular heartbeat and that anxiety is a common theme. Finally geranium has also faced controversy for its use as a stimulant. It too has shared the repeat offending effect of being potentially too harsh on the body. These type of ingredients often come with a disclaimer to notify a certified physician to prevent any complications. For example people with heart issues or with a sensitivity to stimulants are usually exempt from taking these products. Nowhere on the bottle is this fact mentioned.
These additives can have an effect on weight but it is typically meant to be short term and not an overall healthy strategy for weight loss. Adding to the issues is the fact it is way overpriced. Until the company can provide more of a valid reason to support its use it remains to be seen as to how and why one should supplement with this brand. The price is just way too high and it is the most expensive supplement I have ever witnessed by far.
A sampling of the manufacturers most famous product for fat loss can be seen here: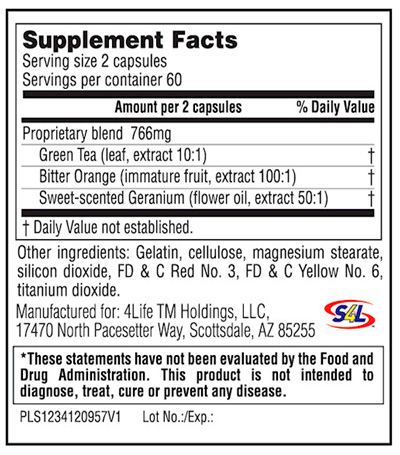 Are there possible side effects?
Depending on the brand there are multiple possible side effects. As mentioned before the stimulants on their fat burning formula are not intended for long term use, nor are they made for people with certain conditions. This important detail is not mentioned as a possibility although it is widely known and can be read in full on WebMD.com. Also there are typically numerous amounts of food colorings added to these supplements. It has been shown in some studies to lead to hyperactivity and anxiety.
Keep in mind that some may experience significantly harsher side effects depending on their own specific history. I can't imagine how the company can keep printing these labels without a huge warning as to the potential side effects. The product just adds a laundry list of what it can do positively, no mention is given to the even longer list of potential negatives. These brands in particular feature ingredients that should be accurately measured in order to prevent any potential issues. It just doesn't make sense how they can keep making these products and not have the decency to add relevant details as to who should or shouldn't take them.
Looking at the Featured Best one can be part of the growing trend of customers who supplement wisely.
Conclusion
There's just not enough attention to detail offered here. You're left stranded as a customer without a reason or way to accurately try these products. It seems the company has focused most of their attention on their centers which are intended to help people stave off weight. Though keep in mind these people are not dieticians or medical physicians, and yet customers have reported being pushed with expensive supplements. These supplements of course are featured on the website without much explanation as to how they're processed or even if customers have had good results. In fact each supplement has a paragraph at most to explain their use. Luckily they leave behind a nutrition facts list to make it easy to read just what one is going to be consuming.
These supplements are not only incredibly expensive but they are meant to be taken in moderation and preferably with some medical appeal. The ingredients found within are potentially too harsh and they are not justified in any sense. Without knowing if other customers support these brands it leaves a clear question mark as to what one can expect. One brand of their claims one can lose 700 calories. That sounds good but without evidence how can one expect to believe this bold claim. As of now what we do know when researching these ingredients is that there must be precaution taken. There's a huge surplus of ingredients that are stimulants which are meant to be taken in small doses and not for the long term. You won't know what's in store here and the price tag is not inviting enough to make it a viable option.
You have access to some High Quality and Top Rated products, all meant to help you pursue your weight loss goals.
Buy Slim4Life
Top 10 Diet Pills of 2023
Top 10 Diet Shakes of 2023