Slendatrim Review – How Safe and Effective is it?
The word fat burning gets thrown around at a rapid rate in the field of weight loss supplements. Often this is the case for thermogenics which allow for a more ramped metabolism, which in turn leads to a drop in the calories absorbed. It basically allows the body to get rid of what would be stubborn calories without putting in more effort. Of course this effect can be reached with things like coffee, tea, or chocolate. It is not uncommon therefore for a person to already take in a thermogenic in their daily life. What is supposed to be a solution to weight loss is said to come about when you supplement with a higher dose of these ingredients.
What is often missed however is the addition of thermogenics into a proprietary blend. This must be addressed in order to properly figure out what can come about when supplementing. See in a proprietary blend there is a mixture of ingredients that allows for smaller amounts of an ingredient to be lumped together. Slendatrim has a proprietary blend including a thermogenic which if not done right, can potentially cause an assortment of issues.
If this is the case then there has to be a watchful gaze. So if you are here to find out all the details on Slendatrim, then here lies what came about.
What is it?
Looking at the label this product is intended to be the very best all naturally sourced fat burning supplement. Since it is naturally sourced one might believe it is wholesome, however stimulants can also be all natural and they should be watched out for.  The product is not intended to be used for people just looking to lose a few pounds, they recommend only those in serious need of weight loss to be eligible for results. It is unclear if this is because it can be potentially unsafe. They also add to the marketing that it is not people's fault for being overweight, that it is due to metabolism which slows down over time. The reported claim is that one can lose weight and increase energy, decrease appetite and improve overall metabolism.
A very off claim made is that they believe this is the best "doctor of pharmacy formulated" weight loss brand. A doctor of pharmacy is a term given to one who has had certification to be knowledgeable of pharmacist techniques such as dosage levels. However they fail to cite any sources or people who have come together to suggest it would be of a safe and accurate dosage strength.
Either way it intends to provide weight loss in only the most overweight people, so if it truly works as strong as it says it can, then it will be revealed here.
Who makes it?
Florida based Vitegrity is a family operated and owned business who specializes in the making of nutraceuticals. They have brands for menopause support, joint function, other weight loss products, vitamins and several other brands.
Still although all the products are said to be GMP certified for quality controlled manufacturing, not much else exists on their practices. Thankfully they do offer an address and phone number for easy access.
Does Slendatrim work?
About 30 of 43 reviews on Amazon.com have reported no effect in any regard. The complaint by people is that they put in the effort which is recommended by eating the right foods, taking in less calories and increasing their output by exercising with frequency. Still people have reported feeling cheated and not able to feel anything.
The rest of the 13 positive reviews are either somewhat positive in people saying it reduced their appetite a bit, or people adding it takes a long time to feel effects. So it remains really inconclusive and overall seeming to be more on the less than positive spectrum.  Considering the company claims to be the best, one would assume there would be a significant increase in customer support instead of customer dissatisfaction.
The company claims to have a doctor of pharmacy behind the formulation of these ingredients. However it remains uncertain as to how the overwhelming complaint is that this product does not work. Either the person behind the product has produced an inferior product or perhaps they do not have a substantiated opinion. Without knowing who was the certified person who created this blend it leaves a lot of doubt as to the qualifications.
The right brand produces the right results, and they're all featured for you to enjoy.
Slendatrim Ingredients and Dosage
So the mixture of ingredients has a few commonly seen sights such as bitter orange extract which is a stimulant meant to burn fat, however its effectiveness appears to be limited unless mixed with caffeine, which turns it into a potentially dangerous mix.
Also added are the glucomannan fiber which has shown a potential to increase choking hazards and provide a little in the form of a cheap fiber. Hoodia Gordonii is claimed to reduce appetite, though it has not shown this in many studies.  Irvingia gabonensis is intended to increase metabolism while green tea powder if containing caffeine, is a thermogenic as well. Though green tea has antioxidants of course one can supplement without having to purchase a supplement.
Finally black pepper is added for better absorption. A mix of both potentially promising ingredients and non effective ingredients is added here.
As far as dosing it is supposedly safe for long term use, however the effects bitter orange can have on the body may prove overwhelming for some. Also one, must take 6 capsules a day which means a 30 day supply will cost about $47.95 according to recent published prices. Quite a lot considering the lack of customer support.
Here is a label for Slendatrim offered by the manufacturer's themselves: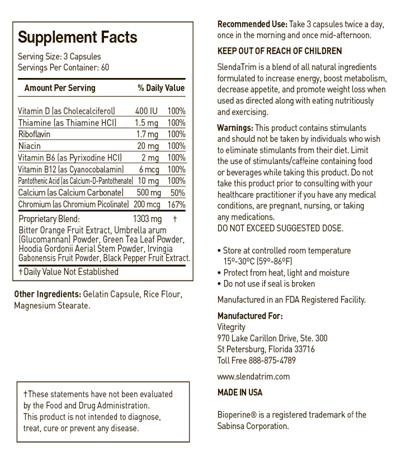 Are there possible side effects?
One of the issues with these hard to process ingredients is the way they have been mixed into a blend. One sees glucomannan and there is a lot of cases online of people not being able to stomach it. It has shown an increase in the rate of indigestion, diarrhea, dehydration and in some cases choking.
Bitter orange extract has been shown to cause potential overwhelming stimulant effects, especially when taken with caffeine. For those who drink tea or coffee the combination might not be worth it. Some of the common issues with this combination are jitteriness, anxiety, insomnia, inability to concentrate, and increased heart rate.
Avoiding any and all potential side effects should be the measure of a quality supplement.
Conclusion
The common sight of a thermogenic which intends to be the best and safest is an ongoing debate. Although you can lose weight without stimulants, the belief is that there would be an accelerated effect. Slendatrim intends to be the solution for weight loss but only for obese people in need of a proper solution. However there is no customer approval held by enough of an audience to truly believe one can benefit in any substantial amount. Instead there is a lot of statements that are yet to be proven fully. Most of the feedback given by customers is of no effect, which is a bit surprising when you take into account the mixture of ingredients.
There is of course a stimulant by the name of bitter orange extract which has not only shown a limited amount of positive results, but a substantial amount of potential negative. The same is provided by glucomannan which may show some changes, but the risk factor for side effects is even more prominent. Until these issues in the ingredients is solved it makes it appear that not much is set to be gained in this product.
While the company has a promising pitch, the execution is lacking. What is needed is not a proprietary blend of ingredients that may cause potential issues, but a better supplement for weight loss. To summarize there is overwhelming customer reports of lacking positives, expensive pricing, a lot of pills needed daily, and a lack of proof to suggest any weight loss.
To get the best you can observe what other customers have reviewed and favored, they enjoy it simply because it works for them.
Buy Slendatrim
Top 10 Diet Pills of 2023
Top 10 Diet Shakes of 2023