Skinny Fiber Review – Is Skinny Fiber Safe for You?
There are times when there is a misrepresentation of a product. Sometimes this is accidently done by the manufacturer, and sometimes it's just the perception that people may have on the product in question. Don't let the pink coloring and the cursive writing on the company's website fool you, Skinny Fiber is not a product that is solely for the consumption of women. Despite featuring the drawn figure of a woman, there are testimonial before and after pictures of men who have used this product as well.
This product claims that it can have appetites quashed while also aiding the digestive process and giving the body a healthy dose of antioxidants. However good these two latter points may be, I can't really see the concrete relation to weight loss. Things such as antioxidants are usually mentioned because manufacturers know that people will automatically perceive them as good, regardless of other factors with the product.
So how does this product stack up? Is it competent or is it impotent? Find out in the article below.
What is it?
This concoction asserts to its prospective buyers that is used to help quell appetite. Past that it talks about how it has antioxidants that support overall health, as well as helping with digestive functioning. These two latter points however, don't really have anything to do with weight loss.
From the start at looking at the bullet points that this product uses about itself, I already find a few things I don't like. There are 6 bullet points that Skinny Fiber uses to describe itself, however not every point really has much to say in it's favor.
One of these bullet points state "proprietary blend"  while another has the words "Much more!"
What either of these points have to do with weight loss, I have no idea. Top Rated Products don't try to fill up space like this product does.
Who makes it?
Skinny Fiber is manufactured by a company known as Skinny Body Care. The company's website does list it's various addresses for people who want to return products, but it fails to mention where their headquarters are located. Despite this, the label on the product's bottle states that the company is located in Flower Mound, Texas.
The company's mission states that they are 100% committed to giving their customers the most optimal products available, and there is an accompanying picture next to the statement, with a bunch of smiling people with their thumbs up, as if agreeing to this statement.
Unlike other products that may be purchased from third party retailers either online or in person at stores, Skinny Body Care gets its products around through distributors, in a similar fashion that multi-level marketing companies do. What's interesting about the way this company works, is that you can only obtain the product from the distributors themselves; you can't just purchase it from the website itself.
I can't really say I'm a fan of this tactic, as to me, it makes the product all the harder to get. What if you are new to this company's brand and you don't know any distributors? So then are you just out of luck? From what I can ascertain from the website, it would seem to be so.
*Curiously enough, this only applies if you go to the official website, as Amazon.com sells this product as well. So then it makes me wonder, what is the purpose of an independent distributor if you can get it from a third party retailer?*
Does Skinny Fiber work?
There are five main points that always need to be addressed when weight loss is the goal. These points are: accelerate the metabolic rate, roast fat deposits, give the energy levels a burst, the activation of thermogenesis and quelling the appetite. Of these five points Skinny Fiber only addresses one.
The official website only features two ingredients that it asserts have the ability to quash thoughts of hunger. These ingredients are glucomannan and caralluma. While both are well known in the diet pill world, neither of these has sufficient evidence to support that they really are as effective as alleged. Additionally the third ingredient, cha de bugre is not known to positively affect weight loss in anyway.
On this note of scientific evidence, the website fails to contribute any scientific articles to back up any of it's ascertains that this product really can help people lose weight. In fact we are provided with such little information, that there is no real way of proving anything.
Top Rated Products always have clinical studies that back their declarations.
As if to confirm this, there have been customer complaints that this product did not in any way produce results.
Skinny Fiber Ingredients and Dosage
Users are instructed to take 2 capsules with 8 ounces of water before meals.
Proprietary Blend:                                 1.16 g
Cha de burge- N/A
glucomannan- N/A
Caralluma- N/A
Enzyme blend:                                      260 mg
Protease powder- N/A
Papain powder- N/A
Bromelain powder- N/A
Amylase powder- N/A
Glucoamylase powder- N/A
Cellulase powder- N/A
Lipase powder- N/A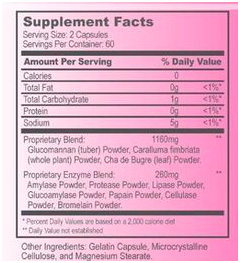 Are there potential side effects?
This concoction has no listed side effects associated with it. However, glucomannan has been recognized to be a potential choking hazard. Because of the possibility that it may get lodged in the esophagus, it is important to drink plenty of water with any products that contain glucomannan.
Caralluma may cause some mild adverse reactions in users, some of which include constipation, gas and abdominal discomfort. It is unknown if there are any adverse reactions if this is taken in the long-term. Similarly, there is no information available to tell if cha de burge causes any side effects in users.
Conclusion
Not a product that tries to make itself easy to obtain, this product also provides no real information as to how it works or anything else that proves that makes itself compelling as a whole. Additionally after going over all the website had to offer about this product, I could find nowhere in the provided text where it mentioned anything about exercise or diet.
I've encountered some products before, and while at first they may seem to be robust, they end up failing me way before I wanted them to. With this concoction however, this happened almost immediately, as the website that it is featured on fails to provide even the most basic of details about itself. After the time I have spent researching this product, I cannot recommend it to you if your goal is to manage your weight.
Top Rated Products are guaranteed to get you the results you strive for.
Buy Skinny Fiber
Top 10 Diet Pills of 2023
Top 10 Diet Shakes of 2023