SafSlim Review – The Truth About This Product.
A deep focus pitted on the spot reduction craze has been a big part in some supplements and their marketing. Typically it is targeted towards taking down belly fat as it is seen as unsightly in certain cultures. Spot reduction continues as a tradition which really means one is losing fat in a very specific area. So whether or not one can expect real results depends more on the fat loss content found in the ingredient labeling. Of course creating a more fit body is what is implied and supposedly found within SafSlim.
Finding out whether or not one can expect a slimmer belly requires a lot more than a marketing pitch alone. Clever wordplay and an emphasis on promotion are always a part of products, but what you need is clear evidence and support.
So taking all the available information available for SafSlim, I've assembled what is a clear tone and outline for you to distinguish for yourself. Instead of falling into a marketing scheme you get the clear information.
What is it?
Whether in a 16 or 32 ounce bottle, this liquid formulas has been created specifically to help target belly fat.  Of course this really means that it has been created to help get rid of fat, but the fact they claim it spot reduces is something to be awarded if it is actually true. The key ingredient is a healthy fat that's being presented in a patented form of high-linoleic safflower oil. This is an all natural ingredient and according to the company and it has been clinically tested.  The four flavors offered are pina colada, berry, key lime and a taste award winning tangerine flavor. So clearly there are quite a few options in store for people to try.  Another convenience approach offered is the fact one can purchase this brand in many retailer shelves including the nationwide GNC supplement company. Also all the 4 flavors offered are available on multiple online retailers with different return policies.
In order to achieve the results of weight loss promised, one has to dedicate themselves to watching their food intake and of course making sure adequate exercise is presented. The dieting recommendation by the company is to get rid of refined high glycemic carbohydrates which manipulate and alter blood sugar levels for the worse. Also one has to make sure to avoid trans fat. Usually trans fat is found in processed foods and it is considered a detrimental fat. It's unclear as to how much exercise and diet play a role and how much can be found within this particular supplement.
Looking at the product there might be some initial confusion here. First off the product mentions how they feature a good source of fat. Many might assume that in order to lose weight fat must be brought down to a bare minimum. This is only half right. Getting a good source of fats is good for overall body function however, one must practice taking in a sufficient amount that does not overwhelm. So this company has created SafSlim in order to promote a good source of fat which helps the body get rid of body fat.
Body fat of course being the accumulation of a ton of calories that the body reserved due to excess of rich foods. With all that explained in detail now we can focus in on the potential for this product. It has a lot of variety and it seems to be at least on the front end to be a promising product. So let's uncover the reality.
Who makes it?
Florida based Re-Body LLC has created this brand alongside their most popular supplement in the form of Meratrim.
Hidden in the company's terms and conditions is an important fact about litigation and one's personal rights. When conducting business with the company if one were to experience any detrimental aspects one would not be able to take the company to court. Instead outside litigation must be compromised along a federally backed litigation officer.  Also one forfeits their right to conduct a class action lawsuit against the company if one were to experience any detrimental effects. It's basically a way for the company to escape liability and to have all forms of compensation handled by an outside source not documented in a court…. .Not only is this practice irregular but it is fairly shady when you consider that any issues cannot be spoken about outside of court proceedings.
Until more is figured out about this customers will give up any and all rights to this company inside this contract. It's a giant red flag that should be addressed.
Does SafSlim work?
It's about split down the middle as far as customer online reviews go. So far the overwhelming consensus is to have patience. Of course any form of high grade fat can produce some results in the form of fat loss. However the consensus is twofold, that one has to wait a bit to see anything change and that the results have not been seen. So while it does not seem like a maximum power supplement it may have some use as a good source of fat. However much cheaper options exist that do not have all the extra additives found in this brand.
A more useful and fundamentally better form of weight loss can be achieved with the proper brands.
SafSlim Ingredients and Dosage
The key active ingredient is a form of fat that can be found in many other products as a standalone. What one is essentially paying for are flavoring agents, thickening and stabilizing ingredients, and water. That's essentially the gist of the ingredients. So a lot of money is being plopped down for a watered down product intended to provide flavor. Clearly better options exist than this very lacking supplement. Keep in mind a 2 week supply will run you $32.99 without shipping and handling. This is a lot to ask for when you consider safflower oil retails for less than half that on supermarket shelves. This main ingredient is not difficult to obtain either, it's just patented which means one is paying for the different manufacturing procedure which may or may not be as nutritious as regular safflower oil.
SafSLim and its many components are available here to view: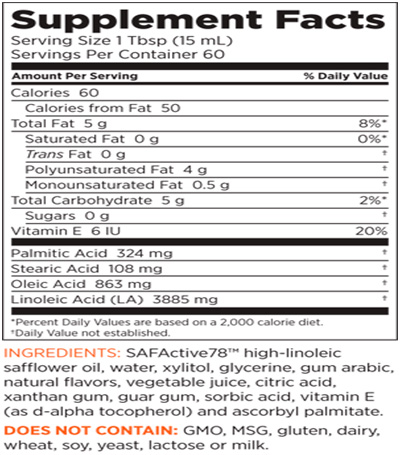 Are there possible side effects?
Some of the common culprits that arise with supplementation of a product like this are nausea, stomach aches, and diarrhea. Of course because it is an oil one must be cautious to get the accurate dosing to further avoid the complications which may arise from consuming this particular product.
Xylitol has shown a possibility for causing extra stomach issues as well. For some there is an often reported bitter type of taste associated with it that takes a while to go away. So keep in mind there could be some recurring stomach complications here when consumed.
The most elite level products can help you avoid unnecessary side effects which can ruin your supplementation experience.
Conclusion
To see such a variety in the form of supplementation from adding it to foods, taking it solo or even having multiple flavors is a lot of good things to have. One cannot fault the company for not having original flavors. They also have a good form of fat that the body can use to a positive. However one still has to consider the overall product, which after examining it there just isn't enough to actually substantiate a purchase.
The product has not enough going on to actually make it a must buy. It costs way too much and essentially one has to drop around $100 for a month's supply. This is a lot of money for just one ingredient surrounded by agents meant to help improve the overall taste and structure of the product. If one really wanted the main ingredient then one should go to any supermarket and get the safflower oil found here. Until further explanation is offered then one cannot assume the product works as mentioned.
The fat loss components are very small, though it is a good thing that there could be potential fat loss. Albeit when introduced alongside diet and exercise. Far more reaching products are available that can make a difference at a lower cost. Clearly the redeeming qualities found here are way overpriced and they offer more convenience than real fat loss instead. Another aspect that may be hidden to most customers is the contract added here. It ensures customers are not given an open avenue to sue the company for any issues. Instead arbitration from a neutral party must be accessed instead of a jury or judge. This is a shady practice that has not been explained and it does not improve the customers rapport with the company.
To break it down fully, there isn't enough added here to support use. The company practices are suspect, the ingredients are completely overpriced, and the results are limited according to multiple customer accounts that exist right now. There just isn't enough here to give security and to show how one can actually improve their fat loss goals.
Take in the fully functional weight loss products that have been rated by individuals like yourself.
Buy SafSlim
Top 10 Diet Pills of 2023
Top 10 Diet Shakes of 2023