RegeneSlim Review – Does it Really Work?
There has been some controversy as to RegeneSlim in the past, because it used to contain a substance that was known to be potentially dangerous, 1,3 dimethylamine also known as DMAA. Since the Food and Drug Administration (FDA) sent out a warning to consumers about this substance, the company has since changed its ingredient lineup, so that it is much safer for people to take.
What is it?
The makers of RegeneSlim assert that not only will appetite be quashed, but an individual's comprehensive well being, health and outward appearances will be greatly benefited. In attempt to stand out from the vast array of other diet pills, RegeneSlim declares that when taking this concoction, users do not need to change their diets and lifestyles, nor do they have to attend any weekly meetings, weigh-ins, nor do they have to consume foods that are pre-packaged. The creators of this product seem to compare themselves with a personal trainer or a weight loss program, and while it is good that people don't have to go through these things, generally speaking unless you are already part of such a program, these things would not happen anyway.
Still though, RegeneSlim attempts to entice potential buyers towards its product with promises that they will see the new, thinner self that they have always saw in personal fantasies, but who has not yet materialized. I was already incredulous after seeing that people don't have to change their diets or lifestyles, as both of these are the very fundamentals of weight management.
This product likens itself to a diet pill from prophecy, but usually when this is stated, it's with the company thinking about overall sales, rather than actually getting people the results they pine for. So is this the case with RegeneSlim? Read on to discover the answers.
Who makes it?
Regeneca is the Cottonwood Heights, Utah based company that is recognized as being RegeneSlim's manufacturer. While there seems to be a level of transparency with this company, as they openly display the people who make up their leadership, I could not help but notice that with the exception of three people, everyone else has experience that is more geared toward marketing and business, not necessarily health and wellness. It is mentioned that the director of marketing and sales of Regeneca has a passion for wellness and health, but that's not really the same thing as being a doctor. There are three medical professionals included on the company's website (one being a plastic surgeon), but unlike the other members of the company's leadership, there is no blurb explaining anything about them.
The way that Regeneca seems to work is similar to that of a multi-level marketing company. There's a section on their official website that offers people to join the company as a distributor of the five different products that they manufacturer. They assert that through direct response marketing and sales, people will see their financial lives improve, as well as those people who they choose to associate with. Roughly speaking, this is the same kind of language that multi-level marketing companies use. Personally these kinds of companies really aren't for me, and I stay away from being employed by them.
Does RegeneSlim work?
Contra to what other weight management products lack, there are clinical studies that do show that there is some evidence to support that the ingredients within RegeneSlim, Super CitriMax and Chromemate, do in fact support weight management. However upon more intimate inspection, I was able to discern that there is a difference with the studies that have been provided and what is concocted in this diet pill. When taken in a dosage of 4,667 mg of Super CitriMax with 400 mg of gymnema extract and 400 mcg of chromium were people able to see pounds get shed from their bodies. The average dosage of RegeneSlim contains 551 mg, which is the total amount of ingredients in this concoction. It is so much lower than the competent dosage that I find it difficult to believe that the results would be replicated. Additionally while there may be a decently comparable amount of ingredients such as chromium, we are not given the exact amounts of any of the specific substances within RegeneSlim. Because of this we cannot therefore say that despite having the same substances as the successful trial study, that the results would be replicated. And all this of course, is notwithstanding the regular exercise and low-calorie diet that must simultaneously be implemented. Because of this I find it hard to believe that people will really see results from using this byproduct of substances.
Top Rated Products are beloved because they all provide scientific data that prove they actually are effective in aiding the subtraction of pounds off people.
RegeneSlim Ingredients and Dosage
There are only two separate patented ingredients that make up RegeneSlim, which are Chromemate and Super CitriMax. These two ingredients are however, broken down into 13 separate ingredients, which have been divided into two sections on the label; ingredients that are within the proprietary blend and those that are not in the labeled blend. Some of the substances not found on the label's proprietary blend have their daily recommended dosages incorporated on the label, while some don't. These include potassium (1.5%), garcinia cambogia (not available), calcium (7.5%), chromium (83.5%) and hydroxycitric acid (not available). There is no mention as to how much of any one of these ingredients are, but the total mass that these substances weigh in at is 375 mg. Ingredients that encompass the proprietary blend ave a combined weight of 176 mg. There is no mention as to what the individual weights of these substances are, nor what their daily recommended value is. These ingredients include synephrine HCl, green coffee bean, tyramine HCl, kola nut extract, hamala extract, guggulsterones natural, R-beta-methylphenylethylamine HCl and coleus. Users are advised to take 1 capsule twice daily. It is additionally advised that people take these capsules 1-2 hours prior to consuming a meal.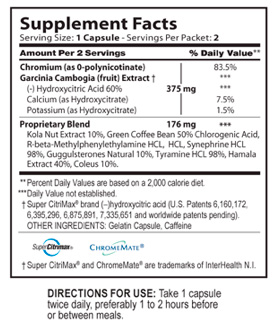 Are there potential side effects?
While no longer containing, 1,3 dimethylamine, that doesn't let RegeneSlim off of the side effect hook. Synephrine otherwise known as bitter orange is found in this product.  This substance is known to be chemically identical to an illegal substance known as ephedrine, which was outlawed because of the health consequences that have been associated with it. Being so similar, synephrine use runs the risk of people contracting the same adverse reactions, which include palpitations (rapid heartbeat), heart attack (myocardial infarction), hypertension (high blood pressure) and stroke (cerebrovascular accident). In addition to this, the manufacturers of this product also inform users that if they ever get a skin rash, to discontinue use of this concoction. Individuals who are at a heightened risk of contracting seizures, depression, anxiety, heart, kidney, psychiatric or thyroid disease or high blood pressure are not advised to use this product. In a similar way, women who are in stages of pregnancy or who are breastfeeding are also not recommended to use this product. Professional assistance is advised if shortness of breath, palpitations, severe headache, accidental overdose or dizziness are experienced.
Top Rated Products do not contain ingredients that are known to be chemically similar to other substances which have been declared to be illegal and dangerous.
Conclusion
In spite of the fact that this concoction no longer contains DMAA, that doesn't mean that there will be no side effects that may be experienced, as the inclusion of synephrine into this brew may attest. Although there are clinical studies done on the ingredients in this product, the amount that they come in are much lower than what has shown to be competent in the clinical trials that were performed. While even the trials state that exercise and proper dieting were important contributing factors for weight loss, RegeneSlim instead says that these facets of weight loss are not necessary. Marketing itself as thus, I do not see any way that this byproduct of substances will assist people in reaching their target weights that they so desire.
Products with Top Ratings will never try to misinform the people that consume them by not being identical to the clinical trials that were performed on the substances that make up their ingredients.
Buy RegeneSlim
Top 10 Diet Pills of 2023
Top 10 Diet Shakes of 2023