Plexus Accelerator+ Review – Is Plexus Accelerator+ Safe for You?
With nutrition and health supplements being the current craze that has graced the United States, companies have produced such a vast amount of diet pills that the total amount is innumerable. Yet despite the incredible quantity, there are many weight loss pills that fall far short of their retailed declarations. That however should not discourage prospective buyers, because there are competent diet pills out there. The trick lies in trying to decipher which ones are not worth your time and which ones are incredibly beneficial to use. These products include ingredients that companies are confident will get people to see a subtraction in their overall weight. While these products may allege themselves to be incredibly efficient, sometimes what may make them even more so is when they are stacked with complimentary products, as is the case with Plexus Accelerator+. The creators of this product assert that weight loss will be achieved once this product is used in conjunction with another one of their creations, Plexus Slim.
So is this concoction really as robust as it is marketed to prospective buyers to be? Find out below.
What is it?
Plexus Accelerator+ is a dietary supplement that is meant to be used with another product under the Plexus Worldwide banner known as Plexus Slim. It is used to assist people who are attempting to subtract weight from their frames, but who are struggling to overcome plateaus that they may have reached. Being a complementary concoction, it is only meant to be used with Plexus Slim, and not by itself.
This byproduct of substances asserts that it will quash appetite, have energy levels soaring and step-up the metabolic rate of it's users. Unlike other products that you need to purchase to even try, Plexus Accelerator+ is offered in trial packs that may last either 3 days or 7 days. Past this information, we are not told much else about this concoction. The only other information that has been provided by the manufacturers of this product are the warnings that may be associated with it's use, directions as to how to take and an image of the label.
To me this feels a bit lacking, as more information into the specific details of how the individual ingredients work would help anyone that was potentially looking to buy this product be more aware of what it is that they are dealing with.
Who makes it?
Plexus Worldwide is the Scottsdale, Arizona based company known for producing Plexus Accelerator+. The company is known to follow a direct selling model; this means that they hire people, who work at home to sell their products for them. Plexus Worldwide is known to manufacture products that range from weight loss supplements to breast health, detoxification, body creams and others. The company is knowledgeable of the importance of social media in the business world today, and as such has a presence on Pinterest, Facebook, Google+, Twitter and YouTube.
Does Plexus Accelerator+ work?
An issue that I have seen with Plexus Accelerator+, is that there are no clinical studies that have been provided so that users may know that either the ingredients, or the product as a whole are truly benign enough to get people to see the results that they strive for. Including scientifically driven clinical studies is important for any weight management product to display, as without it, we, the users and potential buyers, have no real way of knowing if the concoction really does work as well as it is retailed to. This is an issue that is not isolated to just Plexus Accelerator+, but it's companion product Plexus Slim as well. Furthermore, I was unable to find independent reviews that would authenticate any of the statements that the makers of this product assert. What's more, is that even though there are testimonials provided on the official webpage, not all of them even mention taking Plexus Accelerator+!
Top Rated Products may sometimes be used synergistically with other supplements to magnify the overall results they are marketed to produce.
Plexus Accelerator+ Ingredients and Dosage
There are a total of 12 different substances that are listed to makeup Plexus Accelerator+. Half of these ingredients are known to be minerals and vitamins that are beneficial for overall well being. These include calcium in the form of calcium glycinate (16 mg, 2% of the recommended daily value), pyridoxine hydrochloride, also known as vitamin B6 (30 mg, 1500%), niacin (20 mg, 100%), methylcobalamin, or vitamin B12 (500 mcg, 8333%), chromium picolinate (150 mcg, 125%) and folic acid (400 mcg, 100%). In addition to this, there are 6 other substances, all of which are included in the product's proprietary blend. While the total of these ingredients measures out to be 950 mg, there is no listing as to the individual amounts of the specific ingredients. With this lack of information, it is not possible to know which of the ingredients may be in too great a quantity and as a result may cause adverse effects and which ones are in infinitesimal amounts that make them practically useless.There is also no daily recommended value for any of them. The proprietary blend is comprised of 5-HTP, yerba mate leaf extract, hordenine hydrochloride, hawthorn berry extract, green tea leaf extract and higenamine hydrochloride. Higenamine hydrochloride is a stimulant and has been used for the magnification of athletic performance, and may possibly show results for weight management as well. Green tea and yerba mate are both stimulants as well, that are known to contain substances within them that make both propitious for overall health. Hordenine hydrochloride is a substance that is believed to have qualities that eviscerate fat. Hawthorn berry is known to govern cholesterol as well as blood sugar levels. 5-HTP  is known to be an enhancer of states of mind.
Users are instructed to take 1 capsule in the morning with Plexus Slim and a meal. A second capsule may also be used around lunch, again with in conjunction with Plexus Slim. As stated previously, Plexus Accelerator+ is not to be used on it's own. Users are advised to not take more than the company has recommended.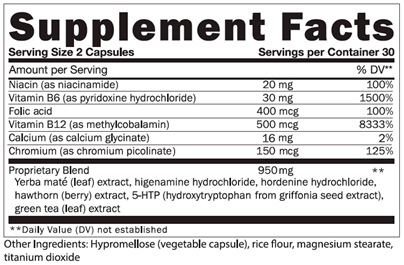 Are there potential side effects?
The official website of this product does not list any specific side effects that may be experienced from using this product. All that is mentioned, is that if unpleasant reactions make themselves apparent, to discontinue use of Plexus Accelerator+. I feel though it is important to mention, that there are certain substances within this concoction that may cause adverse reactions. Vitamin B12 comes in a mountainous amount of 8333% of it's daily recommended value, there is a likelihood that adverse reactions may be experienced. These may include contracting rosacea and acne. Both yerba mate and green tea are known to be stimulants. Although not the most powerful, we have no idea what their individual amounts are. As such, they could be enough to experience adverse effects. These include palpitations (rapid heart rate), anxiety, nausea, jitteriness, hypertension (high blood pressure), sleeping problems (insomnia), headaches, irritability and abdominal pain. Individuals below 18 years of age, persons with pre-existing health conditions and women who are in stages of pregnancy or breastfeeding are not advised to ingest this product, as it is not meant for their consumption.
Top Rated Products may not be ideal for everyone to use, an example being people with pre-existing health conditions.
Conclusion
While the makers of this product talk about it in confident terms, the fact remains clear that there is a void where they should have supplied clinical studies that were scientifically driven that show that either the ingredients or the product as a whole will actually assist in weight loss. Furthermore, there are a lack of independent reviews that would justify any of the allegations that this product makes. As such I don't see why use of this concoction would produce benign effects. Since it should only be taken with Plexus Slim and not alone, to me it seems you can completely gloss over this product. There are other diet pills out there that operate in a more robust manner than this one, and that aren't dependent on other products to be used
Top Rated Products are comprised of only the most optimum ingredients, and may not need to be supplemented by other products.
Buy Plexus Accelerator+
Top 10 Diet Pills of 2023
Top 10 Diet Shakes of 2023