Pinalim Tea Review – Is Pinalim Tea Safe?
New approaches to lose weight make the rounds on a often and steady basis. The idea is to really give a new promotional edge which makes a product seem current and up to date. Weight loss tea is a relatively new market that has a popular increase due to its familiar and seemingly safe sounding concept.  A tea surely has the benefits to cause some positive changes right? Assuming this is not the right way to approach what is a hard to tackle an issue in many people.
Well of course there needs to be a lot of attention paid on how these results for reducing weight are to come about.
Is it a thermogenic laden with caffeine or a laxative which can cause a series of intestinal issues? Or does it work safe but fit in some middle ground? Well the answer to this and more is nowhere to be viewed in full.
Instead of relying on what seems to be good marketing you can see the full details on a product like Pinalim Tea.
What is it?
The product is outlined in Spanish and the stated intention is to provide proper digestion for more nutrient absorption as well as helping flush out any and all toxins in the body. Pina is another way of saying pineapple in Spanish and this compound is supposed to contribute to lower cholesterol and even a loss in triglycerides. Also somehow this is supposed to lead to weight loss, assuming more nutrients are absorbed then it makes sense it may have an effect in a healthier body, and in turn lead to a decrease in weight albeit in a small fashion. Caloric deprivation is key to weight loss and this product reads as a detox tea and not one to be used for weight loss, however they do market it as such.
Looking at the website there is a series of pictures to name multiple brands but no other information exists on this brand. Another 3rd party seller does say this product works without a diet, essentially saying no change of eating bland foods is at all necessary. Of course this is not substantiated with any other forms of proof.
Pineapple is the main selling force behind this product, the even feature it prominently on their label though they do not mention anything else beyond just what is intended to do.
Who makes it?
Gn+Vida make this brand and they hail from the country of Mexico. There really isn't much at all to discern from the company. Their website is very strange and hard to navigate. It is only a set of pictures which require a left and right toggle to navigate from each brand. They feature a lot of supplements in the form of tea, however all they offer is an explanation as to how they work. No evidence of the ingredients in any science based trial is offered. Also they have no online presence. This means you cannot actually research the company. This practice is not good as there is no money back guarantee. The manufacturing process from Mexico is also different and no quality assurance is provided to safely make customer concerns vanish.
Does Pinalim Tea work?
Many reviews actually exist on Amazon.com which has a few confirmed purchases to make sure people have actually tried this product and not just people who benefit from sales.
Overall people say there are some effects which can be described as caffeine effects. So while the effect is present one needs a bit more to ensure it actually produces steady and ongoing results. More will be uncovered in the later sections which showcase the reality behind this supplement.
As it stands the company needs to offer a lot more research to really show how there could be weight loss. Not enough resounding positive reviews exist. Even those that are positive may be a series of reviews noting the caffeine effects within the blend.
Results are what are offered in the top listing of supplements.
Pinalim Tea Ingredients and Dosage
Well the makers themselves offer no ingredients and it had to be pulled from other websites so it is unknown if it truly has the following ingredients.
There is white tea, red tea and green tea. Not an uncommon blend and there could be some antioxidant properties assuming the handling was done in a way to preserve the positives found within these tea blends.
Two other ingredients not often added to teas is the flaxseed and the pineapple extract. Depending on how fresh the pineapple is it can contain some digestive properties which makes for an easier absorption of the surrounding ingredients. Also flaxseed which is high in omegas and has a lot of fiber is included into the mix. Flax is of course also high in fiber, but there must be a watchful eye to ensure not too much of it is taken to reduce bathroom time.
Here is the back if the label though it is in Spanish: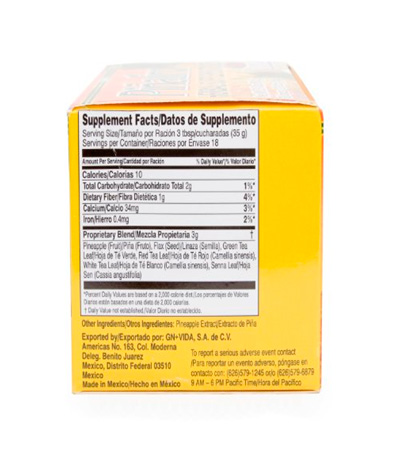 Are there possible side effects?
There has been more than a few cases of hard to deal with side effects. Some of the potential effects has been felt in quite enough people that it appears to be a recurring theme present in this tea blend.
Many have simply stated they found it hard to absorb as it lead to stomach issues which were very hard to cope with. Some have added they could not stomach how it felt and that it causes some major bloating, diarrhea, and increased bathroom frequency. Others claim it made them feel nauseous to the point they felt like they were going to throw up, only to have it turn into a churning stomach pain. Overall the main focus presented by customers is the commonly seen sight of a stomach cramp which took a long time to alleviate.  What is odd is how the 3rd party retailers add it does not contain caffeine, yet many posted feeling side effects which sound like they were caused by caffeine such as headaches and an increased anxious energy.
Avoiding side effects is possible when you consider the time tested brands safe to consume.
Conclusion
This company has a stated ability to provide a detox as well as a decrease in weight without the addition of caffeine. The report from this product is that it will flush out all the toxins and help you retain so much more nutrients then when you first started. Detoxing is often seen as a necessary aspect of providing a healthy body, it just has no research to back up how it works effectively to do such a thing. Pinalim Tea is available to American audiences yet it is made in Mexico. The company behind it is an unknown and they do not have a company history or explanation as to how they operate. This is one of the begging red flags which caused some level of concern needing a proper addressing.
Then there is the lacking information given by the company to explain why their blend is worth the price considering you can get the same ingredients for much cheaper. In fact it could also be taken fresher and without having to break the bank.
Another aspect added to this which has not been figured out is why there have been so many customers adding they felt a increase in stomach pain. This pain has been seen in so many and in fact many say they immediately stopped taking it because they felt completely grossed out and unable to drink anymore. Flaxseed might be the culprit but even then it would require a lot of flaxseed since it is easy to absorb. So either they add a tremendous amount of flaxseed or something else is amiss. Without knowing the manufacturing protocols there is no way of knowing. These laws are more lax in Mexico so it might be due to this.
Still what we know is the company has left almost all the marketing to other 3rd party sellers. They offer no detail as to their ingredients added at all.
Until more is exposed there is far too much mystery to approve it for use.
Knowing not just how a company operates is essential, but just as important is a full customer approved supplement.
Buy Pinalim Tea
Top 10 Diet Pills of 2023
Top 10 Diet Shakes of 2023