Phenemine Review – Is Phenemine Safe for You?
Sometimes supplements will market themselves after prescription drugs in order to gain popularity for a brand, or other times to trick customers. While an over the counter does often does not come with the research of a prescription, the rate of side effects also jumps and is often reported. Especially for weight loss the drug Phentermine is seen as a solution for people who are obese who needed to lose weight. With FDA approval this appetite suppressant is an amphetamine substance only intended for short term use. Also diet and exercise are mandatory in order to see results.
While an amphetamine would never legally see inclusion in an over the counter, some brands such as Phenemine have used their namesake to seem to be like Phentermine. The idea of a pharmaceutical grade supplement is controversial as legally if it were true, would require FDA approval.
Still brands looking to gain momentum off a prescription are here to stay. So to figure out what Phenemine can offer, this review has simplified the information available.
What is it?
Phenemine intends to be a sustained weight loss supplement with energy enhancing, thermogenic, and appetite reducing qualities. It is marketed as being pharmaceutical strength, however it apparently has all the positive proponents without the negatives associated with prescription drugs. However this is ironic as it is named after the prescription drug Phentermine, which is also meant for weight loss and does have some possible side effects.  However as it stands it apparently promotes a good mood, gets rid of late night snack cravings, gives amazing focus, does not cause jitters and apparently they claim it is all scientifically designed. Of course being designed by science should be the prerequisite for any substance considered a proper weight loss brand.
One unfortunate sight however is the lack of an official website. Although the product is sold via many different sources, they are all 3rd party redistributors who have nothing to do with the making of the product. This is not the best sight as any and all claims cannot be taken as something the company is promoting. Also if there would to be any complications, this voids the opportunity for a money back or safety guarantee.
So while this product can be bought through many sources, there is still a good degree of mystery. However there is information that exists through the examination of the supplement beyond just the marketing appeal.
Who makes it?
The name if the company making this brand is the Tri-Pharma Inc company, with its center in the state of Georgia.
They have been operational since 2023 and they provide FDA approved wholesale generic pharmaceuticals as well as over the counters. As of this writing not much information exists about their practices. Troubling to see is the fact the company does not market this brand themselves. In fact the website does not even mention Phenemine at all, despite it still being circulated around many retailers.  It is unknown why the company has decided not to market their own brand. Still, it exists and is sold as being a potent supplement.
Does Phenemine work?
Unfortunately not many reviews have been left, but the reviews that do exist paint a familiar picture. Many customers add their opinion that they didn't see any changes in their weight.  There is not any testimonials offered either, nor is there a way to verify a money back guarantee in case the product ends up not working for you.
Effective changes in weight is possible when you support your body with the right brand.
Phenemine Ingredients and Dosage
A 2 capsule maximum is in place, with one in the morning and one at lunch needed with a full glass of water.  It is also highly recommended to not take it in the late afternoon as it would cause potential insomnia.
As far as the ingredients there is a mixture of them added to one proprietary blend. There is Glucuronolactone here which is added to a lot of energy drinks. The supposed ability is to improve athletic performance, however it grossly lacks any real research.
Yohimbine and Synephrine are both stimulants shown to increase fat loss. However they have reported potential side effects which can overwhelm. For example caffeine is found here which is a common stimulant added for energy and physical endurance, e however it is often not recommended to be taken with Synephrine.
Inositol Niacinate is a form of niacin which is good for blood circulation and for lowering cholesterol and triglycerides within the blood. Picamilon also has niacin in it, mixed with GABA to form a synthetic mixture.  The idea for Picamilon is to reduce anxiety and promote healthy blood flow.
Stinging nettle has an effect on producing some anti inflammatory effects. Finally there is Phenethylamine, added to give a stimulant effect.
Phenemine in its full ingredient listing: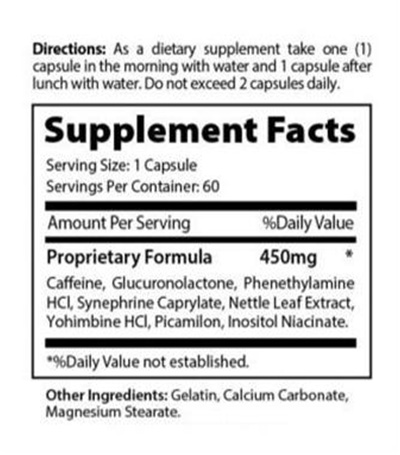 Are there possible side effects?
A lot of the ingredients added here are better suited when you know the right amount of each, as to properly gauge for dosing. For example the addition of Inositol Niacinate is intended to be taken in a very accurate dosing. If not it can lead to flush skin, upset stomach, headaches, dizziness, and fainting.
Synephrine and caffeine has been warned to not be taken together, due to the risk of side effects. It can potentially cause heart palpitations, heart attack, stroke, and even death in some.  Troubling here is also the addition of Yohimbine, which can further cause issues such as anxiety and rapid heart rate.
It is a problem when you look at all the potential side effects and the lack of notice as to how much of each ingredient is inside. Also troubling is the fact the company responsible for making this product no longer adds it to their lineup of products, yet it continues to be sold via many retailers. This furthers the risk of potential side effects as one has no way of knowing if the batches are fresh. Also any and all potential issues are left to the customer solely. There is no company to turn to in case the product were to be faulty, or worse, unsafe.
It is possible to gain effects without limiting side effects.
Conclusion
A lot of information that exists about this product falls under the same umbrella of uncertainty. You just do not know what is to be expected here. With the makers no longer giving any attention to this product, it still continues to exist. However the reason why they have abandoned it to be sold under whatever marketing direction 3rd party retailers want is not understood. While looking at the ingredients one would expect there to be more explanation given as to the dosage strength. Instead there is a lumping of potentially harmful additives here, all featured in a blend. Since some of the ingredients lack study it would have been nice to get some sort of explanation for the ingredients. After researching it, it then became quite clear. Many of the ingredients can potentially cause some serious side effects.
First off you do not know how much caffeine can be found inside. You are lead to guess and only take 2 capsules a day, which is not sufficient information as one should be able to know what they are putting into their bodies. Also once you look at the combination of ingredients it becomes clear that many of them are considered to be potentially unsafe when mixed. One of the most common issues here is the rate of potential anxiety and rapid heart rate. It is not recommended by sites like WebMD to mix Synephrine and Caffeine. Yet it exists here in unknown quantities.
Also by looking at the lack of positive reviews it leaves much doubt as to the usefulness of this brand. To summarize there is a lack of information from the makers, no hint of it existing from the manufacturers, no money or safety guarantee, a mix of potentially harmful ingredients, and no assurance of quality control. All these factors paint a very dim picture as there is no concrete evidence of it being potentially useful in any sense.
Far more suitable options exist for weight loss, products intended to work without the fear of the unknown.
Buy Phenemine
Top 10 Diet Pills of 2023
Top 10 Diet Shakes of 2023