Phenadren Review – All You Need to Know About This Product.
One of the most common additions to a weight loss product is thermogenics. A thermogenic is a way to increase the rate of internal temperature, in turn increasing the natural calorie burning process. Although you won't feel this increase in temperature, your body will know it is there. This also comes about in the form both natural and synthetic ingredients, so it depends on what is comfortable in taking. Brands like Phenadren are one of many that live off the thermogenic properties. The real question is whether or not the results are there.
Thermogenics are often already found in people's diets with it being a part of things like chocolate, chili peppers, caffeine products such as tea or coffee, and many others. So the truth one needs to find out is if the supplement is worth the investment of time and energy.
Luckily I've simplified the finding of information and made it all available in this handy review. It is all laid out here in order for you to accurately judge for your own self.
What is it?
Supplying what is said to be "professional formula" this thermogenic weight reducing brand also has the intention to increase energy.  Apparently 6 stages of thermogenic action are said to take place, and they are all here to provide a gradual switch in the body. These 6 stages come from many different ingredients added to provide a proprietary blend. Apparently this is the best selling product by the makers and it is also their very first creation. Unfortunately all that is available on this product's own website is simply a few sentences with an ingredient label are here to represent the brand. It is a shame seeing as how the creators have a sleek website, full of just a few words to talk about their own brand.
A concern is raised about this practice as it does not explain the process behind the product. So many different things are added and it appears that some research went into it. However it is not discussed at all.
Who makes it?
EVOchem nutrition creates supplements which target athletes and those with fitness goals.  This Nevada company claims to provide something other company's do not, which is quality products that have functioning ingredients.
Very little exist about the companies practices beyond just their own statements. It is known however that no money back guarantee is offered on the products here.
Does Phenadren work?
Unfortunate the company does not offer any testimonials or way to see if customers have enjoyed the brand.  To make it even more difficult to pin down, the brand is not found in other places where reviews are allowed. So it remains a mystery brand. This is very odd as the company claims it is their best selling product since 2023. One would think between this time there would be at least one review which supports or at least talks about the brand.
Customer reviewed favorites now exist for weight loss to meet your unique demands.
Phenadren Ingredients and Dosage
As far as dosing while the label says a serving would be 2 capsules, no description is given as to how to take it.
Many ingredients are added to this mix and none of them are explained as to their purpose. But to simplify the information about each is here. The so called first stage has Coleus Forskohlii for fat burning and testosterone,  Hordenine for fat burning, Raspberry Ketones and Cayenne for thermogenic increasing, and Guggul as well as Kelp for their thyroid enhancing function.
PEA is added to increase hormones but it is not absorbed good enough, and DMAE bitartrate is here for anti aging properties, though it has not shown that effect.
Glucuronolactone is added for energy(though highly under researched), White Willow is added and it can reduce pain but not weight. Caffeine, Citrus Aurantium, Yohimbine, and Green Tea are here for their fat burning properties. Hoodia exists to suppress appetite and Fucoxanthin is a seaweed meant for fat loss.
Dandelion root, Uva Ursi, Juniper Berry and Buchu Leaf are all diuretics. MSM is also here to prevent stress buildup during exercise, and niacin exists to provide proper metabolism. Finally Calcium Carbonate provides support for bones.
Still it would have been nice to see more evidence on why they were added as some of these lack any real research. Also since so many ingredients are present, there is no way of telling how much of each is present. Some of these are really dose dependent and if there is too much it could be dangerous, not enough and there is potentially no effect.
Represented in full is the outline for the ingredients found inside Phenadren: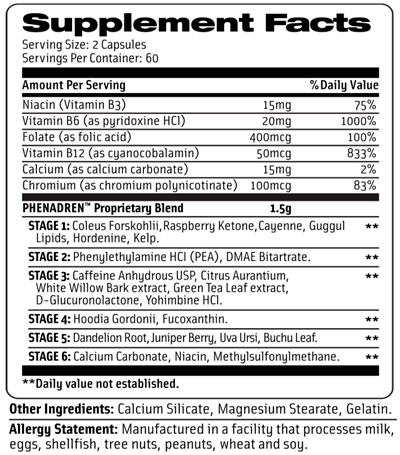 Are there possible side effects?
Due to the mixing of so many different ingredients there are so many unique side effects that can possibly arise.
To combine caffeine in this brand in unknown quantities is a potentially damaging thing. Some of the effects of over consuming it can lead to insomnia, headaches, hyperactivity, jitters, increased elevated heart rate, emotional instability and difficulty concentrating. Taking unknown quantities of caffeine is dangerous even to the most heavy caffeine users that exist. Especially in a supplement it can be added on in a large amount far surpassing a few cups of coffee. So without being able to judge how much is present here, it leaves doubt.
Other issues from the diuretics is dehydration, bathroom issues, and constant urination. Other potential issues seen in the ingredients is here in the lack of notification as to how much is needed for supplementation.  No dosing instructions at all are provided. Usually this is key to suggest a proper strategy for taking. It also makes it easy to know how much one can expect a bottle to last. This is a big thing as you can accurately judge the price of the brand. Here there is absolutely no mention and it is a big concern which should be addressed before considering purchase. Blindly taking these ingredients is not the way to go especially when there is a risk for side effects.
Risks are avoidable when supplementing with customer approved favorites.
Conclusion
This brand has a lot of interesting ingredients added, and a lot is the key word. So many in fact that they are all lumped inside a blend. This survey of the ingredients leaves a lot to be desired however, as one does not know about how the product is made. The ingredients here are often under researched and do not have enough compelling evidence to suggest they will work. Also it relies heavily on caffeine to produce results. These supposed results however are not seen in any customer accounts because the brand is a ghost. Not much information is provided at all by the makers and this is a concern. How can one safely choose if this brand will work for them when the manufacturers do not explain their practices.
According to self made reports this brand has been around since 2023 and is the flagship brand for the makers. Still there is no type of accounting to suggest it has actually been used by anyone. Instead there is a small couple of sentences meant to entice potential customers. Without a money back guarantee or notice of past history for successful use it is begging for a lot of trust. Trust which has not yet been earned in any degree. You can't expect to feel secure this brand when no money back guarantee is offered. No real reason is presented here in this brand. They even fail to mention how much one should take, or how much caffeine is inside, no mention is also given to how this product is made.
So without being able to accurately judge the quality of the brand it leaves far too many questions. The potential side effects are also increasingly possible and there is no way to make sure there will be no issues. Until much more is revealed by the creators there is far too much mystery surrounding this brand.
You can gain results without having to blindly trust a brand, the most highly touted supplements exist to make a difference.
Buy Phenadren
Top 10 Diet Pills of 2023
Top 10 Diet Shakes of 2023