Obesitrol Review – How Safe and Effective is it?
Going back to the basics in featuring just a few ingredients is often the case for certain supplements. It makes it easy to research the brand and it makes it simple to know what the combination will lead to. Also there is often more of one ingredient added which may or may not actually produce some results. Still as it looks on the surface there is still a lot of unanswered questions, first off how is the quality of ingredients? A brand like Obesitrol sounds interesting but what can it do?
So to figure out the possibility of this brand this review exists to satisfy the curiosities one might have. In the field of varying types of weight loss products there is a lot of uncertainty, especially when you don't have to time to sample each one.
It would be too consuming of your time and efforts, and of course there is potential for a lot of failure.
So to help shine an illuminating light, this Obesitrol breaks down what is an easy to interpret realization of the brand.
What is it?
The idea presented here is to trim off the fat and expose the "sexy body" hiding underneath the fat.  It is intended to do all of the following five: reduce the rate of appetite, destroy the intake of fat, increase the overall metabolism, get rid of any water retention, and finally to get rid of fatigue and introduce a surplus of energy.  They intend to do all this with what they claim to be 4 ingredients clinically proven to decrease weight. What is very strange about this claim is that there are more than 4 ingredients within the brand. So either the rest of the ingredients are useless or for unknown reasons they are added to the formula. Perhaps they are added to increase energy, but it is not explained in detail so it remains an important lingering question.
The company has some studies linked to some of the ingredients which apparently showed a reduction of weight.  They add a study performed on caffeine which showed an increase in energy. However a study for this ingredient is not needed as it is already known. Also there are 3 testimonials by people who claimed to have lost weight from this product.  One person even claims to have lost 15 pounds in 2 months.
There is also claims that diet are not necessary when supplementing with this brand. Also a guarantee exists for money back safety. Apparently this is rarely used and about 4% of the customers who sued this brand have sent the product back.
Who makes it?
This weight loss company seller is founded in Utah and they go by the name of NutraPharm LLC. The company makes several brands for weight loss under many different names, though no official company website exists.  A bit alarming as one would expect the company to be proud of their products instead of hiding their existence.  This might be due to the negative reviews which has given rise to an F rating on the Better Business Bureau which analyzes customer opinion over service, billing and any and all handling of complaints.
Due to the F rating it is not known if the money back guarantee is actually useful or if it is untruthful. Hidden in the terms and conditions is an agreement that if there were to be any damages or lack of results that the company is not responsible and that when you purchase a product you opt into this contract.
Does Obesitrol work?
So far 18 out of 27 reviews are left on Amazon.com which state that Obesitrol did absolutely nothing at all in terms of weight loss. Some even complained of adding the unrequired diet and exercise to still not be able to see any results. So it is unclear if the ingredients provided here are actually set to provide any noticeable changes as the overwhelming consensus is overly negative.
Getting rid of weight is a chore, but not when you have the proper supplements to support your goals.
Obesitrol Ingredients and Dosage
What is very concerning here is the fact the manufacturers do not have their own label of this brand. They go over 4 ingredients and one of them is not featured on the supplement facts list provided by real customers. So it is uncertain if the label represented below is actually representing the actual current ingredients. No mention is given by the company why they decided to not mention certain ingredients, or if they made a change.
However going over what the manufacturers claim to be inside there is dehydrated caffeine. Of course caffeine does have a stimulant effect and can prove some metabolism increasing factors. Irvingia Gabonensis is also here which is added to improve metabolism and reduce the rate of cholesterol and blood pressure.
A highly antioxidant rich green tea is also here which is a patented extract. Green coffee bean extract is also added which provides antioxidants as well as thermogenic qualities.
Coenzyme Q10 also appears which is intended to provide energy to the body and also break down fats.
Still with the incongruence of ingredients it is hard to determine what else if anything is provided. The company refuses to even give accurate amounts of the ingredients that they actually listed.
Represented here are the ingredients in the Obesitrol brand by one official customer. However as it was noted earlier, it is uncertain if there was a change in ingredients, as the makers do not add some of the ingredients that are listed below: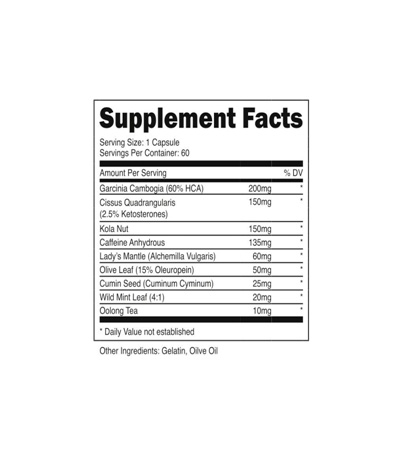 Are there possible side effects?
The main concern and issue people have is that the pills do not do anything at all, according to most customers.
However some of the issues inherent with the addition of caffeine here is that it can lead to a rate of side effects and it is not a long term solution. Also caffeine can also be sourced from other natural foods so supplementation of it is not necessary. However there is a risk factor associated which can lead to some of the following side effects. This can include anxiety, insomnia, irritability, mood swings, tremors, accelerated jumpy heart rate and jitters to name a few.
You can avoid any of the nasty side effects that supplements with caffeine have here.
Conclusion
The makers of this brand are quite elusive and do not allow themselves to be represented in any way. What is known however is that they create many different weight loss brands, all of which claim to be the best for reducing weight. Although they all feature different ingredients.
Another lack of representation exists with the ingredients. There are currently 2 labels available on this brand and they all feature different ingredients. To add to the worry is the fact that the makers have a lot of contradictions on their site. They claim that their brand features 4 ingredients proven to reduce weight. Yet they discuss 5 of them in detail .Even worse some of them do not appear on the nutrition facts list that some customers have produced. Another issue with this is that the ingredients the makers do talk about, none of them have a detailed listing of how much is inside. Especially concerning when you realize there are unknown quantities of caffeine present.
Finally to add even more strife is the fact the company is not well reviewed and their customer service skills have been ranked as being the ultimate worst with an F rating.
So not only is there an uncertainty on the ingredients, but there is a lacking amount of customer support for the company. Also there is multiple accounts from customers reaching a majority consensus. The results came in and most were left completely unsatisfied. Many reported feeling no change at all instead of the supposed weight loss the company claims is possible.
Too many unanswered important questions plague this brand and far too many negative reviews are presented. So far it is unknown what to expect in the positive in terms of weight loss.
Far better reviewed and much more well rounded products are here to make the difference in your weight loss journey.
Buy Obesitrol
Top 10 Diet Pills of 2023
Top 10 Diet Shakes of 2023