MPOWER Review – How Safe and Effective is it?
Complexes, blends, mixtures, propietary's all fit the same category in supplements to shed weight, a broad mixture of active ingredients intended to provide a more substantial combination. So some benefits mean that it has just a sample or touch in order to give some reported positive changes. By supplementing this formula it requires notice that much observation needs to be put in position to really understand it.
Many ingredients lumped together means even more of an effect. Sometimes manufacturers neglect to mention the exact intended purpose. Or even worse there could be an increase on the host of side effects. Another caveat relies on the formula and the way it has been presented, if it contains too much of one and not enough of another, there could be more or less effects. Creating these mixtures should be supplemented with all the data out in order to see what it can create within one's physical.
So MPOWER breeds the thought of a strong substance, therefore information needs to be presented in full.
What is it?
The idea behind this brand is to supply 3 complexes meant to provide leanness, improve workouts, shed water weight and improve mental clarity. They offer a neat little infographic to showcase how to take this product and it's clear the emphasis for this supplement is to help cater towards those in need of a push in the gym.  Just looking at the sleek orange and black bottle one can tell the company means business. Clearly noted on this bottle is a declaration that there are 0 banned substances. It may not seem like this is a needed sign as any supplement is free of banned substances, otherwise it would not be marketed and available. This is usually added to athletic supplements so people know that if they are to be competing, the ingredients found within would not result in being excluded from competition. It also showcases itself to contain 5 sources of caffeine. This is quite a lot of different sources however most importantly is how much caffeine is inside. To those sensitive to stimulants one might do better to find results elsewhere.
The product does not say outright that no ordinary person can't take this product but the bottle clearly states it is meant for "powerful athlete's energy". Whether or not this only serves a niche market remains to be seen. However with the information I've pooled together it paints a clear picture as to what this supplement can do.
Who makes it?
The makers RIVALUS offer many supplements with an emphasis on improving athletic function. Their packaging often comes in an orange and black label to differentiate from other brands. They also add videos that discuss their processing and ideas behind the company. All their products are GMP certified for quality and they control all aspects including distribution and creation. Apparently they also have 3rd party companies check the quality of their products. Surely all this is added to help satisfy customer demands.
Does MPOWER work?
Results on this question are mixed and it's easy to see why. Knowing that this product contains 5 different caffeine strains makes it easy to see how one can experience a feeling of energy and some thermogenic properties. Any form of caffeine can do this essentially. So the customers who claimed energy was increased may have experienced simply this.  Also worth keeping in mind is that when you rely on caffeine the effects wear down to the point one has to increase their threshold. This is not a long term solution to energy gains and weight loss.
What we took notice of however is the multiple reports of customers that state they felt nothing. Not one bit of change was gained at all in some.
Much more Well Rounded and suitable options exist in the Top Reviewed products.
MPOWER Ingredients and Dosage
Immense caffeine is added here, at 1000 mg this is comparable to about 5 cups of coffee a day when taking in the full dose. This is not only one of the highest but potentially one of the most unsafe amounts of caffeine ever seen. It's recommended to take twice a day the first week then 4 a day following the week after the first introduction.  Also since it is created with athletes in mind one could take it 30 to 60 minutes just before a workout.
So a 120 capsule bottle which is all they offer will last 30 days when consuming at the recommended dose. This equals $44.99 which is extremely pricy considering the ingredients such as the 5 different caffeine sources can be found much cheaper by themselves.
There's also some common ingredient found here such as CLA, Raspberry Ketones, and Garcinia Cambogia. All of these are lumped together in a proprietary blend which makes it impossible to ever know exactly how much of each you're consuming.  This has to be known as every individual customer has their own unique makeup that cannot be so cookie cutter as to throw oneself into an unknown brand. Until these important questions are answered in full there's very little to actually go on. The rate of mystery surrounding this brand makes it hard to fully know what to expect.
MPOWER has its labeled recreated here for easy viewing: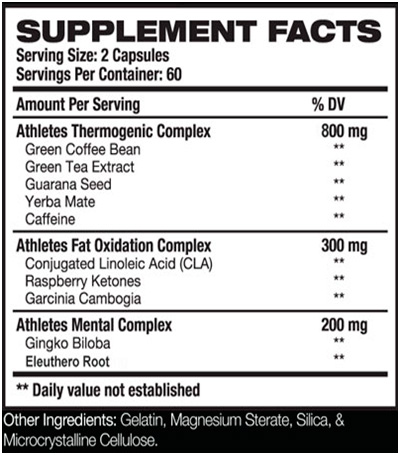 Are there possible side effects?
You can almost bet on the possibility for side effects. As previously offered this product has 1000 mg of caffeine in 2 capsules, and the manufacturers recommend bumping one's dosage to 4 capsules a day after the first week. This means you will receive 2000 mg of caffeine a day. This is one of the highest amounts I've ever encountered. Of course the repercussions are potentially devastating. A possible sudden increase in heart rate, anxiety, sweating, paranoia and multiple other symptoms related to elevated heart rate are possible. I cannot stress enough that these effects are possible even if you have a high threshold for caffeine.
Some of the side effects that are possible from their mental formula include spasms and changes in heart rhythm. So combining this with the huge amount of caffeine can spell disastrous results in certain people. It's odd that these ingredients would ever be found in such large doses with each other.
Adding to the potential threat is that there are 3 proprietary blends. So basically all the ingredients are found in varying degrees and customers do not know which of each ingredient is in larger supplies than others. Without being able to observe these important details there's no way a savvy customer can actually know what to fully expect. Certain ingredients are good in sparing amounts but for example if one were to get a higher dose of this product's CLA as opposed to Garcinia Cambogia, there is the possibility of CLA creating significant nausea or even fatigue. So overall it's important to hold this product accountable and to know much more before continuing forward.
Looking at the Best Reviewed products can ensure you get the very best without fear of side effects.
Conclusion
Considering that the product does have a potentially strong effect, a customer might be lured into the company's aesthetic. It appears on the surface at least to at least come from an honest company. This is most likely true as there are multiple good practices followed by the creators. Keeping this in mind it's hard to see how they missed the ball in terms of their formula for MPOWER.
Yeah there are a lot of energy sources added here but one might do better by not taking a shot with a brand that has this many stimulants added. The issue with many of these stimulant laden products is that it can not only is it not a long term solution, but it can cause a multitude of issues in the short term potentially. It just has too much of an issue with the potential short term overly complicated effects, and the long term use of having issues with getting enough out of it. Simply put any form of caffeine can be thermogenic and it can also provide energy. However this brand just doesn't cut it for me in terms of being a solution to weight loss for the long haul.
They even add that this product is built for athletes. Does this intend to block out regular people who do not live their lives in the gym? It is truly unknown and it must be figured out in order for people to make a good decision that fits their demands for health. One cannot blindly take a product if it does not fit their demographic.
Another big issue that needs to be corrected immediately is the fact that there is only proprietary blends added here. Not only is it hard to know the full amounts of all the ingredients individually but it makes it impossible for one to track their own dietary demands. Clearly one has to be exposed to a lot more beneficial aspects to ever consider this product as one of the elite supplements needed for weight loss. Too many unanswered questions leave this product in the dust.
Taking into account these less expensive and Highly Touted product's make it much easier for you to make an informed decision.
Buy MPOWER
Top 10 Diet Pills of 2023
Top 10 Diet Shakes of 2023