MetaboUP PLUS Review – How Safe and Effective is it?
Often seen in thermogenics is the belief that it is offering a clean and natural way to reduce weight without major risk. However the risk factor really depends on the person, as stimulants of many different shades are available to offer weight loss. Much like other natural things, simply because it comes from nature does not equal a safe ingredient. It is often seen that a thermogenic supplement will have restrictions on how much is considered a safe dose. Even this safe dose still comes with a warning to seek a physician's recommendation, even though it is an over the counter supplement.
Much like poison, although it is all natural does not imply it should be consumed. So watching your intake of these stimulants becomes important especially when you are introducing something new of a strong dose that you are not used to.
This also means you should know about the company practices and see what others are saying. So this MetaboUP PLUS review fulfills that gap, giving the details needed for a proper breakdown.
What is it?
Energy for your day and metabolism boosting for weight loss are the intended benefits of this often seen weight loss brand.  According to the makers there is clinical research to show the effectiveness of the ingredients, however this research has not been presented.  There is also a promise that the serving dose has just a bit more caffeine than a regular cup of coffee. So looking at the marketing there is several active people exercising, riding on bikes and just enjoying life. A lot of the claims here are constant reminders that this product provides a good energy source.
Apparently a 30 day money back guarantee is offered from the date of purchase so depending on when buys and how long it takes to reach one, there might not be enough time to truly know if the product has a useful effect on your body. Still the fact this product is widely available from several stores such as Wal Mart and many drug stores is an interesting feat in marketing.
Since you can find it in plenty of store shelves it merits an analysis to see if it is really worth it. To those OK with taking caffeine, MetaboUP PLUS has been created, let us see if it really lives up to the marketing.
Who makes it?
The fancy sounding Obesity Research Institute, LLC is not actually an institute that studies fat loss, but they are based in Nevada and they do offer weight loss supplements such as Lipozene.
They have had a lot of criticism on the Better Business Bureau website with 96 complaints given by customers. Most of them have to do with billing issues as people have claimed the money back guarantee was not applied.
Another concerning fact was the lawsuit of $1.5 million for deceptive marketing claims handed down by the Federal Trade Commission, which establishes honest business practices.  The claims made were of supposed weight loss which were deemed untrue and without evidence.
One more issue stemming from the auto renewal service has left many customers upset with the company. Hidden in the terms and conditions is an appeal that if a customer does not request to be taken off their billing program after 60 days, that it automatically starts a 2 month mandatory supply for $35.98. Some have felt that since they were never told directly , that it was a hidden tactic in order to strip money off people. Although legal, the fact the only mention is included in the terms and conditions has been missed by many upset customers.
Does MetaboUP PLUS work?
Surprisingly even though this product is available on many different markets there really is not much details on its potential effectiveness.  Some people have added their 2 cents in saying they either felt absolutely nothing, or that all it did was give off energy.
No doubt taking caffeine will produce energy so it really is no question that it would produce such effects. What needs to be shown however is some sort of trial to show the real effects on weight loss. The company claims to have information that represents how weight loss is possible with some of their ingredients, however it is not offered.
Stimulant free products are here to make the difference needed for real weight loss.
MetaboUP PLUS Ingredients and Dosage
Oolong tea and green tea are here which both provide caffeine and a bit of antioxidants.  Guarana of course also has caffeine and so does Kola nut. Cayenne pepper is a thermogenic which has mild fat burning properties. Of course straight caffeine is added to the mix, which does have effects on metabolism and energy. Finally there is Platycodon root extract which is a not often seen ingredient. It is a plant which is supposed to give off anti inflammatory, cholesterol lowering and blood sugar leveling properties. Though these studies have only been performed outside the human body, it is unknown if it really is as powerful as it is stated.
So really a lot of the influence here is from many different caffeine sources which may already be in your diet. The teas here that are present are really not substantial enough and they are really found for much cheaper.
2 tablets daily with a glass of water are the recommended dosage strength. However there is mention to seek a physician's recommendation before taking in order to secure proper effects.
Although not featured on their own website, here is the full ingredient listing for MetaboUP PLUS: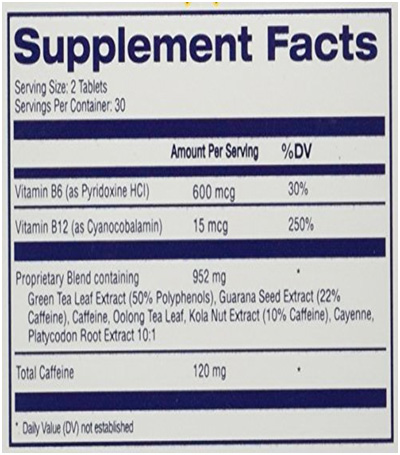 Are there possible side effects?
While the manufacturers claim no known side effects have been seen this is clearly wrong. Caffeine of any kind depending on the person can produce some unwanted effects on the body. In fact there is a lot of noted potential issues with the added side ingredients which some customers have taken notice of.
These potential issues are increased heart rate and blood pressure, nausea, headache, vomiting, irritability, jitters, and increased anxiety.
Taking a look at the very best,  shows the good and bad in weight loss.
Conclusion
You cannot really review a product without taking a peek into the history. Unfortunately the company had a $1.5 million dollar settlement for their lies and manipulative marketing which claimed would produce fat loss. So now what we have to look at is this product in its entirety. There are many claims added that include an unfounded belief that the ingredients here are clinically tested to reduce weight. Caffeine of course will do this but without having the studies presented how is one to know exactly what the full results are? If they are minimal then it really sours the experience.
Also another issue is that the main gist of this product is to introduce a full host of caffeine sources from many different sources. Not exactly the most promising of additions as it can be sourced for a lot cheaper with other foods. Coffee being an example of what is possible or simply a tea blend, which is what most of this product consists of.
Finally there is a lacking amount of positive experiences with the billing of this item. Many have concluded that the auto renewal billing program was not to people's liking. Some gave added they felt manipulated and were charged under hidden pretenses. It makes sense since there is an automatic 2 month charge if you do not ask the company to stop beforehand. So if you were to try a month's supply and after 60 days not call the company, it would then lead to 2 months of product and less money in your pocket.
Taking the shady business practices of past lies, their heavy FTC lawsuit which proved the company lied about weight loss, the lack of notable ingredients beyond caffeine, and lousy customer experiences into account. It all leaves so much more to be desired. Truly it does not have the weight to really put people's minds at ease, too much is truly lacking.
You can find change without the need for stimulants, real weight loss can come about when you have the right product behind you.
Buy MetaboUP PLUS
Top 10 Diet Pills of 2023
Top 10 Diet Shakes of 2023