Meratrim Review – Is Meratrim Safe for You?
An important aspect of weight management, is having a product that can be backed by clinical data. There are many products that fail to have this information, yet gloss over it and distract potential buyers with flashy visuals and cleverly worded marketing copy. Without this data, the information that a company may provide may be no better than words without any substance. It's a problem I've seen and written about on excess, and it's as if the companies don't learn anything from their competition. It's strange, but it seems as if these companies never learn from the past mistakes of others.
What stood out to me about Meratrim however, is that they actually cite the sources from which their studies have taken place. Just knowing this makes the product have a more legitimate outlook to it. At the same time I noticed that the FDA (Food and Drug Administration) had not yet verified the allegations that the company made about its creation. So then, what is the real deal with this product?
Read the following article to find out.
What is it?
While there are some products out on the market that within them contain a plethora of ingredients (sometimes over 25), Meratrim instead decides to opt out of this and uses only two. These two ingredients are alleged to originate from flowers, they include sphaeranthus indicus and garcinia mangostana. Both of these are asserted to have been verified to be adequate in producing results.
These results come in surprisingly fast, as it does not take months to see results, but apparently two weeks. Within this duration of time, not only did people drop weight, but they also witnessed a decrease in both their hip and waist size. Meratrim enjoys gasconading that this was all made possible without the use of stimulants.
The studies that were performed on this product are declared to be double-blind, which is much more than products who don't offer any clinical trials may say. Many Top Rated Products are also produced from double-blind studies. However I think it is also important to take note, that in spite of this, the FDA has not yet approved of any of the statements that this company has professed to.
It is only once they do that we can completely authenticate what this company has stated.
Who makes it?
Re-Body is the company who can be credited to giving Meratrim the breath of life that it needed to become a real weight management supplement. The company enjoys priding itself on staying based in reality and not telling its users that their products are like miracles or resort to employing some kind of cheap selling gimmicks.
The company also gasconades that all of it's products are made of only the most exceptional ingredients and that they have all been put through clinical trials so as to authenticate any declarations that are made. After having reviewed so many diet pills that lack this or just say that they're products have been through various trials, this is a bit reassuring.
In addition to this, Re-Body also has features on their website that are geared toward their customers, such as a community forum, articles on exercise as well as nutrition. There is also a section where they talk to a couple of their resident doctors who may help reassure customers about their health habits and the direction they choose to move it in.
Does Meratrim work?
As stated earlier, there were clinical trials done on this concoction that would seem to validate the assertions that this company makes about it's product. In this study there were results that people did see in weight loss, however it was not from the diet pill alone. For a duration of 8 weeks, 60 overweight participants were also instructed to stay on a strict 2,000 calorie diet, with the inclusion of a half hour of exercise for 5 days a week. The grouping was split in half, with half being given Meratrim while the other was given a placebo. It is only with this that any weight loss was seen.
Of course when you repeat this process and have people consuming less food than they previously had, the results would be very similar. It is my belief however that it is because of the incorporation of these facets that anything was seen to have resulted at all.
What made me question the declarations about how compelling this product was, was based on the customer reviews that I found on VitaminShoppe.com. There were an assortment of negative reviews from people who saw a lack of results, sometimes minimally at best. And it's not as if these people saw this as a pill that would solve all their problems; they too, just like the people in the studies, made sure to workout on a regular basis and remove excessive calories from their diet as well.
Because there are people outside of the study that saw no results, I cannot say that this product actually works as it is advertised to.
Meratrim Ingredients and Dosage
Users are to take two capsules every day, one capsule 30 minutes before breakfast and an additional capsule 30 minutes before dinner.
Proprietary Blend-                                         400mg
Sphaeranthus indicus extract- n/a
Garcinia mangostana- n/a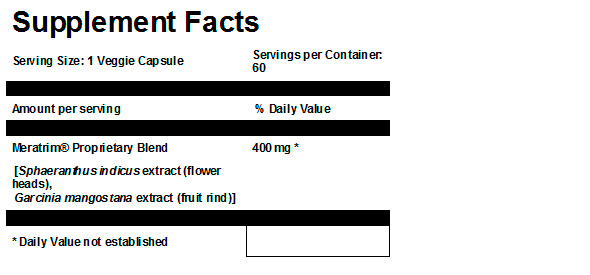 Are there potential side effects?
Contra to other diet pills (especially ones with stimulants) users have not reported any side effects after using this product. There are Top Rated Products that also are known for their lack of side effects.
Conclusion
While having actual scientific data behind it does make this more appealing, I can't help but feel that this still does not necessarily guarantee that this product will have people dropping pounds from their bodies. It's not as if a single user tried this and saw no results, but multiple have and all responded with very similar answers; that the change in their weight was virtually non-existent.
I do find the use of flower extracts to be intriguing, but with people not reporting the same results as the test subjects, I say this feels a bit like a gimmick. Interesting ingredients are always going to draw people in, regardless if they work or not. The trick however, is finding just the right ones that do produce an effect.
Top Rated Products are always known to live up to the standards they hold themselves to.
Buy Meratrim
Top 10 Diet Pills of 2023
Top 10 Diet Shakes of 2023