Liporidex Review – How Safe and Effective is it?
Having variety in a supplement weight reduction brand is a way to find not just a unique outcome, but an opportunity to really gauge a company and their business practices.  Having various brands is a way to to cross reference reviews and getting a much more complete picture on the company product. Often times the belief with this is that not one size supplement can really give unique results. So in comes Liporidex, here to make a mark and give customers a feeling of variety.
However often the supplements provided are missing key features, some brands do not have the staying power to work well enough. So some companies offer what seems to be a good deal, but instead is watered down supplements intended to be mixed in order to feel a sensation.
Knowing how to stop this from being an issue is not just mandatory, but should be the first step in really reviewing a product. This fully broken down piece mentions all the bits of Liporidex that can make your decision a breeze.
What is it?
A full serving of supplements for weight loss can be seen in the many different brands offered under the Liporidex banner.  The official website banner mentions  "doctor formulated supplements effectively and safely reduce the rate of body fat percentage". Of course this statement does not mention how this product is intended to produce such results. The statement is a bit odd, because of course if a product is doctor formulated it would have an advantage, but this can be made for any such supplement.
The lineup of products has pre and post workout supplementation, stimulant free and stimulant added supplements, and even a multi formula with added ingredients as well as an energy booster. All of them have their unique pitch and intended purpose for people. No doubt that the non stimulant version free of caffeine seems to be a more wholesome option for customers, assuming it works.
However assumptions is not what this review is about. Many more details will be uncovered.
Who makes it?
The company hails from California under the name of Nuretix Research Labs, LLC.
Reading the company profile apparently a doctor who was struggling with obesity decided to take supplements, However, many of them he did not enjoy due to their chemicals and heavy doses of caffeine. It is important to note, that most of the brands excluding one in these products has caffeine in some form. So while the company bashes its use in supplements, they are not exempt from adding it to their own.
As far as company and customer interactions there wasn't any noticeable opinion on the practices and handling of complaints.  Not enough of a footprint has been made to show a full perspective on the company.
Does Liporidex work?
Looking at the thousands of reviews from multiple retailers it appears people have experienced results, though often very subtle and not in a commanding fashion. Keeping notice of the caffeine added is a major significant factor in this product. Due to caffeine being a natural thermogenic intended to burn calories, it would not be a stretch to assume that is what has caused the effects. Since the majority of people say there is a mild change in the body, it appears that it could just be a decent dose of caffeine.
Many products especially when they are in the infancy stages gain a lot of support for what is really a caffeine pill. Much more is needed to be revealed to ensure a proper choice is made.
Even the reviews that exist saying positive things do not really express so much more that just a decent review. Being decent is not really enough when you consider the many choices available.
Taking heed of the best rated products makes your decision on a supplement a very easy accomplishment.
Liporidex Ingredients and Dosage
Each brand has a set ingredient list that differs from the others. However the key ingredients in each are as follows. Raspberry Ketones have been added in order to provide a thermogenic effect.  However it is part of a blend so it does not allow for the accurate dosing needed to substantiate a strength to your own body.
Irvingia gabonensis an African fruit that is intended to reduce cholesterol and fat also is mixed into a blend.
Another ingredient added to many of the brands is of course caffeine. It does have an effect but so does a cup of coffee or tea. It seems most of the products here rely on the addition of this ingredient.
One thing that was not necessary or useful is the addition of food coloring to their capsules. There has been a noted increase in hyperactivity and allergies when taking food coloring. Only reason why it is added is to give a colorful effect to make it seem more wholesome than it actually is.  However it really is a cheap additive that people should do without since it really is more of a filler as opposed to a true and necessary addition.
Though many varietals exist of this brand, here is the more standard version of Liporidex: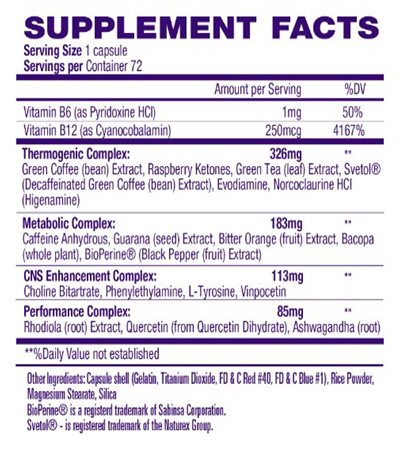 Are there possible side effects?
This is where the information as to all the uniquely added ingredients comes to a halt. There has been some noticeable side effects which the company is supposed to be against. The whole reason why these supplements are sold is because they are meant to be a much more well rounded option to help you reduce pounds. Instead however it appears that some of the side effects felt were symptoms that resemble caffeine over exposure.
There was a noted increase in the rate of increased hyperactivity, which can also come from the food coloring added. Also some reported that they felt headaches after taking the product.
Others mentioned they found it very difficult to receive any sleep, even when consuming in the afternoon and not anytime near bedtime. This is also a symptom of taking in an excess of caffeinated beverages.
Another thing that appeared and is much more serious is the rate of jitteriness. Of course all of these possibilities are caffeine over consumption. It is not known if this is the case, however many who took the non stimulant brand added they did not experience a change in their body composition.
Not consuming stimulants like caffeine makes a supplement far more superior.
Conclusion
Appearing to provide multiple types of relies for weight loss is a welcome sight it it truly works. Liporidex has a lot to say, just not enough to really back up their major claims. Since they harp about the use of stimulants it is quite strange when you actually notice how their lineup is meant to provide stimulants. It is important to add that not all of them have caffeine, but most do in fact.
It also appears that a lot of the customer concern has been involved in the overuse of caffeine. Caffeinated products are seen quite frequently, so it is no strange encounter here. However the many other ingredients added to the list seem to play a much smaller role. The good feeling up sensations sound very similar to taking in caffeine. Without having much more information on the product it becomes hard to know and distinguish if caffeine is the sole change found. Some have added they felt a lift in spirits and a bit more energy. Certainly good but since there aren't any unique characteristics that show it just isn't the addition of caffeine one cannot truly distinguish the reality.
While the company seems to have good practices in terms of not having a host of complaints against them, still no significant reasons are given to show how it beats the average supplement now available in wide mass. Something is missing to separate Liporidex from the pack, It is not terrible, just standard, nothing really stands out as a unique trait. As it sits it just is too plain and vanilla than the other solutions on the market which have customers railing on how beneficial they truly are.
Providing your body the fat loss tools it needs is no longer a difficult chore, take advantage of the supplements available here.
Buy Liporidex
Top 10 Diet Pills of 2023
Top 10 Diet Shakes of 2023