Liporexall Review – The Truth About This Product.
People are always looking for the next new diet pill that will have them exfoliating pounds from their bodies like a snake shedding its skin. While there are products out there that have ingredients that are beneficial, other products are filled with substances that don't really do much, or that may actually be harmful if regularly ingested. With such a vast array of options that is constantly available, it may become overwhelming and quite difficult to decipher what is actually the best product out there to consume. Liporexall is a product that attempts to stand out from this pack.
What is it?
Liporexall is a diet pill that quite honestly, has a pretty bland label. When I went to the official website, while there were testimonials and deals on the different packages I could purchase, I could not find anywhere where there was any mention as to how this product actually worked. For that information I had to go to the website of a third party supplier, where I was informed that Liporexall quashes hunger pangs and uplifts the metabolic rate of it's users. Additionally it will torch fat from the body and also contains substances that are beneficial for overall health.
I find it strange that the makers of this concoction would not find it necessary to fill their potential buyers in with any kind of information pertaining to their product. It seems that they would rather show an image of a woman's rear end in underwear to attract attention, rather than have a list of solid facts.
But every business is different, and the tactics that are applied are as varied as the market that the supply products to. So is this the diet pill that will get people to optimize the quality of their life? Find out in the article below.
Who makes it?
Nutripharm is the Orem, Utah based company that is responsible for manufacturing Liporexall. The company has no official website, but instead features only websites for the products that it creates, such as the website for Liporexall or Abidexin, another one of their products. These websites feature no community section, nor do they feature much of a connection to social media, other than an area where you may be able to like their Facebook page. The Better Business Bureau (BBB) looked into this company and gave them an F rating, nor is this company accredited by the bureau. Of the complaints surrounding this company that have surfaced, a majority pertain to issues people were having with their products. It was only through the BBB's website that I was even able to ascertain where this company was located. NutriPharm supplies no other information about itself, which is never a good sign. For why wouldn't they want to let people know who they are, wouldn't that only increase their profit margin if their products were associated with their brand? It's important to always be suspicious of companies that seem to hide details about themselves.
Does Liporexall work?
While Liporexall does make declarations about this product being able to eliminate appetite, incinerate fat and heighten the metabolic rate, the company provides no clinical studies to prove that this product will really do much of anything. There isn't even a clear explanation as to how the different ingredients work! What we are instead supplied with, is something more akin to a commercial on a product, with testimonials of smiling people who assert that this diet pill really did make them healthier, yet without clinical proof to back this up, it all feels a bit hard to believe. Not to mention that on Amazon.com, the average score was a 2.5 out of 5 star rating, with a great majority of people rating this diet pill a 1 out of 5 star rating. Most of the negative reviews derogated this product for having absolutely no effect on subtracting any amount of weight from these users. Their appetite wasn't quenched, nor was their metabolism accelerated. From these negative reviews alone I have lost faith that this product is able to live up to any declarations that it has made about itself.
Top Rated Products will always provide at least an explanation as to how the different ingredients that comprise them work.
Liporexall Ingredients and Dosage
It's a bit confusing when I was looking up this product, as there are two separate labels for this product; there's the one on the official website and there's the one that is one that is featured on third party suppliers, such as Amazon.com. To make matters even more confusing, there are ingredients listed in the heading of the official website that aren't even on the label, not even on Amazon! The ingredients lineups contain the same basic ingredients, but with the one available on Amazon, there are a few more substances concocted into the mix. I decided however, to go with the list that was on the official website. There are only 5 ingredients within Liporexall, and they are not conglomerated into a proprietary blend of any sort. None of the ingredients have their daily recommended value included on the label. The ingredients are irvingia gabonensis (7% albumins) 150 mg, coenzyme Q10 50 mg, Green coffee bean extract (50% chlorogenic acid) 200 mg, caffeine anhydrous 210 mg and GreenSelect phytosome green tea 150 mg. The difference with the product that is available on Amazon, is that it is the maximum strength version, and it includes lady's mantle, cissus quadrangularis, olive leaf 3:1, wild mint leaf, cumin seed and chromium in the form of chromax.  Of the primary 5 ingredients, 3 of which are known to contain caffeine, thereby acting as stimulants. Coenzyme Q10 is known to assist in governing cholesterol levels while irvingia gabonensis may do the same as well and promote the reduction of weight in the body, however the evidence that backs up this latter assertion is based off poor quality research, and therefore is not valid. Users are advised to take 1 capsule thirty minutes before breakfast and to repeat the process before lunch. The company also asserts that users should not exceed this amount.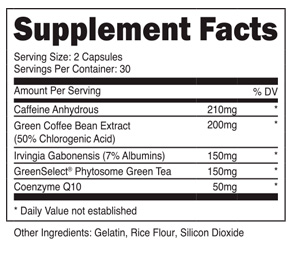 Are there potential side effects?
There is no mention either on the official website, nor from third party sellers as to adverse reactions that may potentially be experienced by users. The most that is said on this topic, is that side effects may be experienced if users don't follow the directions that are listed. Because a majority of the substances that comprise this concoction have caffeine (one of them literally being caffeine) there is a likelihood that adverse reactions to this substance may be experienced. Liporexall contains 210 mg of caffeine anhydrous, and that's not even including the caffeine content of either GreenSelect phytosome green tea or green coffee bean extract. This is already much more caffeine than an average cup of coffee has, which weighs in at 95 mg. Adverse reactions from this substance may include jitters, anxiety, rapid heart rate (palpitations), sleep problems (insomnia), headaches, hypertension (high blood pressure), nausea and nervousness. If you are someone who has a delicate relation to stimulants you may not want to try this product. If you are someone who has a pre-existing health condition or a family history of kidney, liver, cardiovascular disease or diabetes, it's recommended that you not take this product. The same applies for people who are taking any other kind of medication and women who are nursing or in stages of pregnancy. Individuals under the age of 18 are not advised to take this diet pill as well.
Top Rated Products do not depend on the work of stimulants to get their users the results they are striving to achieve.
Conclusion
With such little information available about itself, it's a small wonder that this product hasn't been removed from the market yet. There is almost no information as to how this product will actually interact with your body to get you to subtract weight. Furthermore, there are no clinical trials that have been supplied at any time that would back up any allegations that this product tries to use to promote itself. With such negative reports being so widely available, it's as if you already have proof as to how astoundingly undynamic this product really is without having to do anything more than read reviews about it. Do yourself a favor, and choose a different diet pill that is known to actually be beneficial and work, unlike this byproduct of substances.
Products that have achieved a Top Rating are widely acknowledged to be successful in aiding people to manage their weight in a healthy fashion.
Buy Liporexall
Top 10 Diet Pills of 2023
Top 10 Diet Shakes of 2023