Iodoral Review- Is Iodoral Safe?
While there are many different aspects that contribute to weight subduction, it is also important to make sure that certain the body and the parts that it is made up of operate in only the most exceptional manner possible. An example of this would be the thyroid gland. It is this gland that is responsible for the metabolic rate of the entire body. If there were problems with this gland, a person's metabolism would be greatly affected. To ensure that this gland is operating at it's peak of potential, the gland needs iodine. Without it, the thyroid would be much less efficient in doing what it has to to keep the body healthy. That's where a product like Iodoral steps up to center stage, asserting itself as the product to turn toward should any issues with the thyroid arise.
Be that as it may, does that necessarily mean that it will affect weight loss?
Or is it just that, a correlation is made between metabolism and weight management that isn't actually there? The following article will clarify this matter.
What is it?
Iodoral is a dietary supplement that is used to support the operations of the thyroid. As stated in the Introduction, iodine is essential for the thyroid to operate properly. There are also other organs in the body that need iodine to operate in a normal fashion. Also included in this concoction is potassium/iodide which also supports overall health. The official website does better than some of it's competitors, as it contains references to clinical studies that were done on iodine. I have seen too many products that have not so much as made any mention about scientific studies, and as such, it makes their products look much less legitimate than Iodoral does. The makers of Iodoral understand that iodine does not have one of the most appealing tastes, and as such has opted to include a pharmaceutical glaze in the form of a thin coat to make this product as a whole more enjoyable to consume than if they had not added the glaze at all.
However, I do feel that there may be a problem in regards to the goals of using this product. On the homepage of the official website, not once is there any mention as to how using Iodoral may contribute to a subtraction of weight on any level.
Because there is thyroid support, which in turn effects the metabolic rate, people may become confused with what this dietary supplement is really supposed to do, which is first and formost support the thyroid.
Who makes it?
Optimox Corporation is the Torrance, California based company that is acknowledged for manufacturing Iodoral. The company doesn't reveal much information about itself, as their official website talks exclusively on the products that they produce, rather than about themselves. The only real information that the company gives away, is their location, phone number and email. While I have seen scam products act in a similar fashion with the lack of information about themselves, I do not think that Optimox Corporation is one of them, as no scam company would readily give away information pertaining to their location. The company also has no social media presence, which I find peculiar, especially given how widespread and necessary such platforms have become in contemporary society.
Does Iodoral work?
While it is true that Iodoral does give the thyroid gland support, that however does not correlate over to weight loss, even though the metabolic rate would be effected by use of this concoction. It is easy to make that assumption, but the truth is that they are actually two separate issues that happen to have a relation. The official website says nothing about weight loss, not even mentioning the two words on the official homepage of the product. If anything this product is more for thyroid support than weight loss. There is no mention of other aspects of weight subduction such as smoldering fat deposits from the body, activating thermogenesis, quelling hunger pangs or giving users a magnification of their energy levels. There are also no mentions as to how exercise or diet would play any kind of role when using this product. Usually this would be a criticism that I would add, but in this case I would see it as less so, as weight loss was never the intention of this product. Although there are many positive reviews that I have found on Iodoral, none pertain to weight management.
While Top Rated Products may give their users additional health benefits, their primary goal is to support weight loss.
Iodoral Ingredients and Dosage
There are only two ingredients that are found within Iodoral. Neither of them is in any kind of proprietary blend and as such, we are given the amounts of each. These ingredients include iodide as potassium salt (7.5 mg) and iodine (5 mg). Both of these are used to assist the thyroid gland, which needs iodine to operate efficiently. Iodine deficiency is a major problem afflicting many people around the world, which is why this supplement was created, more for that purpose than for weight loss. Users are instructed to take anywhere from 1-4 tablets on a given day, with the supervision of a healthcare professional. The manufacturers of this product recommend a physician to assess your level of health before use and to monitor you while this product is being taken.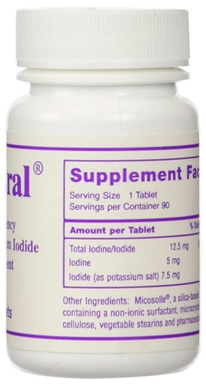 Are there potential side effects?
Although made of natural ingredients that are meant to support thyroid and overall health, that doesn't necessarily mean that Iodoral is free of adverse reactions. For one reason or another, the official website of this product fails to mention that this is a possibility, and I find that rather peculiar. There are people who have used this concoction and reported rashes on the legs and arms, headaches, sneezing, increased salivation as well as acne. I find it important to mention that this product is for iodine deficiencies. As such it should really only be used for this ailment alone. If the body has too much iodine, there may be negative health consequences associated with this. This includes burning in the stomach, throat and mouth, vomiting, a weak pulse, diarrhea, nausea and in more extreme cases, coma. Because of the possibility of these adverse reactions that pertain to iodine toxicity, it is recommended to only use products such as this with an iodine base after you have a recommendation from a healthcare professional.
Top Rated Products may have adverse reactions associated with them, but for the most part, none of them are known to be incredibly hazardous to a user's health.
Conclusion
While this product will most likely not do much in terms of weight management, I cannot say that that is necessarily a bad thing. that is because weight loss never seemed to be a real goal that this product strived toward. Because this supports the thyroid which in turn is known to govern the metabolic rate, it may see that this would therefore have some effect on weight subduction. The fact however, is that these are two separate matters, and while there may be some weight loss from this product, it would not be as much as a product that was actually meant to act as a diet pill.
What I do like about this product, is that it does stress the importance of having a doctor monitor you as you take this product. There are too many diet pills out there that seem to forget the importance of a physician in regards to their products, or at least when they mention it, it isn't highlighted very much. Having a healthy thyroid is important for overall health, and it should not be down played at all. However, you should know what the goals you are trying to reach are; if it is to have a healthy thyroid, then this may work for you. But if you are looking to subtract pounds from yourself, you would better be served with other products who were actually created with such a purpose in mind.
Top Rated Products are very clear that their intended use is primarily focuses on supporting people in losing excessive amounts of weight from their frames.
Buy Iodoral
Top 10 Diet Pills of 2023
Top 10 Diet Shakes of 2023