Hydroxycut Sprinkles Review – Is Hydroxycut Sprinkles Safe for You?
There are many different ways that weight management products may exist. Of course, the most common of these forms is through pills, capsules and tablets. However, that is not the only form that they are known to come in, as there are also shakes, teas, even droplets. All of these have some form of popularity, as there are products that are consistently produced in these forms. However, there is still one form that has not been mentioned yet; topical sprinkles. This has been tried before with the failed product Sensa, and since then I have not seen any other attempts by companies to try to replicate this. That is, until I stumbled upon Hydroxycut Sprinkles. While it is possible to find this product on the websites of third party retailers, I do find it curious that it's not available on the Hydroxycut website. I find this intriguing, as I wonder why the company would not want to associate themselves with one of their own products. Deciding to investigate on this further, I decided to dedicate today's review to the concoction in question.
What is it?
Hydroxycut Sprinkles are a weight management product that opts to go the unconventional route in terms of the form it comes in; it's sprinkles that are topically applied to food. When I see the image of Hydroxycut Sprinkles, it reminds me of a cereal box. I'm not sure if that's what the original creators were going for, or if it hurt their sales at all. These sprinkles are alleged to not affect the taste of food in anyway, leaving them just as enjoyable as they originally are. Hydroxycut Sprinkles also assert that despite the form that they come in, they are still filled with the same ingredients as any other Hydroxycut product. This is not meant to be a miracle product, but is to be used simultaneously with regular exercise and a calorie deficient, nutritious diet as well.
Despite all this, there is still a disclaimer, which reads that the FDA (Food and Drug Administration) has not evaluated the statements that were made in the marketing copy. As stated in the previous section, I do find it peculiar that Hydroxycut would discontinue this product on their own website, but still continue to have it sold from other retailers. My guess is that on some level, these weren't selling as well as they had originally assumed they would.
Who makes it?
Iovate Health Sciences is the Oakville, Ontario, Canada based company that may be credited for giving rise to the whole Hydroxycut brand. Established in 1995, the company initially only had 3 formulas under their name, one of which being the Hydroxycut formula. Since it's more modest days, the company has expanded, and even won awards from an array of companies, including GNC, BodyBuilding.com, Walmart and Rite Aid. The company prides itself on the core values that it's employees hold dear, as well as the quality of their products, which are asserted to be of only the highest exceptional level. The company understands how social media is changing the way products and companies do their marketing in the contemporary world, and as such, they have a presence on Facebook And LinkedIn, yet have not expanded to other social media platforms. These include Instagram, Pinterest, Twitter, Tumblr and YouTube.
Does Hydroxycut Sprinkles work?
In spite of their being confident product descriptions of Hydroxycut Sprinkles, nowhere was I able to find scientifically driven clinical evidence that would show that either the ingredients themselves, or the product as a whole may effectively act as a weight subduction aid. This is essential, as without it, the allegations that the product makes about itself are really nothing more than nice sounding text. Because this product is no longer featured on the official Hydroxycut website, there were no customer testimonials that the company provided. I was however, able to find independent reviews on Amazon.com. From what I have seen the majority of people rated this blend a 1 out of 5 star rating. Many of these users decried the horrendous taste of the blend, while the general consensus from everyone was that they saw no real change in their weight after consuming this concoction.
Top Rated Products are highly lauded by the people who purchase and consume them.
Hydroxycut Sprinkles Ingredients and Dosage
There are 6 different ingredients of which Hydroxycut Sprinkles is comprised of. Of these 6, only 2 of them are not within the company's proprietary blend. These are calcium (50 mg, 5% the recommended daily value) and vitamin C (7 mg, 12%). The rest of the ingredients are concocted together in the proprietary blend, which weighs out to be 155 mg. There are no individual amounts given to any of these substances, so it is not possible to tell if some of them may come in overburdened amounts, or if some may instead come in miniscule amounts that would result in the ingredient being nothing more than pointless. These ingredients are komijn extract, lady's mantle, wild mint extract and wild olive extract. Wild olive is known to govern blood pressure as well as cholesterol levels. Lady's mantle is known as a remedy for stomach ailments, such as diarrhea. Wild mint is also known to alleviate stomach ailments, while additionally acting as a stimulant. Komijn, also known as cumin has been used to regulate cholesterol levels, as well as reduce body fat levels.
Users are instructed to use a serving of Hydroxycut Sprinkles over every main meal of the day. It is also recommended to hydrate well while using this product, with the ideal amount being consumed being 8-10 glasses of water. It is mentioned to not take more than 3 servings of this product in a given day. For the most superb results, users are recommended to use Hydroxycut Sprinkles for a duration lasting 8-12 weeks.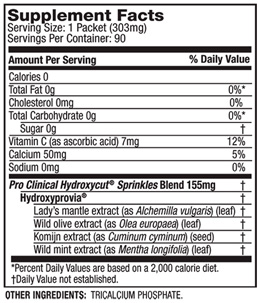 Are there potential side effects?
From what I was able to ascertain, there are no dangerous adverse reactions that are known to result from using Hydroxycut Sprinkles. This may be attributed to the small amount that a serving of this blend consists of. However, I was still wary if any of the ingredients may be known to cause any, so I did some research. Lady's mantle may cause liver damage, however this is rather unlikely in this case. vitamin C may cause heartburn, nausea, headaches and vomiting, but this is only in high amounts, the likes of which are not present in this concoction. High amounts of calcium may cause myocardial infarction (heart attack), but again, this is in amounts that are much higher than what is present in this product. Persons under 18 years of age, as well as women who are breastfeeding or in stages of pregnancy are not advised to use this product.
Top Rated Products may be similar to this product in that, they are not associated with severe adverse reactions.
Conclusion
When products end up becoming discontinued, there is usually a pretty good reason behind it. In the case of Hydroxycut Sprinkles, on a topical level, it was because of the awful taste that has been it's unfortunate trademark. This alone has lead to many negative reviews. Aside from this however, the company did not provide any clinical studies on either the product as a whole or the ingredients of which it is comprised of. There is also a lack of ingredients that are known to successfully combat obesity. Although they may positively affect both cholesterol and blood sugar levels, those things are not the same as weight loss. People may confuse these and think that that they are one in the same, which may have resulted in some people purchasing this concoction on accident. Overall it seems that the makers of this product realized it was a mistake and are trying to live past it. It would be best if you overlooked this product too, because there are so many other weight subduction products available that are made of all natural ingredients that are proven to get you the results you yearn to see. And they don't taste bad as this product unfortunately does.
Top Rated Products are alluring to customers on all fronts; from the presentation to the clinical studies provided to the affordable prices as well.
Buy Hydroxycut Sprinkles
Top 10 Diet Pills of 2023
Top 10 Diet Shakes of 2023