ForsLean Review – All You Need to Know About This Product.
A large and often known component of the struggle to produce proper weight loss products relies on knowing history. Taking what has been a proper established tone of repeat positive weight reduction is vital. In taking past historical accounts from other civilizations it seems fitting to accept it as these extracts come from all natural ingredients. It is also typical seeing herbs and plants added to this mix.
Of course certain manufacturers add a patent to extract what is seen as the most potent components of an ingredient. Therefore something like ForsLean has that intention in sight, to give off results using an extract of a supposed benefit for shedding weight. However past historical use is not necessarily evidence, a lot more is needed instead of simple hearsay. So this ForsLean review gets past the hype and simplifies what is to be gained.
There is lots to cover that has been found out about this specific extract. So by reading up on its actual use, there is no fear of blindly consuming an unknown extract.
What is it?
This patented extract of Coleus Forskohlii was created with an overall purpose to help you lose weight and improve mood all in a natural product. The plant extract featured goes by the chemical name of Forskolin and it is native to parts of India.  In traditional medicine it was believed the plant could help in treating painful urination, convulsions and heart disease. However now it is used for other purposes with more studies performed on it to ensure quality and supposed results. The specific trademark named ForsLean was created to do a few different things including improve lean muscle mass. The concentration strength varies from up to 1% all the way to 98% depending on the specific demand.  The intention behind the product is to ramp up certain hormones which then leads to a chain reaction in the body. Eventually it is intended to lead to something called lipolysis, which is a fancy way of saying it will cause a decrease in triglycerides and fat.  This has been shown according to the company which has provided clinical trials of this specific extract.
The only company that can state that their Coleus Forskohlii can improve mood, lead to lean muscle mass and fat loss is this specific company who has patented the extract of ForsLean. While the full fledged form has had a tradition of use in Indian medicine it wasn't until now where there was more information given about how this extract will effect the body. Luckily the product is produced in an FDA approved facility and it also has a global patent. So any manufactures that add this specific brand at least have some sort of background to show how it works in the body.  Essentially any company can add it to their supplements at a cost and payment to the original makers.
However one has to keep in mind each company may add certain additives to it in order to provide extra results. Also worth noting is of course there are different strength levels that may be added to the mix.
The most important aspect to consider is what if any effects can be felt and how strong is it really?
Who makes it?
The Sabinsa Corporation is a 1998 founded worldwide producer of many different products such as herbal extracts and of course supplements. They currently hold patents of over 100 different brands. They also continually appeal to Federal courts in order to hold these patents, this essentially means the company has a lot of research done on their products to ensure they are of sufficient quality. Also the ingredients sourced from this company all come from a GMP certified facility to ensure one is receiving a full fledged repeat quality.
Although since the ingredients ForsLean is essentially available within several different company's products. So it then becomes the customer's duty to ensure one is dealing with a company that actually has a good history and good mix of ingredients. Many different strength and sometimes the company adds extra ingredients.
Does ForsLean work?
The company cites an 8 week study to show that this extract reduced weight in obese people.   Between 4 to 8 pounds were lost during the trial program. However this trial was performed during a diet and exercise plan. Therefore it remains to be seen if the study just tracked a substantial change in lifestyle to achieve results.
Looking at other sources outside the company I watched all the reviews for products containing this brand. Results were split in the middle with some claiming results and others claiming no change in their weight. With this much discord it's hard to really know what to expect here, there seems to be no real indication of ForsLean leading to much change in the body according to customer accounts.  Since the majority have stated they felt no change it becomes hard to understand why one should supplement with it. The common case for supplements of this kind is that studies are performed with a bias and then they are unleashed. So without having much customer support it remains to be seen if the product actually can produce the results they claim. As of now no compelling customer accounts have mentioned any reduction in weight.
As far as mood goes the majority of customers said they felt nothing. For those that did it could be a symptom of the placebo effect. Because they felt like it would happen it then did in their minds. As is common for this extract, much more information is needed.
Far more substantial options for weight loss now exist in easy to take form.
ForsLean Ingredients and Dosage
There is a varied amount of this extract featured and it really depends on the individual manufacturer. Often one sees the ingredient as the only one provided here but once again, it depends on how it is marketed. While the company who patented this extract has their own recommendation for intake, there still isn't a varied enough amount of trials done on proper dosing. Therefore each customer must track their own progress to ensure one receives the right strength.
Here lies a sample of one particular brand which has a high amount of the extract: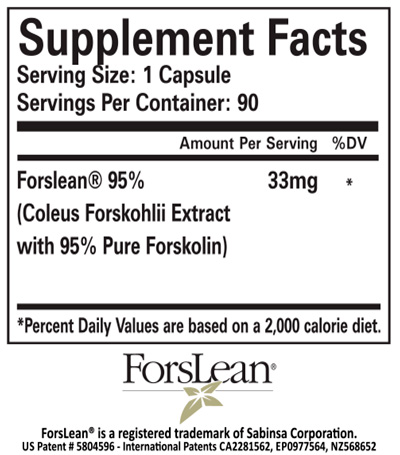 Are there possible side effects?
Once again a prevailing issue appears in the form of mystery. Due to the lack of testing there is much left to be discovered on the negative effects associated.
Headaches and low pressure have been seen in combination with certain forms of medication. Also those who are pregnant or nursing are expected not to supplement here.  It also is not meant to be consumed with those with any kidney issues. Also noted is that people with blood disorders may experience side effects.
Until more is discovered and studied it remains to be seen what potential issues may arise. As of now the full list of what is possible has been listed but more information is needed for long term use. As with any new ingredient of this nature it should be consumed with caution. Many have stated the product did nothing for them so it calls into account why one would consume a potentially harmful product without any proven positive results.
Far more researched brands exist that don't leave any mystery behind their possible use.
Conclusion
Extracts are now coming out of everywhere with lots of information as to their past use. This specific extract had been used for the treatment of many issues but not it is meant to do something completely different. What makes it stand out is that the company behind this product did some research on the potentials on the product. Now what is needed is much more information to secure the relationship with ForsLean. As it stands there still is a lot of questions that remain looming. There are no long term studies and the longest it has been tested for is less than 2 months. The idea behind the product was to give it to obese people and see what results if any would occur. Well they experienced weight loss, while combining diet and exercise. This new introduction may be exactly what caused the change and it is uncertain how much of any effect ForsLean had on weight.
When you look at all the brands that feature ForsLean it then becomes clear more information is needed. As it sits there is not much to show it can actually produce beneficial results needed for effective weight loss. Too many customers have said this product does not work. Without at least half of an approval rating it's hard to ever consider it to be a proper weight loss supplement. It serves a good intention but the results are still too lacking.
Not only is ForsLean lacking much support but it doesn't really provide much change according to customers. Until more information is presented to support its use, it still remains to be seen whether or not it is of decent quality. All that is known for sure is that most accounts state it just didn't do anything.
Effective quality supplements take the guesswork out of weight loss, instead of dealing with shrouded mystery make the right choice.
Buy ForsLean
Top 10 Diet Pills of 2023
Top 10 Diet Shakes of 2023