FitMiss Trim Review – How Safe and Effective is it?
Obesity is a problem that has reached a critical mass in the United States. There are more people who are overweight in this country than at any other time in history. This may be attributed to our increasingly sedentary style of life, as well as the foods and drinks that we consume. Trans fats and substances such as high fructose corn syrup permeate themselves in virtually every consumable product that is available for us to consume. While exercise and diet are undoubtedly great ways to combat obesity, sometimes this isn't enough. Sometimes, a diet pill is needed. But that doesn't mean that every diet pill is full proof.
Sometimes a problem that may arise from diet pills are that, while they may assert that they will have the user end on the victorious side on the crusade for weight loss, sadly this isn't always true.
There are facets to weight loss that always need to be addressed, and if ignored, the chances of weight management being successful aren't very high.
What is it?
FitMiss Trim attempts to break the mold of these failed products, but telling its users that it will help them reach their goals through six separate stages. In these stages hunger quenching, revitalizing energy levels and accelerating the metabolic rate are all attended to.
Additionally there are other factors that the product decides to additionally tackle, such as regulating the user's state of mind, making sure that nutrients are absorbed properly and acting as a diuretic to eradicating excess water weight. From the logo featuring the outline of a woman, to the name of the product itself, FitMiss Trim, it is obvious to deduce that this concoction is meant for individuals of the female gender. With a six staged system, topically it would seem to be that this product has thought a lot through; after all, it's not like scam diet pills that offer instantaneous weight loss after merely using their product.
Yet despite that, does this actually translate this to being a competent diet pill? Find out in the review below.
Who makes it?
The company that can be credited for bringing FitMiss Trim into existence is the Denver, Colorado based MusclePharm Corp. The company was founded by ex-professional football player Brad Pyatt, who as asserted in the About section of the company's website, retells his story of taking useless supplements that were over hyped. Eventually this lead him to create his own company, which would take off in only half a decade. Since then other well recognized athletes, such as Colin Kaepernick, have graced the company's website with their likenesses posted on the background.
Additionally the company has been known to receive numerous awards in the past for it's accomplishments. Yet while this might sound incredibly impressive, it is not like all of these were because of their products being incredibly robust and scientifically sound. Some of these awards go to packaging, while others are for things such as their clothing line. While still impressive, we find this as a bit of a distraction, as these are not the points that we focus on when looking into weight management products.
Does FitMiss Trim work?
Statements made on a FitMiss Trim's personalized page may seem exciting and confident, yet it must always be remembered that there is a marketing use for the language and the style that they present themselves. Short bullet points always draw people's attention, in some cases, away from areas where they should be drawn to. For example, the product's page offers no clinical studies to prove that this byproduct of substances can hold a compelling argument for weight loss. Without any studies, who is to say that anything that is stated about this product is true at all? As if to back this up, we found reviews from users who decry the robust qualities that the makers of this pill report their product to have. Lastly ingredients included such as raspberry ketones, while popular in diet pills, have insufficient evidence to prove that they help with weight loss.
With Top Rated Products, it's guaranteed that none of these issues would ever arise.
FitMiss Trim Ingredients and Dosage
FitMiss Trim contains over 20 ingredients. While to some it may seem that this diet pill has what is required to cover all bases of weight loss, yet a problem that may arise (and has in other diet pills), is that the sheer multitude of ingredients ends up diluting the end product, thereby making the pill itself rather ineffective. Another issue that is related to this is that, because so many of the ingredients are in the proprietary blends, we have no idea how much of each individual ingredient there really is in the product, as no amounts are listed.
As for what goes into it, FitMiss Trim is a gumbo of various substances, some being stimulants such as yerba mate and green tea, state of mind stabilizers such as 5 HTP and phenylalanine, diuretics such as uva ursi and others. While diuretics may be seen as a way to lose excess weight, this has been known to be dangerous in some cases, and as such, we really can't recommend such substances as safe or competent in the long run.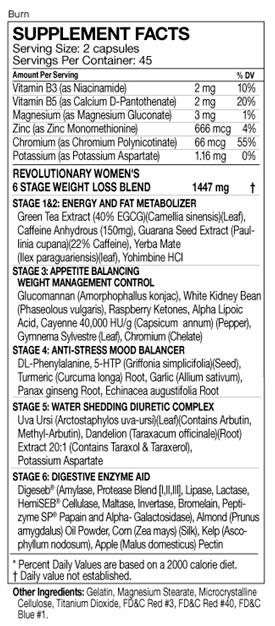 Are there any potential side effects?
From what we have noted, FitMiss Trim contains a rather healthy dose of substances that are stimulants. The effects of these substances only becomes exacerbated with the inclusion of yohimbine HCl, which is known to mark up the potency of the effects of stimulants. While this may give the user a radical new amount of energy, this also amps up the potential for adverse reactions. Some of these reactions include insomnia, jitters, headaches and anxiety.
FitMiss Trim also includes ingredients that are known to act as diuretics, such as uva ursi. While this may help with weight loss in the short run, paradoxically this may lead to water retention, which would end up insulating water weight that users are trying to lose.
The creators of Top Rated Products don't use diuretics to support people in managing their weight.
Moreover glucomannan, which has been added because of it's appetite quashing abilities, may give people abdominal discomfort and also lead to flatulence and bloating. It should also be noted, that this ingredient by itself may become a choking hazard if consumed without water. While this is one of many ingredients, we would advise our users to always take a supplement with this ingredient with water to prevent possible complications.
Conclusion
While there are facets of this product that do make it seem like an attractive purchase, there are no clinical studies available to further the allegation that this product really is at all competent at aiding people in weight management. Furthermore while the stimulants inducted into this concoction may adversely react with some people, other ingredients such as raspberry ketones are not known to do much of anything in regards to weight loss. While it may seem some that this product can live up to its assertions, our final conclusion is that if anything it may have you thinking you are making progress,this may be because of the mood enhancing substances included. The truth however may well may farther off.
Top Rated Products are all known to get people the results they yearn for.
Buy FitMiss Trim
Top 10 Diet Pills of 2023
Top 10 Diet Shakes of 2023