Fenphedra Review – How Safe and Effective is it?
Ephedra was once a commonly used plant extract which saw itself as a major additive to many big weight loss products. The reason why it was so used was because it did work, fat loss was made possible with the addition of this ingredient. It worked as a stimulant on top of being a potent ingredient for increasing thermogenic properties within the body. Although there was a caution often added to the brand for side effects. Suddenly more frequent reports came about discussing the risk of side effects. This lead to a ban in the 2000's by the FDA, one of the first for an all natural ingredient.
Brands like Fenphedra get their namesake from the ingredient Ephedra, which was once touted as being a safe use ingredient.  So to see a company make a brand which sounds similar to this ingredient is a bit concerning.
Since it does not actually contain the now banned Ephedra it is a good sign, it just calls into account why they would use this name. Well several brands exist using the same idea. The question remains, where does Fenphedra fit in all this?
What is it?
The idea behind this fat burning and energy increasing so called "hardcore" weight loss product is simple. It is intended to prevent the increase of NPY a hormone which makes the body want to eat more, and it holds onto calories in turn creating fat. This product intends to do the opposite by increasing leptin levels. Leptin of course uses fat as an energy source while reducing the rate of hunger. Currently the company offers a few testimonials which has one customer losing 60 pounds in 7 months. The company also offers a 90 day return on  only one opened box with included shipping and handling fees. Apparently the manufactures state boxes which are a month's supply go for $129.95, but now they run for $69.95. Still really pricy for a supplement weight loss product.
The company did their own comparison chart alongside 4 other brands and it appears they are the only ones who offer a completely natural, fat cell attacking product. Still other supplements beyond those 4 offer even more variety.
Still, these little red pills offer a very sleek looking packaging alongside their bright red image. A lot more is uncovered about Fenphedra and its potential possibilities.
Who makes it?
Little is known about the Utah based Synergistic Nutritional Compounds, LLC, other than the fact that they also sell other weight loss products such as Lipofuze. No official website exists at all and the only pieces of information are a phone number and an address.
With this much lacking information it calls into question how to know about the practices established by the company. Since the brands offered by the company all claim to be the best fat burner it is hard to know the reality. Also if one were to file a grievance or try to enact the money back return policy, one would have to deal with a company without a face. Unfortunately not enough exists on the company to truly go ahead and trust them fully.
Does Fenphedra work?
Very little information exists by any customers. In fact the reviews that do exist amount to about 10. Most of which have people saying it is a "waste of money". Not much exists on the positive beyond that the product works to give some energy. This can be attributed to caffeine added. It is a shame so little information exists as the supposed testimonials left behind do show some strong weight loss. However since the majority consensus it that it does not work, it calls into account if these self administered testimonials really are truthful.
Making sure you aim for proper results is now much easier with this list of the very best functioning supplements.
Fenphedra Ingredients and Dosage
2 capsules a day maximum are recommended, to be taken 30 minutes before breakfast and lunch. Any later than that and you risk having the caffeine working you over potentially.
Chromium in patented form is seen here, which is useful in the body for metabolizing and giving energy. Both dehydrated caffeine or caffeine anhydrous is added here and Dicaffeine malate which is a fancy way of saying caffeine treated with malic acid for absorption. So to study this one sees it is 400 mg of caffeine a day, roughly around 2 to 3 cups of coffee.
Also added here for a thermogenic effect are a patented version of Raspberry Ketones and Irvingia Gabonensis.
Phenylethylamine is here to supplement the good feeling hormones, however its use is limited as it is broken down in the body before reaching a useful purpose.
Panax Ginseng is one of the most researched of all the Ginseng, with a shown effect on mood and memory.
Both California Poppy Seed and Evodiamine are intended to work but are limited in their studies. The Poppy is here to aid in relaxation and Evodiamine is intended to burn fat.
The manufacturers do not add their own label of ingredient listing. Luckily a customer has added their own fully listed supplement facts to observe: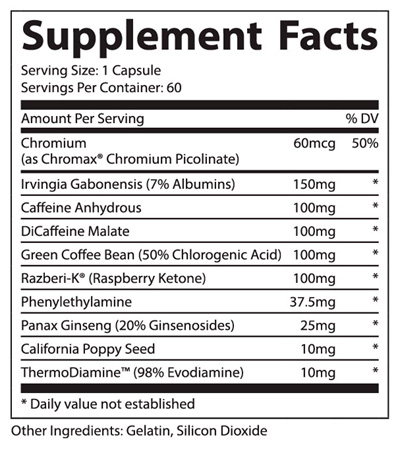 Are there possible side effects?
Although very little is seen in the way of reviews, what does exist is many customers claiming they felt some sort of side effect. Usually this is seen as a headache, jitters, insomnia, and anxiety. These are just some of the possible side effects. Looking at the ingredient profile there is also the possibility of a few others. This can potentially include nausea, vomiting, and dehydration.
Of course since the company is not GMP certified and there is no way to tell if their money back guarantee is actually certified, it limits the knowledge of what to expect here. When a product is not certified by this seal it means the handling has not been done in an FDA approved facility. This process ensures there is quality assurance and that there is a repeat process on the making of these supplements. It allows for their to be a certain level of trust in the standards set forth.
You can make sure you stop the rate of potential side effects when you supplement with the proper brands intended to help you lose weight.
Conclusion
Considering the high price of a month's supply ringing it at $69.95, one would think there would be more to see here. With very few reviews and a hidden company that resists giving any useful information about themselves, there is doubt cast as to the use of this product. Without knowing what the company has done or what standards they set forth there is no way to accurately predict what they can offer. Blindly purchasing from the company is not the way to go, as it does not allow for one to know if the money back guarantee is actually useful.
Also looking at the ingredients there are some promising additions by the sights of African Mango or Irvingia Gabonensis and Raspberry Ketones.  Both of these ingredients are welcome additions but still, there is an issue with knowing just how potent the strains are. It is unknown if the company manufacturers these ingredients in a good facility. There is no GMP certification here. Without this seal the facility where it is processed is not an FDA secure facility.
Finally there is the actual other ingredients here such as caffeine. Often added it is often dismissed by customers until they experience the potential side effects. Caffeine can give off energy and it can also provide the body a change in metabolism at the risk of some nasty potential side effects. This includes many different reactions which also has a limited positive shelf life. Often the supplementation of caffeine builds a tolerance that limits the fat loss properties.
The company named itself after a banned ingredient and it remains unclear as to why. However looking at the lack of company profile, limited reviews with most of them being negative, no GMP certification, loaded caffeine all amounts to a negative experience.
You can reach the results you crave with the right brands, take a look at the most highly favored supplements for weight loss.
Buy Fenphedra
Top 10 Diet Pills of 2023
Top 10 Diet Shakes of 2023