Epiq Shred Review – Does it Really Work?
There are diet pills out there that can literally go on for entire web pages detailing every single aspect about them, from the ingredients that are incorporated within it to the studies that have been performed on them. Epiq Shred however decides to go the alternate route, and doesn't feature much information about it at all, mainly talking about the main points that this product is trying to hit.
What is it?
Epiq Shred heightens metabolic levels and that it may support the quashing of hunger. On a plus side, this concoction contains no artificial dyes, illegal substances or unmentioned ones like other competing products might.
I don't understand though how the makers of Epiq Shred can just sit back and say that there aren't any stimulants in this product, when on the center of the page it lists that green coffee bean is one of the principal ingredients in this concoction. It's a bit as if two separate people were writing the product description and neither interacted with the other! Past this the only other text that is featured about this product is that people are to take 1 caplet of this a half to a full hour before the day's two largest meals, each time with 8 ounces of water by your side.
If I was only working off the information that was provided by the company about this product, the review would pretty much end here. But that's not how I do things, as I have researched other websites and user reviews to come up with a more comprehensive picture of this product and what it can do for it's users.
So can goals be achieved when this diet pill is included into everyday use? Read on to find out.
Who makes it?
Epiq is the company that can be credited for bringing Epiq Shred to the market. The company specializes primarily with fitness and nutrition, and as such they supply their website not only with like minded products, but articles on nutrition, training and healthy recipes that their users can use to make their own nutritious drinks and meals (this section was a bit disappointing, as there were only 5 posts, and only one of which was food. The rest of which are smoothies and shakes.) The company is also active across a wide array of social media platforms, which include, Twitter, Google+, YouTube, Instagram and Facebook. It's a good sign when a company is aware that in modern society, having active social media accounts are essential to promoting goods and information.
What I found a bit peculiar about Epiq, is that nowhere on their website do they list any information about themselves as a group. Usually companies have an About Us section which includes things like a mission statement, maybe even some brief text from the CEO or how the company is trying to support the community it serves. I have encountered diet pills from companies that turn out to be nothing but scams, which is why there was a void in the place where the information was. With Epic however I do not feel this is the case, although I still don't know why they would neglect to have such a section. Instead this company chooses to highlight its products as well as the fitness lifestyle that it promotes, much like a parent trying to highlight the performance of their children.
Does Epiq Shred work?
Unlike other diet pills that extensively detail the myriad of ways that they operate, Epiq Shred instead decides to not in any way mention how exactly it works, other than uplifting the metabolic rate. There are no clinical studies provided to potential buyers that may reassure us that this is indeed a compelling product. All we get are a few bullet points, two of which list ingredients (raspberry ketones and green coffee bean), both of which are not known to be effective in crusading against excessive weight. Much like other diet pills that mention ingredients such as these two, they fail to mention that clinical studies are not in favor of these substances. Instead, the manufacturers know that the substances are popular, which is why they get highlighted. In addition to this there are also users that have not seen any results after using this concoction of substances. Because of this incredible lack of data that is complimented by the negative reviews, I cannot recommend this product for use.
Top Rated Products have a lot of information as to how they work, as well as clinical studies that back up the allegations that their marketing teams make about them.
Epiq Shred Ingredients and Dosage
Contained within Epiq Shred are 12 different ingredients. Of the 12, 6 of which are found in the proprietary blend. The other half of ingredients that are not found there include vitamin B12 (cyanocobalamin) 1.2 mcg, vitamin B3 (niacin) 4 mg, vitamin B1 (thiamine hydrochloride) 0.3 mg, vitamin B6 (pyridoxine hydrochloride) 0.4 mg, vitamin B5  (pantothenic acid) 2 mg and vitamin B2 (riboflavin) 0.34 mg. All of these B vitamins come in 20% of their daily recommended dosage.
The remainder of the ingredients that are found in this product are all tucked into the proprietary blend, which comes in at 460 mg. Of all the ingredients in the proprietary blend, only one, green coffee bean extract has its amount listed, which is at 200 mg. There is no daily value that has been established for any of the substances within the proprietary blend. None of the other substances in this blend have any amounts given, so we have no way of knowing which ingredients are competent in doing what they are supposed to and which ones come in such infinitesimally small amounts that their inclusion into this concoction is rendered invalid. These substances are: L-carnitine l-tartrate, conjugated linoleic acid (CLA), raspberry ketones, saffron stigma extract and white kidney bean. While certain ingredients have become well recognized, thanks to them being mentioned by Dr. Oz on his tv show, clinical studies have shown that they are actually impotent and do not cause weight loss to happen. These substances include raspberry ketones, conjugated linoleic acid and green coffee bean extract.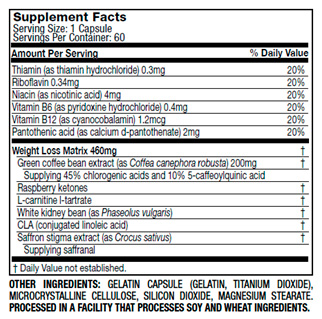 Are there potential side effects?
Because the amounts of all but one of the substances that comprise the proprietary blend have amounts that are not disclosed to us, we have no way of knowing if any of these ingredients may or may not adversely react with us. From the reviews that I have read, there are no side effects associated with this concoction. However I find it important to mention, that despite the marketing that was done on this product and that it is supposed to have a void in the place where stimulants are, there is a stimulant in this product, and it comes in the form of green coffee bean extract. If you are someone who has a frail relationship with stimulants, you may want to have a talk with your healthcare provider before you begin ingesting this byproduct of substances. In a similar fashion, if you are a woman who is nursing or in stages of pregnancy, you may want to consult your doctor as well.
The ingredients that are found in Products that have been Rated to be of Top quality are known to be safe and not adversely affect people in any serious ways..
Conclusion
Without any data that can back up the little bit that this product reveals about itself, I can't say that this product is at all competent enough to live up to the declarations that are made of it. It is regarded to include substances that while popular, are not known to really aid individuals in losing weight. Furthermore, the lack of ingredient dosage in the proprietary blend means that we will never know how dynamic or impotent any of the substances are. While the pictures and the label may be alluring to some people, the fact is that there is not much substance behind this byproduct of substances. You might as well spend your time on a product that is actually proven to work.
If you are looking for a safe and robust diet pill that can get you to become the healthier, thinner you that you have always fantasized about, check out our page on Top Rated Products.
Buy Epiq Shred
Top 10 Diet Pills of 2023
Top 10 Diet Shakes of 2023