Drenbuterol Review – All You Need to Know About This Product.
While there are different avenues that diet pills may assert that they get people to subtract pounds from their frames, some are known to be more efficient in achieving that goal than others. Sometimes the method of choice is metabolism intensification. This is done with the belief that with a more active metabolism, people will have calories decimated at an accelerated rate. Other times companies feel they should depend on carbohydrate and fat absorption prohibition, believing that if individuals want to lose weight, well then that weight shouldn't be absorbed. Still other feel that their energies should be spent on quelling the appetite, as this may be a major issue for people who have impulse problems and who can't help but eat more than they should. In the case of Drenbuterol, this goal is achieved primarily through the use of fat deposit incineration.
There are other products that have attempted to go this route, and while there are some that are known to be successful, there are others that have ended up with less than spectacular results. Find out how Drenbuterol weighs in, if it's really a compelling product, or if it's not.
What is it?
Drenbuterol is a diet pill that focuses its energies on annihilating deposits of fat. It asserts that it does this through triggering thermogenesis in it's users. Additionally, Drenbuterol declares that with its use, users will have a surge of energy, as well as an appetite that is thoroughly quashed. From using this product, users are also informed that they should notice that their states of mind will be enhanced as well, albeit in a positive and not a negative way. Offering so many different benefits, it seems that, at least on a topical level, that this product is sure to get many customers. But then again, don't all products advertise themselves in a similar fashion?
I did however happen to notice that  while there are third party retailers that sell this product, it is not found on the original manufacturer's website. It is because of this that I would begin to think something is wrong with the concoction, because why else would it not even come up on a search on the maker's website? No web page exists, it's as if the maker wants to distance themselves from this blend. Because of this, it's as if the outward appearances are deceiving, that despite that scientific looking packaging, this may after all, just be for show and nothing more.
And this would not be the first time a weight management product attempted to pull this off either, so it is not surprising.
Who makes it?
Maximum Human Performance (MHP) is the West Caldwell, New Jersey based company that may be given credit for creating Drenbuterol. Even though the company does not feature the product on their website anymore, their logo is still seen on the box of the concoction. The company was founded by a former bodybuilder who decided that he wanted to make nutritional supplements to aid people who regularly find themselves enthusiastic over fitness. The official website also features an array of athletes that Maximum Human Performance sponsors. These athletes range from pro football players to fighters, bodybuilders, powerlifters, strongmen, fitness models and extreme fitness athletes. In addition to the products that they sell, MHP also features videos, recipes as well as news that pertains to the company and the events that they have and will be attending. The company understands the importance of social media and how it pertains to marketing in the contemporary world. As such, they have a presence on Twitter, YouTube, Instagram and Facebook.
Does Drenbuterol work?
While the marketing copy may sound confident and optimistic, there are areas that Drenbuterol may not want you to pay as close attention to. For example, nowhere are any clinical studies provided on this concoction. This applies to both the product as a whole and the individual ingredients of which it is comprised of. It is easy to make statements about how great a blend may be, but that's not the same as scientific proof. Moreover, one of the ingredients, beta methoxyphenylethylamine has very little information on it provided, and to me it seems, there may not be much known about this substance in general. Not everyone who took Drenbuterol was as enthusiastic as some of the featured reviews that pop up to the top of the page on third party retailers websites. Some decried the adverse reactions that they experienced, while others were disappointed in not reaching the results that they expected to see.
Top Rated Products contain ingredients that are scientifically proven to get people to subtract a substantial amount of weight from their frames.
Drenbuterol Ingredients and Dosage
There are 4 different substances of which Drenbuterol is comprised of. All of these ingredients may be found within a proprietary blend, which has a total weight of 409 mg. There are no amounts given to the individual ingredients. As such, we have no way of ascertaining which ingredients may come in infinitesimally small amounts that would otherwise be useless, and which ones may possibly be overloaded into this concoction. Drenbuterol is comprised of L-5 hydroxytryptophan, yohimbine HCl, beta methoxyphenylethylamine and caffeine. These ingredients are known to be a combination of stimulants as well as state of mind intensifiers. Users are instructed to take a single capsule everyday, and to not take more than this amount in a given 12 hour period. The recommended dose is not advised to be exceeded. There is no mention if this should be taken with a meal, water or both. There is also no mention as to if there is a certain time of day that is the most optimal to consume.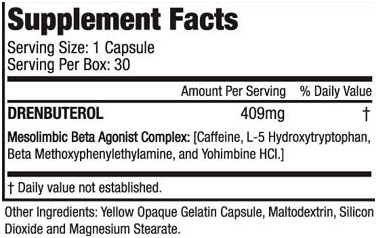 Are there potential side effects?
Because energy enhancement is a quality that Drenbuterol has, that also means that there may be adverse reactions related to stimulant use that may entail as well. These side effects may include abdominal discomfort, irritability, jitters, problems sleeping (insomnia), hypertension (high blood pressure), nervousness, palpitations (rapid heartbeat), headaches, nausea and anxiety. Because of this it is not advised to consume any other products that may contain caffeine, as these side effects may worsen. People who are on forms of medication, which may include stimulant based medications and anti-inflammatory drugs of a non-steroidal nature, as well as women who are in stages of pregnancy or who are breastfeeding are advised to talk with a healthcare professional before use. This applies as well to people with pre-existing health conditions including but by no means limited to glaucoma, kidney and liver disease, high blood pressure, recurrent headaches, epileptic disorder, psychiatric disorders enlarged prostate and cardiac arrhythmia. If you are about to undergo surgery, you should avoid using this products two weeks before the operations. Drenbuterol is meant for use in persons over 18 years of age.
Top Rated Products may contain stimulants, and if they do, it is clearly labeled which groups of people should consult with their physician before use.
Conclusion
Although the packaging of this product may give off the aura that there is scientific backing of this product, the truth of the situation is that there have been no scientifically backed, clinical trials that have been provided that would certify any of the allegations that have been made about this blend. This is from both the product as a whole and the individual substances of which it is comprised of. While there may be positive reviews posted on the websites of third party retailers, it is still important to take note that this product is nowhere to be found on the original manufacturer's website. It's as if there was something wrong with the product that the creator of Drenbuterol knows of, but everyone else is not quite as sure. Taking into consideration the array of people who should be cautioned to use this product, and that makes the potential audience incredibly limited. A better choice would be to choose a diet pill that is comprised of natural ingredients, that aren't known to potentially harm such a vast assortment of people. Having a company that still wants to be associated with it doesn't hurt matters either.
Top Rated Products may be found on the websites of their creators, as well as third party retailers, be they online or in stores.
Buy Drenbuterol
Top 10 Diet Pills of 2023
Top 10 Diet Shakes of 2023