DNPX Review – How Safe and Effective is it?
There is a staggering amount of weight management pills that are available for sale. The sheer number of options that people may choose from may come off as a bit intimidating to the layperson who is newly accustomed to the supplement world. Other users however, are more adjusted to these products, and have a better idea of what they are looking for. While some diet pills are meant for people that are overweight and who have health problems, other weight management pills, such as DNPX are meant for people who are athletic and attempting to reach the apex of their physical abilities. Even though this is true, the makers of DNPX still advertise that anyone who is looking to drop pounds from their bodies is welcome to try this product out as well.
What is it?
DNPX alleges that it may be used to decimate fat deposits on the body, clarify the user's state of mind as well as give precision mental focus and quash any thoughts of hunger. With a price tag of $69.99, you will definitely feel a dent in your wallet where the money used to be after buying this byproduct of substances. Past this however the company does not give a lot of information about it's creation, as everything that it displays can be found on a single page. So is this the weight loss product that will have excessive amounts of weight melt off? Or is this just a concoction full of stimulants that will make users feel tweaked out, without seeing much in the realm of results?
Find out in the article below.
Who makes it?
Pro Supps is the Allen, Texas based company that is responsible for manufacturing DNPX. The company asserts that it strives to produce only the highest caliber products to its consumers and to aggressively strive to be the leader in their industry. Unlike other companies that make no mention as to who their employees are, Pro Supps not only mentions who their CEO is, but who the people in their marketing, sales and leadership teams are. Furthermore the company also highlights its ambassadors that come from both domestic and international backgrounds. It's this level of transparency that makes me feel more comfortable, because it feels like they don't have anything to hide from their potential buyers and current users.
The company also has a community section where it highlights pictures from it's users, as well as fitness and nutrition related articles as well as events that it sponsors. The community vibe that the company exudes is important, as it makes people who buy their products feel as if they are a member of something bigger, and that they are not alone in attempting to achieve the goals that they continue to strive for. There are other diet pills that lack this community aspect, and as a result, their products feel much more stale, if not scam like.
Pro Supps products are not limited to being purchased solely on their website. They may also be found at other third party providers, such as BodyBuilding.com, GNC, Amazon.com, Campusprotein, Muscles & Strength and the Vitamin Shoppe. Distributors of their products may be found on both an international scale, as well as a domestic one. This is another good sign of legitimacy, as I have encountered numerous diet pills in the past that are only sold on their own website, which makes procuring them incredibly limiting.
Does DNPX work?
As I stated before, there is a lack of information provided about this product. Sure there is a general product description, but at the same time the creators of this product have failed to provide any clinical studies that show that this really is a competent supplement that supports weight loss. What some products try to do is mention that there are studies done on the individual ingredients, while at the same time not mentioning if the product itself is known to be dynamic. This difference is important, as just because there may be ingredients that are known to be healthy, that doesn't necessarily correlate to an entire product being efficient in supporting weight management. With DNPX however, neither of these kinds of studies have been provided. While the stimulant content within DNPX is sure to give level up the energy of people, that by itself isn't weight loss. Additionally there are also enhancers of the mind that are concocted into this brew, that may have people thinking that they are losing more weight than they actually are. Moreover, some ingredients, such as citrus aurantium may provoke some potentially dangerous adverse reactions. Lastly the website does not feature any reviews on this product that would validate any of the assertions that it makes about itself.
Top Rated Products always include information on the clinical trials that have been done on them to verify that they can actually support weight management.
DNPX Ingredients and Dosage
There are a total of 16 ingredients that make up DNPX. Of all the ingredients, only caffeine anhydrous comes separately than the proprietary blend, coming in an amount of 225 mg. Of the ingredients in the proprietary blend, none of the 15 ingredients has the ingredient amounts listed, which makes it impossible to know which ingredients come in miniscule amounts and which ones come in amounts that may cause adverse reactions. The reason that companies do this is so that there won't be any competition that would steal their formulas. While this helps their business, it may hurt consumers, who aren't informed of how much of certain substances they are taking. The ingredients that make up the proprietary blend are: Hordenine HCl, white willow bark, rhodiola rosea root extract, rauwolfia vomitoria root extract, yohimbe bark extract, 5 HTP, black tea leaf, octopamine HCl, sibutramine, 3,5 diiodo L-thyronine, dendronines noble orchid stem extract, cocoabuterol cocoa seed extract, evodiamine, Advantra Z citrus aurantium and lotus seed extract. The manufacturers state that users should take only a single capsule in the morning, and to not exceed this amount.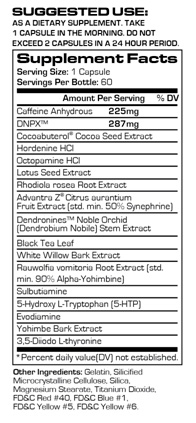 Are there potential side effects?
Because of the stimulants that are included in this product, there is a high likelihood that adverse reactions may be experienced. Side effects that are associated with stimulants may include jitteriness, high blood pressure (hypertension), anxiety, insomnia, rapid heartbeat (palpitations), nausea, nervousness and headache. Advantra Z citrus aurantium is a registered version of the substance, which on it's own is known to be the chemical twin to ephedra, which was made illegal because of the dangerous side effects it is known to cause. Being so similar, there is also risk that citrus aurantium may produce the same results, which may be myocardial infarction (heart attack) and cerebrovascular accident (stroke), which may even happen in healthy individuals. Moreover, the makers of this product advise people with pre-existing health conditions, people who are at risk of contracting certain health problems such as depression, thyroid, heart, kidney, high blood pressure, anxiety, seizures, psychiatric issues, stroke, enlarged prostate and women who are in stages of pregnancy or who are breastfeeding to abstain from using this product.
Top Rated Products contain only quality ingredients that only threaten users with minimal side effects, if any.
Conclusion
It may be a bit confusing when looking this product, up, as there are review sites that feature different ingredient breakdowns, which may give you a false impression about what this product is about. Essentially used in incinerate fat and assist with fitness, there are no clinical trials supplied by the company that would back up any allegations that it makes. In addition to this, the company does not supply any user testimonials that would further legitimize their product in the eyes of their potential consumers. If anything, users may get an energy boost, but it may be unsafe for people who are sensitive to stimulants or who have or are at risk of contracting health issues. While the label to this product may attract attention, I would say it's best that you pass this up and look for other weight management products. There are always better products out there just past the horizon.
For information on weight loss products that aren't filled with stimulants, check out our page on Top Rated Products..
Buy DNPX
Top 10 Diet Pills of 2023
Top 10 Diet Shakes of 2023