Cissus Review – All You Need to Know About This Product
One of several presentations companies who make supplements make, is the intention to burn the pounds off in the historical use of ancient ingredients. So the promotional strategy these products assert is a widely held historical use to depict a supplement as being ancient. Though not necessarily the best way to find out use, it does make for an appealing marketing option. To help truly know an ingredient clearly, one must be able to take a lot more than a past use. Relying on true science if the proper strategy to make weight loss an attainable thing.
One way to truly find out the reality is in delving into a guide like this one. It will allow the full extent of Cissus to be exposed in all its abilities. No longer relying on the whims of a company is the proper approach.
So by taking the outline you allow a much greater knowledge of details before any money is exchanged. So the questions below are answered to give the perspective needed.
What is it?
Cissus is a plant found in certain regions of Africa and Asia, and it has had exposure as being an all natural remedy to a few key issues, one of which is weight loss.  Other reported pluses that are claimed is the ability to reduce inflammation and to prevent oxidative stress. So looking at the positives it can also be seen as an all around beneficial tool for weight loss. Of course the buildup of stress can lead to weight gain while inflammation can lead to worse exercise sessions.  Other positives are said to come about but most studies have been mostly performed on aforementioned claimed positives. So while it would be nice if there was a full scale amount of positives found here, the clinical studies are a bit limited. However there is sufficient enough data here for one to make a good case on whether or not Cissus can do what some claim it can do.
Much like other medicinal plants there is a lot of bold claims that have been thought to exist if one were to supplement. There's a full list of the potential things this plant can do, however the research has been limited to just a few studies. Usually Cissus is added to supplements on the intention of helping athletes deal with joint and muscle pain. In the past it was actually used to treat feminine type of issues. This meant it was seen as a remedy for menstrual and libido issues for women. Studies have been performed on this and other types of positives and I'll examine it in the "Does Cissus Work" section of this article.
With many wide range reported usages and with a long history of use, modern developments have seen this ingredient come to a new more balanced light. Now the data exists where one can see just what this plant can really do. Caution should always be exercised with anything including all natural extracts. So outlined here is the full analysis of this claimed wonder plant.
Who makes it?
Since it is an all natural plant not one person has an official hold on the product. However many companies do add it to their supplements, typically on its own. More often than not, the marketing on bottles containing this specific ingredient mention it works wonders on any and all joint pain. In fact out of all the main brands in existence this remains the key focus. About half of the companies in existence are sports and athletic type of supplements, they market it as providing support for body builder types whose muscles are in a constant state of repair.
In my research I quickly found out a disturbing trend. Many of the manufacturers create this product in a facility that is not GMP certified. Without this seal of approval one cannot know for sure if a standardized efficient and safe practice was applied to the handling and manufacturing of this extract. A federally approved GMP rating ensures one is supplementing with a high quality product.
Does Cissus work?
This questions answer depends on what one's intentions are for this brand. If one is looking for joint pain support then there are studies here that have observed this.  An 8 week study was conducted on 29 people which showed a decrease in inflammation.
As far as weight loss there has been studies performed on obese people which showed no direct fat burning properties. There was a supposed decrease in appetite albeit very slightly, but this might be a margin of error that really shows there is no benefit.  These studies were performed by companies with a financial backing on Cissus. Even those studies showed only a slight difference in appetite when consumed with water. Since Cissus does gel up in the stomach to a particular extent, the addition of water could have contributed to the feeling of satiety. However this effect can be seen in any fibrous or gel like source of ingredients for far less price and far more positive effects. So the evidence in the clinical studies have outlined that there is a change in joint pain, but not enough proof is there for its use as a weight loss supplement.
Far more reviewed and functional products are available for all types of support.
Cissus Ingredients and Dosage
Up to 3,200 mg of this extract have been used daily for supplementation. However there is no actually standardized dosing measurement available yet. Therefore one should exercise caution with this extract. The ideal dosage has yet to be figured out and it's anyone's guess as to what should be expected.
Often manufacturers will include this ingredient solo. One should exercise a routine of reading supplement labels however to ensure one is getting a clear dosage strength capacity according to the manufacturer's. Still however without truly knowing the measurement for a good dose it becomes impossible for even the makers to really give a good guess as to what is appropriate.
Though each company that exists has this ingredient in many different formats, here lies a sampling of a common label: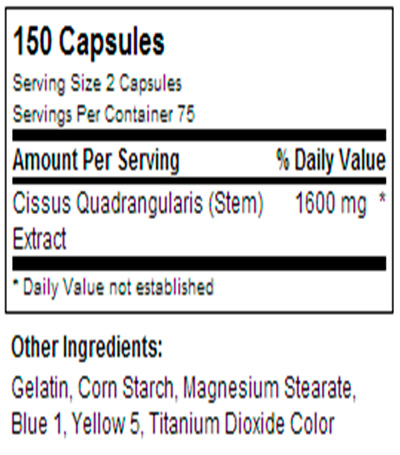 Are there possible side effects?
Only around 6 to 8 weeks of repeated use studies have been performed. One still has to watch out for the potential long term risk that is definitely possible.
Some potential short term effects can range from the following: gas, headaches, intestinal cramps, insomnia, dry mouth, and inability to sleep or insomnia. Also worth adding is the effect it may have on those who are sensitive to low blood sugar. It is not recommended to be taken for diabetics for the low blood sugar dropping potential. Also as with many supplements pregnant or nursing mothers are exempt due to the fears of complications. '
Without long term testing and a universal dosage recommendation it then becomes the customer's job to track their own individual changes to ensure the negatives do not pile on.
Avoiding side effects should be a common theme in your supplements, that's why the following is available for consumption.
Conclusion
Finally after years of being used for traditional medicine there have been some sort of scientific studies performed on the function of Cissus. It had long been used for a series of remedies which were not yet founded in real evidence. Now there have been a few reported trials performed to identify what one could expect from taking this plant derived extract.
One positive aspect seen is that it has been shown to improve joint pain to some degree. However in the realm of weight loss, not enough provoking information exists here. At best it can help produce a gel like substance in the stomach and lead to less food taken in. This form of satiety however is seen on many different and significant much more well rounded, cheap ingredients. Simply put there is no compelling key support given to explain if it truly is good for weight loss. So far no observed fat burning properties are offered in any shape or form. Not a good sign as simply adding a bit of fiber will not showcase any shedding of weight.
What else becomes an issue is the reality of a lacking amount of information on the safety of this plant for long term use. Very limited month and a half long studies have shown already the ability to cause an increase in side effects. What remains to be seen is whether or not there are long term ramifications present. Until this and many other important questions are answered, potential customers are left without knowing what to expect in the future.
Overall there are far better products for weight loss that now exist. This specific ingredient gets off on being an all natural plant extract. However not enough exists here to really shift a customer's perspective into wanting to purchase it. It's underwhelming and not well documented enough to make customers want to purchase it.  In the field of weight loss there are much more positive and well researched ingredients available.
In the quest for safe and effective products with a good history of use, one can find what is needed in the Top Ranking list.
Buy Cissus
Top 10 Diet Pills of 2023
Top 10 Diet Shakes of 2023