Cellucor CLK Review – Is Cellucor CLK Safe for You?
For athletic people and those who compete with others to be in the most superb physical specimens, it may be difficult to find a product that will assist them in their overall performance, as well as get them to lose excessive amounts of weight. There are a lot of products out there that seem to promise the general same thing, but not all of them actually reach their goals. A great amount of these products fall far short of what they are asserted to achieve. There is also a common assumption that stimulant based products are the answer, yet there is the issue of adverse reactions that may arise from their use. Some of these stimulant ingredients that have been used are known to be dangerous, such as ephedra and 1,3-dimethylamylamine. But all of these products bases themselves on stimulants.
Some, such as Cellucor CLK are advertised to not even have stimulants concocted within it. So does that make this a superior weight loss product? The following article will break it down.
What is it?
The webpage for Cellucor CLK is a bit sparse on text, although it does get it's main points across. This concoction is used to get people to not only obliterate fat from their bodies, but also quashes hunger pangs as well as support the growth of muscles that are lean. There are really only three sentences that describe what the product itself does. There is a lot of filler before and after that take up space, although I do concede that there are ingredient descriptions.
Past this however, the makers of Cellucor CLK instead decided to go with featuring attractive women in fitness attire instead of adding any more details. While the eye candy may be enticing, it does throw off the main point of Cellucor CLK. In some ways it feels to me as if the creators are at a lack of what exactly to say about their concoction, as some of the bullet points they list are a bit weak. Examples of this include a bullet point talking about the smell of the product, and that it comes in soft gel capsules. To me, as long as the diet pill doesn't smell like excrement, it's fine, because smell is not a factor that would make me choose one product over another. The other point about using soft gel capsules I find feeble, as there are many other diet pills that come in soft gel capsules.
Other than a graphic of the supplement list of this product, the only other information of Cellucor CLK is of what other products that Cellucor sells that may be stacked alongside CLK. I find this really as a way to drive up sales, as what the creators could have done, is also list all natural substances that also may be used in conjunction with Cellucor CLK, but they choose not to.
Who makes it?
Cellucor is the Bryan, Texas based company based company that is known for manufacturing Cellucor CLK. The company is also known to produce various other products that are known to supplement fitness and overall health. Additionally, the company may be found on Instagram, Facebook and Twitter.
Does Cellucor CLK work?
While the product description of Cellucor CLK may sound confident in itself, that doesn't mean that it truly works as good as it says it does. The product makes no mention of other important facets of weight loss, such as triggering thermogenesis or magnifying energy levels, the latter one which I find interesting, as since this is mainly meant for people who work out a lot, not being able to supply them with energy to get them through their exercise routines feels off. There is an ingredient that may supply energy, L-carnitine, but this is the only ingredient that does this. Moreover, there exists a void in the place where there would be clinical studies provided that show that either the ingredients themselves, or the product as a whole really is as exceptional as it is advertised to be.
While there are reviews on the official webpage that feature users who are lovestruck with Cellucor CLK, companies always put the most positive reviews they can of their products up for display. It's not as if they want to feature someone talking trash about their product. To balance this out, I checked out the reviews that may be found on third party suppliers, and the regards that Cellucor CLK are held in there are not as high. Some users encountered adverse reactions that made them quit using this byproduct of substances altogether (more on this below), while others saw no change in their weight, even when regular exercise and a healthy diet were implemented.
Top Rated Products are most efficient when exercise and a proper diet are included.
Cellucor CLK Ingredients and Dosage
There are a total of 4 different ingredients that Cellucor CLK is comprised of. Of these substances, only CLA (Conjugated Linoleic Acid), which comes in an amount of 1.7 grams is not in the proprietary blend. The Proprietary blend has a total weight of 1014 mg, yet simultaneously there is no listing as to the amounts of the individual substances that make this blend up. These ingredients include Razberi-K, L-Carnitine tartrate and Slimpro protein hydrolysates of blue whiting. None of the four ingredients has any daily recommended value that has previously been established. Razberi-K is a patented version of raspberry ketones, and despite being beloved in the diet pill galaxy, clinical studies have shown that this ingredient does not assist in eviscerating fat as well as it is advertised. It is true that there were results seen, but these were in rat test subjects. The results did not carry over once humans consumed the substance. L-carnitine is used to hauling fatty acids through the body to be used as energy. It is because of this that it is well recognized for use in the fitness world. Slimpro is derived from a peptide within fish and is used to quell any hunger pangs that may have users eating more than they should. The problem with all three of these substances, is that we don't know their individual amounts. As such, there is no way of telling which of these come in miniscule amounts that may do nothing for weight loss, or if they are overloaded, and may possibly cause adverse reactions.
Users are instructed to take 1 serving, which consists of 3 soft gels in the morning, and to repeat this process in the afternoon. Furthermore, users are instructed to never take more than 6 softgels in a given day. An issue that I have with this however, is not only are people taking 6 softgels a day, but the bottle itself contains 60 softgels! That means you would run out of this concoction in a week and a half! And with Amazon.com selling Cellucor CLK for $60.82 (It was sold out on the offical website when I last checked), people will be shelling out a vast amount of money just to use this concoction.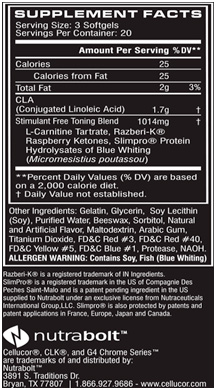 Are there potential side effects?
If you were to solely check the official webpage for Cellucor CLK, you would see that there is not a single mention of any side effects that may be experienced from using this product. However just because it is not mentioned, that doesn't mean that adverse reactions don't exist. From the reviews I have read, users have derogated this product for causing changes in bowel color, as well as palpitations (rapid heart rate) that one user reported was so bad, that he had to quit using the concoction altogether!
What the official web page does mention, are the list of people that should avoid use of Cellucor CLK. These include women who are in stages of pregnancy or who are breastfeeding, people with a history of pre-existing health related conditions, individuals who are under 18 years old or people who are currently using some other form of medication.
Top Rated Products clearly state any side effects that may have an assosiation with them
Conclusion
There are many problems that I have found with this product. To start, there is a complete lack of scientific data that would bulwark any declarations that the ingredients, or the product as a whole, will in fact get people to exfoliate unwanted pounds from their bodies. Furthermore, not only is this product expensive (costing just over $60, and that is not including shipping) but at the amount of capsules taken a day (6), you would be going through a bottle of 60 softgels in only 10 days! With such issues being present, I cannot recommend this product for use. I would instead offer cheaper products, that have clinical data backing them up.
Top Rated Products may be found at affordable prices.
Buy Cellucor CLK
Top 10 Diet Pills of 2023
Top 10 Diet Shakes of 2023