Cardio Cuts Review – Is Cardio Cuts Safe?
The wall. People who are athletic and well immersed in the fitness world know what this is about all too well. That feeling you get when you want to keep going, one more rep, one more lap, but your body simply won't make it. No matter how hard you try, it is as if you are trying to push back against the most unsurmountable force imaginable. A force that stops you in your tracks, leaving you exhausted. An invisible demon impeding you on reaching the apex of your abilities.
For as long as man has attempted to reach new limits of his physical prowess, there have always been attempts made to try and overtake this invisible demon. As such, there have been a plethora of products manufactured, all asserting that it is they who have the truly exceptional product on their hands, they who are the ones that know the secret recipe to overcome this seemingly impassible hurdle.
Cardio Cuts is one of these products. So the question is; is this as great a product as it gasconades itself to be? Will it have you losing a noticeably significant amount of weight? Read on to find out.
What is it?
Alleging itself to be more than just some cheap imitation, Cardio Cuts asserts that it is the first ever weight loss product that will also keep you well energized for whatever kind of physical exertion that you may be trying to get into. Unlike other exercise supplements, this one specifies that the kind of workout it is primarily meant for is cardio workouts. That doesn't mean it can't be used for weight lifting; there are users who have used it for just that. But as the name of this concoction states, it is most optimally used with cardio exercises.
In addition to the energy that it declares it provides, Cardio Cuts also acts as a thermogenic agent. Other than providing energy, this is the only other aspect that really pertains to weight loss. The other features of Cardio Cuts (magnifying endurance, muscle toning enhancement, accelerating recovery time) while beneficial, are really more for fitness minded people.
That is not to say that taking this product may not be beneficial if you aren't in some way obsessed with exercise, but Cardio Cuts was not really created for people who are just looking to casually drop a few pounds, or obese people who need to lose weight for health related complications.
Who makes it?
NDS Nutrition is the company that is known to be the manufacturer of Cardio Cuts. The company does not feature an address for their headquarters on their website. NDS Nutrition is known to specialize in products that are meant for weight loss, general health, toning and energy enhancement. The company also has a presence on Pinterest, Facebook and Twitter.
Does Cardio Cuts work?
While there is confidence in the marketing copy of Cardio Cuts, what I found to be left out is that there are no clinical studies provided on the official webpage of this product. There are a lack of studies of either the product as a whole or the individual ingredients themselves. Without this information, it is hard to ascertain if this is truly a good combination of substances to consume. There is also the fact that there are a total of 44 different ingredients (more on this in the next section.) When a concoction contains so many different substances, it may result in the product being too overloaded, and as such, the most optimal results are not seen. This is also notwithstanding that Cardio Cuts is really meant for healthy, athletic people, and as such there may be a great deal of people who are barred from using this product because of the ingredients that it contains.
Top Rated Products are meant for a wide range of people to use and if not, they are clearly labeled to not be so.
Cardio Cuts Ingredients and Dosage
While the official website for Cardio Cuts features only 10 ingredients in detail, there are actually a total of 44 different ingredients! All of these ingredients come in 4 different proprietary blends, with each blend having its specific function that is comprised of different complexes. The total amount of mass that all of these blends weight out to be is 7,688 mg.
First there is the blend meant for thermogenesis, which totals out to weight 1,095 mg. It has two complexes, the first of which is meant for rejuvenation, and it weights out to be 615 mg. It is comprised of coenzyme Q10, N-acetyl cysteine, resveratrol, folic acid, Polygonum Cuspidatum, alpha lipoic acid, picamilon, pine bark extract and grape seed extract. Accompanying this is a thermo-cardio complex, which weights out to be 480 mg. It is comprised of raspberry ketones, citrus aurantium extract, caffeine anhydrous, lotus seed extract, guarana seed extract, amla extract, Phosphatidylserine and Vinpocetine.
Next up is the the Lean blend, which totals out to weight, 2,500 mg. It consists of 2 complexes, the first being the support complex, which weighs 500 mg. It is comprised of 3,5-diidio-L-tyrosine, gum guggul, L-tyrosine and kelp. The second complex is meant for toning, and it weighs in at 2,000 mg. This includes conjugated linoleic acid powder, N-Acetyl L-Carnitine HCL, Medium Chain Triglyceride Powder and L-carnitine.
Following this is the blend meant for recovery, which weighs in at 3,423 mg. It is made up of two blends, the first being the complex meant for recovery, which weights 2,423 mg. This includes L-valine, L-leucine, L-Glutamine AKG, taurine, beta alanine, L-glutamine, norvaline, Bis Picolinato Oxo Vanadium, L-Histidine HCL and glycerol. The second blend is the lean mix, which weighs in at 1,000 mg. It contains L-Arginine Ethyl Ester, L-Arginine AKG and L-Arginine.
Lastly there is the natural blend, that is only made up of a single complex that weighs in at 670 mg. This includes magnesium aspartate, vitamin D, calcium citrate and vitamin B12.
For pre-cardio workouts and weight loss, users are instructed to mix a scoop of this brew with 8-12 ounces of water 30 minutes prior to exercise, then again 4 hours after the workout is over. If just for weight loss, users are instructed to take one scoop with 8-12 ounces of water a half hour before breakfast and to repeat the process before lunch as well. Users are advised to not take more than 2 scoops in a day, and to not take within 6 hours of sleeping. It is strongly stressed that this supplement is to be used in conjunction with a fitness regime.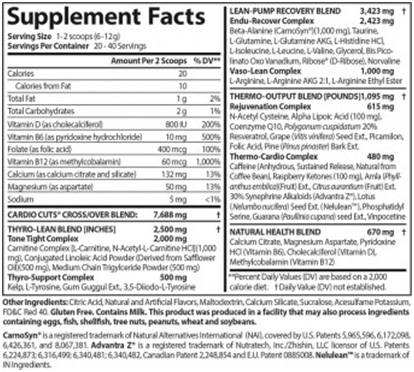 Are there potential side effects?
Cardio Cuts is known to contain stimulants, ranging from the more powerful citrus aurantium to the more tame caffeine anhydrous. Adverse reactions that pertain to stimulant use include dizziness, nausea, hypertension (high blood pressure), irritability, sleep problems (insomnia), palpitations (rapid heart rate), jitters, nervousness, headaches, anxiety and abdominal discomfort. People who have a frail relationship with stimulants or who have a pre-existing health condition are recommended to consult with a physician before use. This is also recommended for people who are currently on some form of medication. Women who are in stages of pregnancy or who are nursing and persons under the age of 18 years are not advised to use this concoction. Beta-alanine may be found within this product and may cause a tingling sensation when used. Persons who are going to undergo surgery are advised to halt using this concoction 2 weeks prior to the surgery date, or if shortness of breath, palpitations or severe headaches are experienced. This product is not meant to be used for longer than 8 weeks.
Top Rated Products always make sure to clearly list any side effects that may potentially be experienced from their use.
Conclusion
While it may be beneficial for use for people who are athletic and possibly competing in some form or another, there are many kinds of people that are barred from using this product. That is not to say it is bad, but that it wasn't meant for everyone to use, which makes it much more limiting. In addition to this, there are a lack of scientific studies provided that would ensure that the statements made about this concoction on the product description are indeed verifiable. Costing an astounding $69.99, this product is far from cheap. So unless you are completely engulfed in the fitness world and truly feel you need this to get over the Wall, you may be better off with a product that is much more affordable and widely accessible.
Top Rated Products are well recognized for their affordable prices.
Buy Cardio Cuts
Top 10 Diet Pills of 2023
Top 10 Diet Shakes of 2023