Carb Intercept Phase 3 Review – Does it Really Work?
While thermogenesis, fat incineration and appetite quashing are all beloved methods of weight management in the health supplement world, they are by no means the only methods of which diet pills may operate. Another method that some companies may utilize, is of creating a blockade against the absorption of carbohydrates into the body. When this is done, the usual amount of calories that would be absorbed from a typical amount of food is reduced, so that the end result is that a sinking of weight levels. Carb Intercept Phase 3 is the latest itineration of the product to grace the market, as there have been two prior iterations of this product out. Being the third, it is alleged to be improved upon the previous formulas that were associated with this concoction. So is it truly the greatest of the latest diet pills available on the market?
Or is the marketing copy just incredibly fluffy, using comforting keywords to get prospective buyers to purchase the product and nothing more? This will be dissected further in the following diet pill review.
What is it?
Carb Intercept Phase 3 is, as previously stated, the latest iteration of Carb Intercept products by the manufacturer known as Natrol. The concoction alleges that unlike it's competitors, it does not rely on the use of stimulants, and as such the adverse reactions that may be expected from their use are non-existent in Carb Intercept Phase 3. The way that this product works, is by prohibiting the absorption of carbohydrates into the bloodstream. While this is the main point that the product is marketed to operate in, there are also declarations that this may also annihilate fat deposits and accelerate the rate at which fat is metabolized. While mentioning that consistent exercise and a calorie deficient diet play an essential role for weight loss, this is only mentioned through small text on the official webpage. It is because of this that these two incredibly important points may be overlooked by individuals who are considering to buy this product.
Prospective buyers may be a bit confused when looking up Carb Intercept Phase 3, as the two previous iterations of it are still available for sale.
Being that it's all made by the same company, it's not as if they will lose any profits over this, but it may negatively affect buyers, who don't know exactly what they are purchasing.
Who makes it?
Natrol is the Chatsworth, California based company that may be accredited for giving life to Carb Intercept Phase 3, as well as its previous iterations. The company gasconades that it has been given only the most exceptional ratings by the Natural Products Association, and that for 35 years it has been a practitioner of GMP (Good Manufacturing Practices). The company not only produces weight loss products, but sports nutrition, vitamins, hair care, skin care, minerals, nail care and diet supplements as well. The company is not trapped in the past, and has an understanding of how important social media is to the contemporary marketing world. As such, Natrol has a presence on Twitter, Google+ and Facebook.
Does Carb Intercept Phase 3 work?
While the advertising copy on this concoction may be confident in its allegations, that is not the same as scientific proof. There is a void in the place where there would be clinical studies provided on either the ingredients of Carb Intercept Phase 3, nor of the product itself. This seems to be an odd omission, as there are ingredients that are known to be beneficial for overall health included in this blend, such as green tea. Excluding scientific studies from ingredients such as this only hurt the validity of the product as a whole. In addition to this, I feel that a trap that people may fall into, is the main selling point of this product. Carb Intercept Phase 3 asserts that it will prohibit carbohydrates from becoming absorbed, but that may give people a sense of security that is false. When people hear that carbohydrates will not be absorbed, they may not watch their diet as closely, and instead of consuming foods that are known to be nutritious, they may ingest junk food that does not supply the body with minerals, vitamins and nutrients that the body needs. It is also vital to know that not all carbohydrates will be blocked. There is no mention to the specific amount that are blocked, but it would not be wise to assume that all or most carbohydrates will be prevented from entering the body, as the real number may be much lower. The official website does feature reviews on Carb Intercept Phase 3, however there are only 2 reviews. Both give the product a 5 star rating, however with only two reviews, I find it hard to keep these as valid arguments in favor of the blend, especially since companies always list the most positive reviews on their websites.
Top Rated Products don't have their users falsely believing that they may consume whatever food they want when in use.
Carb Intercept Phase 3 Ingredients and Dosage
There are total of 6 ingredients of which Carb Intercept Phase 3 is made up of. Of these ingredients, only two have their daily recommended values listed. These substances are sodium (15 mg, 1% the daily recommended value) and chromium (30 mcg, 25%). The remaining ingredients only have their amounts listed. These substances are caffeine ( 75 mg) green tea extract (270 mg), Phase 2  carb controller complex (white kidney bean extract) (750 mg) and EGCG (epigallocatechin gallate) (75 mg). Besides halting carbohydrates from being absorbed, there are also antioxidants supplied into the body from both EGCG and green tea. Although the product description does state that Carb Intercept Phase 3 does not rely on stimulants, there are still stimulants within this concoction. With 95 mg being in a single cup of coffee, there is very likely more caffeine in this blend than there is in a cup of coffee! As such, people who are sensitive to stimulant use may experience adverse reactions from consuming this product.
Users are instructed to take 2 capsules on a daily basis with a meal. It is specified that Carb Intercept Phase 3 operates the most sufficiently when these meals have starch in them. It is also mentioned to not take more than 4 capsules in a given day.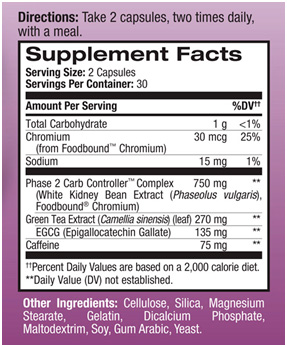 Are there potential side effects?
Although the product description attempts to not highlight it, there are indeed stimulants within Carb Intercept Phase 3. As previously stated, the amount of caffeine that these ingredients come in are more than a cup of coffee. As such, there may be adverse reactions that may be experienced, especially in people who have a frail relationship with stimulants. Some of these side effects may include nausea, irritability, jitteriness, anxiety, palpitations (rapid heartbeat), abdominal discomfort, nervousness, headaches and hypertension (high blood pressure). People who have pre-existing health conditions, as well as women who are nursing or in stages of pregnancy are advised to consult a healthcare professional before consuming this concoction.
Top Rated Products would never lie and allege that they do not produce adverse reactions if in fact the opposite is true.
Conclusion
While having a formula that is new and more advanced than previous iterations may be an alluring prospect to some buyers, that does not therefore mean that this product operates as robustly as it is advertised to. There are no clinical trials provided on neither the ingredients nor the product as a whole that would authenticate any declarations that are made about this blend. Additionally, a problem may arise that, people will not pay as much attention to the foods that they consume assuming falsely that, the product alone will cause weight subduction to result. If anything, this is but an aid to a program for weight management, it's just that the product description doesn't clearly mention this. That is notwithstanding that Carb Intercept Phase 3 does indeed, contain stimulants, despite it being previously boasted to not rely on such substances. There are plenty of other weight management products available on the market that don't make false accusations about themselves or their abilities. It is with these products that your energy, money and time should be spent, and not on this concoction.
Top Rated Products may contain stimulants and if they do, they are sure to mention their existence.
Buy Carb Intercept Phase 3
Top 10 Diet Pills of 2023
Top 10 Diet Shakes of 2023