Carb-Ease Review – The Truth About This Product.
Carbohydrates. The word alone has conjured up a lot of feelings in people. They have received a bad reputation because people feel they are the reason for weight gain.
People think they:
Are the sole reason why people gain weight.
Made from the worst things on the planet.
Come only from bad foods such as pasta, potatoes and bloating type of foods.
Of course this is not exactly the full truth as one can expect a good source of energy that the body needs. Also complex carbohydrates are something that can keep energy levels thriving.
Still, over consumption of carbohydrates just like overeating any type of food is not the most proper way to diet. So products like Carb-Ease are here to make the change one would need for a drop in weight, allegedly.
To find out if the claims made by the brand are true this review has outlined all the necessary pieces of information. It is easy to read and goes beyond the marketing to make it easy to understand if weight loss really is possible here.
What is it?
Regulating both the body's makeup and managing weight are the key properties this brand is set to change.  The stated purpose is to do work within the body by:
Reduce the intake of carbohydrates
Reduce the intake of fats
Regulate the rate of blood sugar in the body(allowing for energy levels to be maintained and hunger to be avoided)
Reduces negative effects that carbohydrates inflict one a person's body.
So for people who eat too much fats and carbohydrates, this supplement was made with you in mind. If you are not affiliated with the selling of this brand(which why would you, you just heard of it!) then one bottle which lasts a month will run you $37.95. A bit steep yes, however it feels that they are trying to get people to become a part of the business model to receive between a 20% or 40% discount. Not bad, assuming it actually works.
Assumptions are not here in this review however, the breakdown of what is to be gained is explained much more in detail just underneath.
Who makes it?
1993 was the year this Texas group named AdvoCare International, L.P. began to sell its products. It is a Multilevel Marketing group, which is a fancy way of saying they sell their brands to regular everyday people who earn a commission off the brands they sell.
A few controversies have sprung up against the company:
$1.9 million was the amount the company had to pay due to their unfair market practices. They had falsely stopped allowing distribution of their products from a client for phony and untruthful claims.
Selling supplements to children between 4 and 11 years of age with amounts of caffeine inside. Caffeine given to children is not recommended as it can overwhelm their systems.
A former spokesperson for the company was found to be taking an illegal substance. The spokesperson named Jessica Hardy claimed all she was taking was a supplement provided by the company. The company counter sued and claimed she was lying. Well then a scientific expert came in and saw that yes, in fact the illegal substance was inside the supposedly natural supplement.
An adviser for a weight control center added that the use of the manufacturers "Health Cleanse" formula did nothing for weight loss.
Does Carb-Ease work?
The unfortunate practice of having everyday people sell a brand is that many of them have a stake in profit. So many fake reviews exist.
Just look at Amazon.com. Here are a key reasons for telling how a review has been doctored.
Unverified Purchase- When you make a purchase on Amazon.com it is revealed whether you bought it directly from the site, or if you just came to leave a review.
No History!- Most of the positive reviews left are from people who have only that 1 review to speak of. The odds a person would go on the site just to leave a remark on one product and never come back is very suspect.
The Best Ever?- The positive reviews left all happen to have one thing in common. They add this is the "Best Ever!". A little extreme and highly suspect.
So looking at the negative reviews almost all of them are verified customers with a history. And they all say the same thing, it did not work. So it seems the only truly proven reviews left seem to be from people who experience no difference.
Making sure you gain the proper results is the strict purpose of these elite rated brands.
Carb-Ease Ingredients and Dosage
Only to be taken with a meal, and preferably 2 capsules with a starch heavy meal. So finally you get to gourde yourself on all the carbohydrates you want right?
Well here is the caveat, you cannot, as only some of the carbohydrates have been shown to potentially be blocked. What does that mean? By blocked it means it gets removed through your stool so you gain two things potentially.
More time on the toilet.
A higher toilet paper bill
Hey if you want to learn how sausages are made, there it is, it isn't pretty but it is the intended reality. Now let us take a look at the ingredient listing.
Green Coffee Bean Extract(Svetol)- A patented version of Green Coffee Bean, it is intended to provide a relief in the absorption of carbohydrates. However it is lacking much studies.
White Kidney Bean Extract(Phase 2)- Extracted from a white bean, it is supposed to stop the intake of carbohydrates.  Although it only works when eaten alongside carbohydrates.
Brown Seaweed(id-alG)- This seaweed is added to provide iodine. Iodine of course supplements the thyroid and increases anti inflammatory effects, reduces obesity, anti oxidant source, and is intended to reduce blood sugar.
Grape Seed Extract- An anti estrogen forming and potentially blood flow increasing ingredient.
Here is the represented label for the brand Carb-Ease: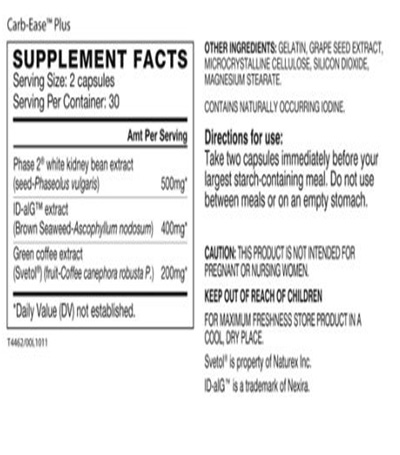 Are there possible side effects?
Absolutely there is some potential for side effects. Many customers have reported the following to be true for them.
Nausea
Vomiting
Stomach Cramps
Indigestion
Constipation
Increased bathroom time
And finally bloating and lots of it.
It is also worth adding that the product does not have a money back guarantee. So if you face any of the above it is your issues to deal with alone. Your pockets will also be lighter considering the high price required to purchase this brand.
It is possible to gain the positive benefits of weight loss without the nagging possibilities of side effects that plague many brands.
Conclusion
Well a mountain of potential issues are here to stick with this brand. Unfortunately it has been linked to some shady history due to the bad business practices. I'm talking of course about the $1.9 million lawsuit. Throwing their own spokesperson under the bus, and for allowing some awfully questionable reviews to be left.
Then of course there is the documented lacking results from many of the brands. One issue that has not been corrected is where the fat loss is supposed to come. None of the reviews I saw showed a reduction in fats. Maybe fat accumulation due to the carb blocking properties over time. However this then implies only high carbohydrate eaters could see a difference. A difference that is not as comprehensive as it could be.
Nowhere in this blend is there any of the following:
Appetite suppression, Thermogenic qualities, or A Money Back Guarantee.
All of the 3 above are qualities that would have been ideal to have. Also the ingredients here are pricy when you factor in other brands which have the same or similar ingredients for a reduction of price. Too many things are lacking here to accurately promote it from a decent brand, to one of the best which is featured in the link below.
What is provided in the most elite level brands is the reported ability to lose weight without the fear of limited results or even worse, no results.
Buy Carb-Ease
Top 10 Diet Pills of 2023
Top 10 Diet Shakes of 2023