Avesil Review – Does it Really Work?
The knowledge on the possibilities of a stimulant are well documented and in detailed form. However it is increasingly hard to know exactly what one can potentially expect.  A lot is at play with a stimulant, including the strength down to the milligram and of course what else is surrounded by it if anything. If other ingredients are here then what could the possible impact on combining both be? Well this also raises even further questions such as what is the background on the company ethics and degree of handling safety?
Weight loss supplements range so much in their abilities and adding stimulants adds a degree of surefire trickiness. So muddled in this mess are many buzz words and with that it is incredibly difficult to begin. Further pushing this is the marketing strategies existing which further add a degree of the unknown.
So progressing through this one needs a helpful guide, an outline taking apart and deconstructing the possibilities. Presented here is the key details, a guide on Avesil and what exists inside it.
What is it?
A self described non stimulant that still manages to boost metabolism. The product has a website that seems to be currently off. Therefore there is a limited amount of knowledge provided by the manufacturers. After observing customer accounts and snippets from the manufacturers it's clear the product intends to provide multiple uses. It is intended to convert body fat into energy and even help regulate blood sugar. Their Amazon.com page mentions how the product also is supposed to give energy without the use of stimulants.
Athletes are even set to supposedly gain overall improved motor function and muscular performance. This is not documented in any studies however.
There is a wealth of information about the products use from customer reports and I've managed to assemble all the best details for an informed decision.
Who makes it?
Due to the front page being down the only small bits of information offered are from the ordering page. Apparently a free trial offer is possible and in fact the page does not have a product ordering page for larger amounts than a free trial. What is concerning about this is twofold. Not only does one not have the opportunity to buy a real dose but many have complained of being auto-billed. This practice has been flagged by the FTC for luring customers into a false sense of security.
Over 26 customers on Consumer Affairs.com have reported billing to their accounts for months now. Apparently they have been charged even after customers repeatedly tried to cancel their accounts. The free trial quickly extends into a service contract requiring around $89.99 per month for a months supply.  Some have even added they tried on repeat occasions to try and cancel without any method of doing so. This makes it hard to understand why the company would do this. The fact so many have repeated the same issues raises concerns that should be addressed before even considering trying.
Does Avesil work?
It works in some ways, just not the intended one. Many have mentioned a direct negative impact when sampling this product. In fact many have asserted they felt jitteriness and that they could not sleep. This goes against what the company clearly mentions on the advertising featured on the label.  Many customers have left negative experiences to no experience in weight loss whatsoever. In fact 54 reviews on Amazon.com mention the same shared results. Of having no change whatsoever.
It's important to note since the product has a lot of caffeine one may experience a short lived burst of energy and potentially some thermogenic effects. However these same effects can be retreated with similar caffeine strengths from tea or coffee. Also these effects are quickly adapted to in the body. Essentially the product may have some effects but it is not long term at all.
Only the most satisfactory brands made it in the Top Listing of weight loss products now available.
Avesil Ingredients and Dosage
Basically a routine needs to be centered around the taking of this supplement. One must take it between one and a half to two and a half hours before a meal, twice a day with water. The full glass of water needed is likely due to the dehydrating effects one may experience when taking a large amount of caffeine.
Speaking on the caffeine the manufacturers clearly state to avoid taking it too close to bedtime as it may disrupt ones natural sleeping patterns. Unfortunately though caffeine surely has a noticeable effect it truly is not needed at all. Companies enjoying playing caffeine in their products due to the natural thermogenic effects. However warnings are needed specifically for this brand as the potential for negative effects has been documented by real customers.
It is also unclear as to how this formula is advanced and new. It calls into account what was used before and whether or not enough testing was done on the original batch to satisfy curiosity.
The label for Avesil is really clear as to the dosage strength of each of its ingredients: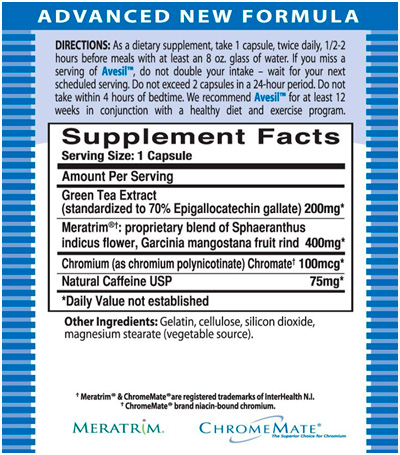 Are there possible side effects?
There have been a few reported potential side effects with Avesil. One of the most glaring and repeat offenders has to be how the amounts of caffeine found inside have had unwanted effects on the body.. Reports from customers include sleeplessness, jitteriness, anxiety, and inability to sit still. Some have even included that they supplemented with a basic dose and still felt a negative impact. These customers have no way of reconciling their differences with the company. This explains why several customers have left reviews on the internet, it was their only way to vent and report just how lacking this product really is.
Also to add concern is that customer reports have echoed similar notions on unsuccessful attempts to stop billing. That they tried calling and canceling the product with no success. This means that any adverse effects will not be handled with a money back guarantee. One does get the common respect of being acknowledged by company due to their hidden tactics.
Finding the proper Top Rated products without a possibility for side effects can be easily found.
Conclusion
It really is difficult to know how and if this product can provide a good enough experience. The manufacturers have essentially kept themselves out of reach and instead have relied on short snippets to sell their products. No form of customer testimonials are offered and instead the focus of the company is simply to sell.
Avesil's official website only has a ordering form and if one were to try and research the company through their own representations it would leave you scratching your head. It's odd that they do not mention much useful information and instead promise things without evidence. This may be in part due to the overwhelming negative feedback left on numerous websites. The repeat statements talk of being charged for products that customers believed would be free. Also some mention they felt negative side effects with no way of reconciling for any damages. It just leaves too much doubt and not enough backbone by the company to secure a transaction. With no explanation of company practices or quality assurances it leaves customers with no real reason to sample this product at all.
Top Products that have been rated highly are now available to ensure the companies you deal with are here for your best interests.
Buy Avesil
Top 10 Diet Pills of 2023
Top 10 Diet Shakes of 2023