Asia Black Review – Is Asia Black Safe for You?
What was once a common sight in supplements has recently been banned in many countries due to concerns over safety. Ephedra was often added as a tool for weight loss brands due to its effects on noticeable weight reduction. However it became clear that nationwide particularly in the US, cases came about documenting the amount of issues. Some even died after taking this natural plant extract. However Ephedra extracts now exist and are added to supplements to provide a safer alternative.
Asia Black is a brand that features an Ephedra extract, which is supposed to give off somewhat weaker weight loss effects than straight Ephedra. Of course this also comes without the risk that regular Ephedra caused on the body. Still there are also other factors in play such as the other numerous surrounding ingredients in the brand. With so much to uncover there is sufficient information to make an educated decision.
These details are provided here to make the decision on whether or not Asia Black works for you.
What is it?
Meant to burn calories through the day as if "one were in the gym all day", this thermogenic complex features unique ingredients to its formula. There is claims that it combines Caffeine, Aspirin and Ephedra. Will not necessarily true, it does have components similar to the ingredients it claims. For example there is an Ephedra extract and a compound here that mimics Aspirin, Caffeine is certainly added here however. While this combination seems a bit strange and excessive, it was actually once popular amongst bodybuilding types who needed an extra push.  The idea is that Ephedra on its own has effects on increasing calorie burning, but the body quickly adapts and creates a tolerance. With the addition of Caffeine and Aspirin it is meant to keep on going. Also some of the touted benefits are to increase metabolism, decrease hunger, and rapidly get rid of weight.
So this brand essentially is intended to provide a long term solution to weight loss.
It is worth adding that these statements do not come from the official makers, but instead if added by 3rd party sellers which distribute this brand. Currently the official website for this product is down.
Who makes it?
The creators Cloma Pharma, LLC are behind Asia Black and their website is currently down with no way to see what they are about.  A notice on the official website states they are in the middle of a recall due to the manufacturing processing done by another company named NovaCare, LLC out of Utah.
Apparently their manufacturing company where products like Asia Black have been created were contaminated and a recall was instated.  They offer a recall form to fill out and the company adds to avoid taking any more of their products.
An FDA letter documents the reasoning behind the recall. Unknown levels of Salicylic Acid were added to batches. This acid is toxic when swallowed and can cause a series of nasty side effects such as nausea, vomiting, loss of hearing, mental confusion, blurred vision, cerebral edema and respiratory arrest. All of which can lead to life threatening side effects.  The FDA also adds the voluntary recall should be strictly enforced and to no longer take any batches of the brand.  It is unclear as to how this ingredient was leaked however, Asia Black is one of the brands that have been deemed to be unsafe by FDA and even the company's own standards.
Does Asia Black work?
Some reviews left have noted an increase in energy. This is most likely due to the caffeine content inside. Of course adding caffeine of any kind would most assuredly cause energy to be ramped up. There isn't any information online however about the functional long term use. Many thermogenic blends build up a tolerance which has not been studied in this brand. Of course there is also still the FDA and company warning to stop taking the brand due to the contamination with a bad ingredient.
Many alternatives exist to provide weight loss at a functional rate.
Asia Black Ingredients and Dosage
Quite a lot exists here and on top of the list is B vitamins and Chromium Picolinate for metabolism.
The ephedra extract, Caffeine and Guarana added here form to add some energy and mental focus.
Yohimbine, Citrus Aurantium both are fat burning compounds added.  Meanwhile Evodia is somewhat similar, working as a thermogenic. Green Tea, Yerba Mate are both teas with noted antioxidants and stimulant effects. Panax Ginseng has been noted to produce benefits on mental clarity and cognitive health.
Bladderwrack is seaweed with added Iodine for healthy thyroid effects. There is also cayenne which is good for increasing metabolism. Also added is ginger root for digestion as well.
L- Tyrosine works to relieve stress buildup and N-Acetyl-L-Carnitine is usually only fat burning when a person is deficient in it, which is rare.
As far as dosing it is not to be consumed for longer than 12 weeks, with 3 capsules maximum daily, one after each meal. Looking at the warning label it is also recommended to not begin consuming it if one has a history of physical issues which feature a long list. It is also highly suggested to seek a physician's recommendation before supplementing with this brand.
Asia Black and what it is made up of is featured here: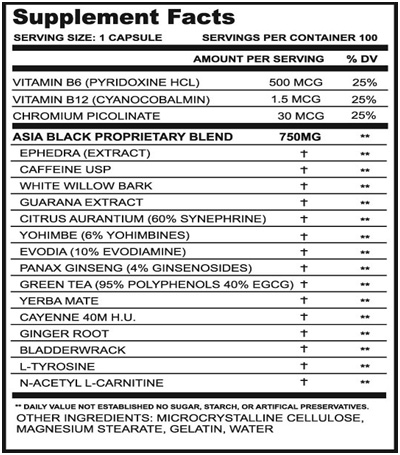 Are there possible side effects?
Luckily a few of the most noted side effects that are possible have been added to the label of this bottle. Loss of appetite, nervousness, tremors and nausea are added as possible side effects. Other noted issues from the ingredient profile include vomiting, diarrhea, headaches, difficulty concentrating, insomnia, anxiety, inability to concentrate, rapid heart rate, jump in blood pressure, and heart palpitations.
Of course the added increase in potential health issues exist with those who have any heart conditions or other serious medical issues.
Also with the knowledge of the ingredient which caused a recall it could potentially lead to organ failure and even death in some cases.
You can avoid these types of side effects when you supplement with the proper brands.
Conclusion
One has to give credit to the company for being so forthright about the state of Asia Black. It allows a full disclosure about what has happened to this thermogenic weight loss product. Unfortunately outside their own hand the company was forced to recall this brand due to contamination with a potentially fatal additive. While the company was not directly at fault for the contamination they still held themselves accountable. So with the FDA notice of the ingredient which is toxic when swallowed, the brand decided to stop all types of selling of this brand. Unfortunately some 3rd party sellers still market and sell the brand without giving notice to the FDA recall. So without knowing the quality one has to assume that the "quarantined" brand is no longer safe for consumption according to FDA reports.
While the brand also has a list of noted potential side effects,  this extra banned ingredient adds another layer that must be taken seriously. Even looking at the ingredient blend alone it appears to be potentially harmful. There is a combination of Citrus Aurantium and Caffeine which has been shown on quite a few tests to produce potentially harmful side effects. Some of the noted issues includes a possibility for organ failure and hospitalization due to rapid heart rate. So with this information intact and combining it with the banned ingredient, it becomes clear there is a lot of potential for failure here.
Asia Black may come back and get a full restructured ingredient profile which does not have the potentially fatal ingredient. Still, a lot of changes beyond that need to come about before one can take this product with an ease of mind. Too many potentially harmful stimulants are inside this brand and there is no guarantee of safety at all. It bears repeating once more that the FDA has deemed the product unsafe as it stands and it is not recommended to be consumed.
Brands exist that have not been tampered with harmful ingredients, brands that work to produce weight loss change.
Buy Asia Black
Top 10 Diet Pills of 2023
Top 10 Diet Shakes of 2023