Appethyl Review – All You Need to Know About This Product.
Supplements with an intended focus on providing greens have been in steady demand especially with those who refuse to spend time cooking, and those who can not stand the taste. The key idea is to give a convenience easy to take product with health benefits. What matters more than anything is the extraction process. Since it isn't as fresh or as inexpensive as a full batch of greens there is numerous questions raised. One must really discover the answer to avoid taking in a bunk product which isn't worth your energy.
How can you figure out the reality vs the assumed opinion? Well the purpose of this Appethyl review is to give you the tools needed. It simplifies what is a hard to discover and time consuming journey.
Get rid of the unnecessary clutter of numerous amounts of information and instead get an easy to digest review right here. So you have the advantage of knowing all the details in a simplified format, so you can discover what you need.
What is it?
This unique green powder is intended for weight loss, and what makes it truly unique is that all it features is spinach. Of course it isn't just any old batch of spinach, but a specially treated spinach intended to preserve as much of the vitamin content as possible. This is secured through a bio-active process which allows the properties in spinach to be digested immediately upon supplementing with this product. Thylakoids are the actual name of the components found in spinach which are important for weight loss. This provides the body with reported weight loss benefits and faster breakdown of fats that would normally accumulate in the body. It also has the added benefit of making appetite suppression a very real thing, so in turn one burns fat and it makes one unable to eat as much as they would regularly, at least that is the reported selling point of this particular green friendly brand.
One has access to the multiple types of products offered with this patented ingredient. There are of course supplement capsules, powders, and even a kids formula with fruity flavors to satisfy their taste buds. For the adults there are berry and natural flavors available. There's even a 15 day free trial offered by the company, however one has to submit credit card information and of course it is an auto ship program one is investing in. The practices of an auto ship program have been typically unappreciated by customers who often report feeling sighted. More on that will be revealed later.
This all natural and patented ingredient has been included in this product and it appears at least on the front to be a good supplement. Although the question arises how much different is this brand from just regular spinach? Is it worth the cost and how valuable is it actually? The answers to these questions lies within.
Who makes it?
The Swedish company Greenleaf Medical AB has made this brand and they are currently a company that uses science to find extracts of ingredients. Their most famous patent was awarded in 2023 and it officially marked Appethyl as one of their main stage products. The company has had a tradition of sourcing only all natural ingredients around the globe.
As of this writing there is no indication of a full money back guarantee beyond a 15 day mandatory auto ship program. It's impossible to know how honored this is but at the rate of 15 days it would be hard for a customer to quickly try the product seeing if it works, returning it and waiting for the process of information. Much like any other quick acting auto ship program there is a lot at stake and it's impossible to know how accurate the company's policies actually are.
Does Appethyl work?
Funny enough Amazon.com has 24 negative reviews alongside 23 favorable reviews. Some of the comments on the positive side include a reasoning that the product helps in reduce cravings for junk food. These people add their intake and desire of foods was brought down. However it must be noted that since it does contain spinach extract that it might be due to the filling factor spinach has. Which of course can be purchased at a cheaper rate if bought separately.
As far as the negative reviews of which there are more, many claim they simply didn't have any effect at all. Also added into the conversation is that people felt like it was difficult to choke down and it did not have a favorable taste at all. So for many of these individuals not only did it do nothing, but it was hard on the taste buds. By doing nothing it means it didn't bring down weight nor did it have an effect on bringing weight down.
Seeking the very best will ensure you actually get the results you command.
Appethyl Ingredients and Dosage
The list of ingredients is just one in this patented formula. This is of course their form of powdered spinach by the name of Appethyl. The marketing employed suggests it should be taken just once a day in the morning, this goes for both the capsules as well as the powders. So it can be added fairly simple and the manufacturers even add an easy to read nutrition fact list which is fairly moderate in terms of nutrients. A far more reaching amount of nutritional support can be seen in whole spinach that is not formulated into an extract. Of course it also comes at a cheaper price as well and it can be found in any decent supermarket. So by looking at the ingredients there is the convenience of use if one were to supplement with a capsule, still, this benefit is slight and really more of a detriment as the high price tag does not seem like it is really worth it.  A month's supply runs at about $48 without adding in the shipping and handling cost. Typically a bunch of spinach which can last a while will cost from $2 to $5 roughly depending on where you buy it. Since the nutritional value is far superior and the cost is far less, the overall better choice would be all natural spinach instead of purchasing this specific brand.
Though just one ingredient can be found, here are the nutrition facts in their complete form: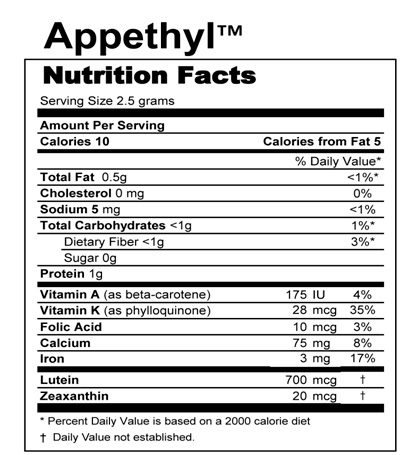 Are there possible side effects?
Well the manufactures claim it is side effect free and that one should not worry. Online reviews tend to focus more on the product not working but a few have added they felt stomach cramps while taking this brand. Also some have reported the taste is awful which of course can lead to some unwanted nausea.
Far more potential and less concern over side effects can be found when looking at the properly rated products.
Conclusion
No doubt that there is a lot of good to be done when taking spinach. Not only is it one of the most nutritionally dense foods out there but it is fairly cheap, abundant, and it is low calorie meaning you could add it to any diet without fear of over consuming. This is all packed into all natural spinach. This extract however is not the most prime form of spinach available as it has to sacrifice being more easily transported by reducing a lot of the nutrients found in spinach. Yes it is meant to contain a high amount of healthy properties but it is not documented and shown how much more if any is preserved. So it then calls into question not just why one should, but who really would with all the knowledge present on this?
It just doesn't make sense when you factor in all the important and established facts. Appethyl has not been rated favorably by most of their customers and it remains to be seen as to how these issues were resolved. Due to the auto shipping practice applied by the company it calls into account their practices. Until further knowledge exists on how they handle returns it is a lot of faith to give to an unknown.
Also added to the mix is the fact that the product is really expensive. Regular spinach costs significantly cheaper and in fact many customers have reported this extract as not being useful. Many of the claims of fat loss and appetite suppression were not felt in many. It makes it hard to justify the price tag further when most of the reviews focus solely on this product being inefficient. Of course one still has to contend with the reality of how it will effect your body. Without long term studies on what this product can do for you it is unknown what one can expect in full. Regular spinach is just a far superior choice in overall quality and it won't have you spending large amounts of cash for something that has not yet been approved by most of the people who tried this brand. Clearly there are far better options that exist out there.
Highly approved products are here to stay because customers just love the results they have experienced in full.
Buy Appethyl
Top 10 Diet Pills of 2023
Top 10 Diet Shakes of 2023