Apatrim Review – All You Need to Know About This Product.
When trying to cut weight one of the biggest obstacles is food, eating too much of it no matter how much exercise is added will always play a role in keeping fat stored. So caloric deprivation is the sought after goal for many weight loss brands. Whether it be through the addition of fiber or other sources of hunger satisfaction, the goal is to keep the food away. Still, depending on the product it may just be easier and cheaper to simply eat more fiber. Apatrim intends to be the only product needed however, for getting rid of hunger. At least that is what the creators would like one to believe.
Of course appetite suppression is the key in losing weight as calories translate to fat if over consumed. So in order to find out if this brand has the capability to drop the weight off, this fine tuned review has all the details needed to accurately judge it.
There is some interesting facts about this brand that resurfaced recently which show what it is all about. So to uncover what has been exposed about Apatrim, read on for further insight.
What is it?
5 pounds were apparently lost during a 4 week stretch of trials performed by this company. They proudly claim on the front of the label that this was accomplished through the appetite suppressing qualities that are found in this brand. No small accomplishment for sure, and the front of the bottle says it has 400% more fat loss. Looking at the fine print this is meant to mean that the placebo group lost just 1 pound, while others lost 5.  Also the claim is that with the self imposed trials that people also lost an inch off their waistline, in comparison to no inches lost by the placebo group. Another interesting claim is that neither of the groups added a diet or exercise regimen to lose the weight. In a somewhat contradictory and unexplained way, the bottle also states people lost 8 pounds in 4 weeks.
It is unclear which is the true statement or how this figure was reached. If one 4 week study showed 5 pounds lost and another 8, why not just use the more positive sounding 8?
Also there is no documentation of this trial and since it is self imposed, one cannot take it for fact as more information is needed. This information can be read about below.
Who makes it?
Ohio based PatentHEALTH, LLC has created this brand, and they no longer exist unfortunately. While the company has gone under for unexplained reasons, their brands still continue to surface. The company has been linked to an FTC investigation over the health claims made on their products which were deemed as requiring more evidence to substantiate the reported benefits.  While the company no longer operates it makes sense why as there was investigations by Federal entities. Though no documentation exists of further check ins, one cannot help but feel something troubling was amiss. There was also an FDA back and forth between the company. Apparently they tried to substantiate some incredible health claims from their products. However since the company ceases to exist it is uncertain what the full extent of the conversation was with the FDA.
Since the company no longer makes this brand, any batches sold of it are to be considered old. Also it is unknown how old. Still, if one were to take this brand there would be no money back guarantee offered at all so caution must be exerted if one were to supplement with it.  Really any damages that could be potentially felt are not to be handled by the third party retailers which still sell and market this brand. Any and all potential damages are left to the customer.
Does Apatrim work?
Not much information exists from customer reviews. Only a handful of reviews even exist with some claiming absolutely no change, others adding they did feel a reduction of hunger. Still, without knowing if the batches here are actually not expired, one would have to submit to purchasing an unknown brand that is abandoned by its own makers. Also the clinical trial which was performed by the company is said to show how one can gain results. Well these results are not published anywhere and a self imposed study reeks of potential bias.
Ingredients that have customers feeling results are featured inside the listing of the very best supplements today.
Apatrim Ingredients and Dosage
One sole ingredient is featured in this brand and it goes by the name of Caralluma Fimbriata.  2 capsules of this brand are to be taken a half hour before lunch and dinner. With a maximum of 6 capsules a day for adults only.
The active ingredient has had long historical use as an ingredient used to prevent hunger in people who were starving.  Apparently however the ingredient must have been hard to use, as it takes about a month for the effects to kick in, assuming they are felt at all. Very few studies have actually tested this ingredient for both safety and effectiveness.  Since there is such lacking studies done in the field of science it is seen as a promising, yet not proven ingredient.
Just one ingredient makes up the Apatrim brand: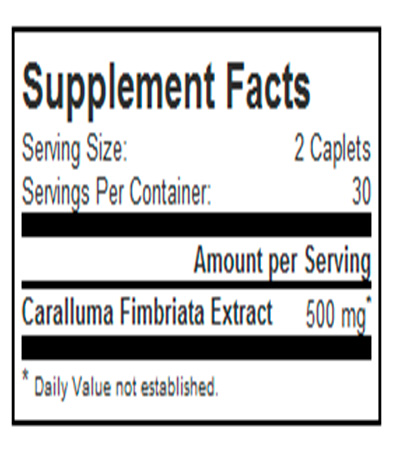 Are there possible side effects?
Some of the studies performed have shown a possible effect on increasing nausea, stomach discomfort, gas, constipation and stomach pain. Of course since it has not been tested for longer than 60 days there is the potential risk for even more side effects. Without knowing these potentials it is a mystery that is still up in the air.  To add even more strife the age of this product is unknown as the makers no longer make this product. So any and all purchases made are guaranteed to be from old bottles which may increase the risk factor by a lot. Taking in anything that is old and dated can produce unwanted effects that have yet to be seen. Usually products have an expiration date that if taken after could cause some unwanted and nasty side effects.
Making sure you know of the full history of a supplements ingredients avoids any of the potential nasty side effects one might feel.
Conclusion
Although the pitch for this brand seemed quite promising, there is not much to actually support its use for weight loss. The manufacturers have straight up left and are not available to give their insight for this brand any longer. All the sales of it are not backed by a safety guarantee nor do they have a money back guarantee. So if anything were to occur, all damages are to be handled and felt by the customer alone.
Still looking at what the makers have claimed to be possible with this brand at least in the past, is very suspect. They cite their own studies to show a 5 pound, and perhaps 8 pound change in weight within 4 weeks. Though they do not allow for these studies to be shown. What is known about the sole ingredient is that it may reduce weight but it is uncertain. Not enough studies have showcased it as being the appetite suppressant that they have claimed in the past.
Once again we have to go back to the past. Since the pills here are no longer made in fresh quantities. 3rd party resellers have this brand and sell it with the big promises made in the past. Of course if anything were to happen it would all fall on you. So since the makers have abandoned this brand, it really calls into question why anyone should trust it?
There are far too many potential negatives at stake with very little support to show it can actually benefit one in the positive. Breaking it down easy here are the key details. The company no longer exists, there is no money or safety guarantee, the key ingredient is highly under researched, and the bottles of this are getting older with no way to get a fresh dose.
Getting the results you want for weight reduction is the goal of these top ranking supplements.
Buy Apatrim
Top 10 Diet Pills of 2023
Top 10 Diet Shakes of 2023