Amidren Review – Is Amidren Safe?
Specialty items appear in many different types but they all feature the same thing, the belief that they work especially for a single set of person. Since it would make sense that it would be preferable to get a customized experience, there is a push towards getting supplements of this kind. By specialty item it means the product works specifically for a gender, age range, or specific demand. For example some weight loss products are meant for the 40 and older crowd.
Some brands offer what intends to be male or female specific benefits such as more estrogen or testosterone. Of course in recent memory there is therapy that is specifically watched over by a medical professional in order to ensure one is receiving the proper benefits at a steady rate. Hormones require fine tuning to ensure one is receiving the proper benefits and not too much of an increase or decline.
However Amidren is here to supposedly give off positive effects. So all that is left to do is analyze its true abilities.
What is it?
Made exclusively for men over the age of 40 who naturally lose their edge and in turn gain weight, Amidren was created to stop the natural decline of testosterone and muscle mass production.  The fighting cause is to help prevent the onset of symptoms related to sarcopenia, which is a fancy way of saying age related declines in muscle. According to the pitch a medical doctor came up with a solution that helped prevent the decline of metabolism. On the package of the bottle it claims to drastically reduce weight and that it will provide a lot of energy.
The main gist of the idea behind the brand is to give off "performance nutrition". Some of the claims this company has is that they performed a lot of research to really tackle what is needed in order to prevent the symptoms of aging in men. There is a short video done on some of the supplements which have a doctor describing what the intentions are of each supplement.  4 supplements are available under the umbrella name Amidren. There is a fat burner, testosterone booster, protein, and a lean muscle activator.
However all same the same basic principles through, which is to keep fat from accumulating and increasing overall energy.
Who makes it?
Sera-Pharma labs is a company that focuses on creating weight loss brands catered to specific issues such as too much glucose or intestinal health.
The National Advertising Division recommended that the company drop claims from Amidren specifically. There were many claims such as promises that the agency said had not been proven by the manufacturers.
Also the head doctor who is said to have been integral in the making of this product specializes in plastic surgery. It is unclear what the connection is between weight loss supplements and cosmetic surgery as they are two completely different fields of practice.
Does Amidren work?
Well there are some reviews left on customer review sites which state the product does have some modest effects. Specifically from the far burner product there have been claims made as to its use, however this might be due to the caffeine inside. Caffeine in any amount will have some effects however they can be reproduced for much cheaper and with less of an issue with side effects.
There has to be much more substantial change as the average review says it is decent. Many have said they will not go back because there wasn't enough justification on the price and overall benefits.  Too many people have added that it did not live up to the hype that was originally promised. Looking at the ingredients in the next section will go over why so many have added that there just is not enough going on.
Much more substantial changes are possible with the right supplementation.
Amidren Ingredients and Dosage
There is some controversy with most of the ingredients here. For example 7 Keto DHEA has had few studies which have been performed by people who would benefit from it being reviewed favorably. Not enough is provided really.
L-Carnitine is good but only if a person does not get enough of it in foods, supplementation only leads to fat loss with those who are deficient which is rare. L-Tyrosine is another ingredient which may aid in memory as well as relieving stress. However not enough has been presented to really showcase it as such.
Lotus leaf falls under the same trap of supposedly getting rid of fats in mice, but not enough exists to showcase a real human use in enough studies.
Guarana, caffeine and green coffee bean are stimulants which do have an effect but only for a limited time as the body adjusts to supplementing with these ingredients. Raspberry ketones has been tested to produce effects on increasing metabolism so that is one plus.
Finally choline is presented here which is often found in egg yolks.  All together however it appears there is too much lacking to support most of the ingredients placed inside this blend. One positive aspect is that the taking of it is quite simple, one in the afternoon and one in the morning. This has to be followed however as there is caffeine present which may keep you up all night if it is not taken early enough. So caution must be exercised as the possibility for insomnia is there.
Here is a representation of the fat burning brand provided by Amidren: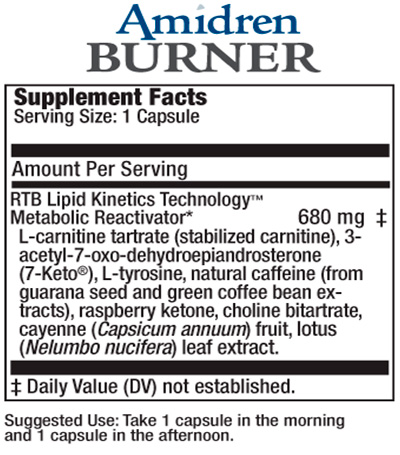 Are there possible side effects?
There tends to be an issue with supplements of this nature when there is the addition of caffeine and other stimulants placed together. The effect is meant to increase metabolism but for some it causes anxiety, mood swings, insomnia, headaches, and overall unease.
Other ingredients such as lotus leaf and 7 Keto DHEA have not been tested enough to show that they are safe for long term use.  Clearly there must be a lot of information presented in order to really satisfy customer curiosity. There are too many unanswered questions as to how much research went into these ingredients. Since the consensus on most of them is that t there is insufficient evidence it should then be revealed as to why the company decided to use it. It would make the threat of potential side effects become less of a worry.
Making sure you are not beholden to side effects is now possible with the proper brand.
Conclusion
To provide what is claimed to be a solution for the male gender is an interesting thought. While the manufacturers have defined their niche market the ingredients provided and customer acknowledgment leaves too much to be desired. Most of the concern customers have it that it really didn't do much. This is seen as not surprising when you examine the ingredient profile added. There are many ingredients still requiring more details to secure their place as being useful and safe for the body.
Too many variables exist that are not accounted for in the making of this product. Since it is intended to be formulated with a lot of research it would have been nice for them to reveal what sprang up. Since more than half the ingredients have yet to be studied fully, if they produced their own documents it would have eased the purchase.
Then what else stirs up trouble is the fact there is caffeine present which may be the only working ingredient. Of course caffeine is not considered a long term option as it has a diminishing returns effect that is not for weight loss in the future.  Looking at the price $54.99 for a 30 month supply then becomes a tedious thing. Why spend so much when there is not enough customer support or real known benefit from the ingredient profile.
The company also has some accounting to do since they were under fire by a national advertising agency which makes sure there is truth in advertising. All together there is insufficient evidence and a lack of customer consensus on the positive effects here.
Supplementing with the right brands means you can see the company history and customer satisfaction, all which is available here.
Buy Amidren
Top 10 Diet Pills of 2023
Top 10 Diet Shakes of 2023