AF Plus Review – All You Need to Know About This Product.
Supplements like AF Plus use a less traditional route in their approach, essentially marketing their brands via radio ads as opposed to online. This practice allows for a dated marketing strategy where there is more focus on an older crowd that still listens to radio. Of course weight loss brands come in many different packages with several techniques in place to help sell themselves. Still because there is money spent on it being exposed to the public eye, marketing alone is not enough to truly know what is to be expected.
In order to help understand what is attainable in AF Plus, this review is set in place to outline everything that exists. Due to the exposure of this product it should be fundamental to truly understand what it is capable of.
One of the main issues with doing most of the advertising on radio is of course it is hard to know what others have experienced. So outlined here are all the details on this brand, from the ground up.
What is it?
Claims of a scientifically backed formula loaded with antioxidants and nutrients for weight loss; are all said to make up this weight loss product. Although there exists no official company website any longer, there is radio ads and occasional TV advertisements that market this brand. Unfortunately these ads are not available for viewing so one has to catch it on the time that it is featured. Also to add even more trouble is the fact sellers of this brand are not affiliated at all with the marketing of it. So it truly adds a degree of difficulty to know if the claims made are backed by the company. However there is a claim on the bottle itself that it works to increase energy and metabolism. It is uncertain exactly how this works since no outline of the ingredients is available.
Luckily though, there are customer accounts on the brand as well as a company background which allows for a closer look at AF Plus.
Who makes it?
Original Organics is the name of the company, and they run their operations out of the state of Maine. They currently have an F rating on the Better Business Bureau website. This organization allows for customers to give input on quality service and handling of issues.  10 of the 16 complaints given have to do with issues on the billing.
A website which tracks alleged scam websites has 38 complaints from different customers. The average complaint given is that they were charged for what they were told to be a free trial. Some even add they automatically lost money from their accounts without being notified and without ever receiving the product. The average customer claims to have lost $79.00. Another scam watchdog site has customers exclaiming the exact same issues. Some even add that they tried to call the company but that on repeat occasions one one answers the phone.
Since there is no official company website and history of the company practices is only negative, it raises an important alarm. This brand has been around for some time now and their foot print of deceptive practices has been noted on many different websites. Even with this foot print there is not much information known about how the company creates this brand.
Does AF Plus work?
There are few reviews on the brand. It oddly enough has some positive remarks with people saying they lost the cravings for sweets. Others add that they felt absolutely no change. So it remains to be seen whether or not there is an actual long term benefit.
Since there is no money back guarantee if one were to purchase the bottle it would not be allowed to be returned. Also if one were to take the brand, you would not be able to actually know if the ingredients added here are actually so. With no accountability offered by the company any and all issues with use are left strictly on your hands.
Getting proper results is possible when you have the proper brand to back you up.
AF Plus Ingredients and Dosage
Since the product does have caffeine there is a recommendation to not take it within 5 hours of sleep. Also the brand is to be taken just once a day.
Added to this mix are a few antioxidants in the form of Green Tea with EGCG and catechins. Also there is pomegranate and acai which are both high in antioxidants. Of course caffeine equivalent to a cup of coffee is added, it gives a boost in metabolism and improves mental focus.
For mood and to provide mental clarity there is Panax Ginseng. Also Amla fruit is here to help ease blood sugar and to provide positive effects on the mind.
A Ebay seller managed to upload a picture of the supplement facts for AF Plus: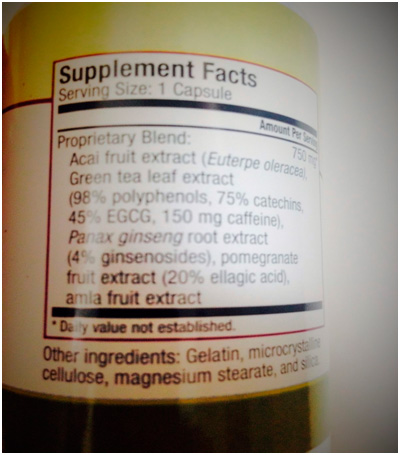 re there possible side effects?
The unfortunate aspect of taking a supplement of this kind which has no official backing from the makers is that it leaves a lot of doubt. You are not able to truly know if the brand working will product the positive effects or if it is created in a safe facility. There is no certification of a GMP facility which means the FDA took part in making sure there is accountability on the area where this brand is created.
Also the rate of customer complaints which claim they could not reach the company is also an alarming fact. No money back guarantee at all is offered and this cannot be changed at all. Looking at the ingredients one should not assume that the brands sold are from fresh or untampered with ingredients. With no one to hold accountable any and all damages are to be left with the customer alone. Also worth noting is that although the company has organic in their name, none of the ingredients are actually organically sourced.
Strictly taking the ingredients as they are claimed to be however, leads one to notice that there is caffeine present. This addition of caffeine can potentially cause a number of issues including headaches, insomnia, increased heart rate, jitters, anxiety, and hyperactivity.
Reputable companies allow you to avoid any nasty potential side effects.
Conclusion
Placing faith in a brand which has no form of accountability is potentially catastrophic situation. With no official website it also allows for any seller to add their own twist on the brand. Very little real information exists on the brand from the people who make it. All that is known about the creators is that they have only negative reviews on their practices. Several reviews in fact highlighting all the flaws people have been a part of. This includes not getting their money back and being charged for products never shipped. Customers have also added they tried to use the free trial to their benefit, only to be charged around $79 for their troubles. Getting a hold of anyone there to speak to is apparently impossible as well. Case after case exists of people adding they could not actually talk to anyone no matter how long they tried. Seeing as how there are multiple claims of this company operating a scam it really causes there to be tension.
Also looking at the ingredients while there are a lot of antioxidants, how is one to know if the quality is up to par? No form of identification is given to show if the product sold is fresh. Any and all issues related to quality are not to be handled by the company, instead they are to be dealt with by customers only. This lack of accountability is staggering and should be avoided in order to have a satisfactory experience. There is far too much at stake to blindly trust a company that has only negative reviews.
So to quickly summarize the company has only negative reviews, customer accounts of having the credit cards charged without resolve, unknown safety and no money back guarantee, reports of the company operating a scam, and caffeine present in the product.
Established companies with brands they fully endorse and that customers enjoy are here in the top rated list.
Buy AF Plus
Top 10 Diet Pills of 2023
Top 10 Diet Shakes of 2023