AdrenaLean Review – Does it Really Work?
Getting stimulants into your diet is a way to get a change in many different aspects related to weight loss. The real question one must figure out is if it safe safe enough to be consumed? Also is it worth the investment in the body as it can potentially cause a series of issues when supplemented freely. Another thing to figure out is whether or not the effects felt are to be long term. Some stimulants naturally build a tolerance in the body which makes it work less effective in the long term. AdrenaLean is a stimulant laden product and more information should be extracted to know what it can do.
To present you with the tools necessary to make an informed decision is the reason why this review exists. It has all the details you need to accurately judge for your own demands.
Especially if one is taking stimulants there has to be extra attention to detail to ensure one is getting what is needed. Represented here in full is the breakdown of AdrenaLean.
What is it?
This weight loss product is intended to provide a long lasting energy as well as a huge reduction in appetite.  Also added here is the ability stated on the bottle, which claims it to incinerate fat.  Unfortunate an issue with the creators website does not allow for a full expression by the makers. However there are multiple retailers such as GNC and Amazon.com that offer more information on the brand. The official website which is having difficulties actually links to a GNC link to establish a secure purchase of the brand.
What separates this from other stimulant brands is that apparently this one will not give any of the nasty jitters that other products have. There is still caffeine present however and for some people this may not be a preferable ingredient.
Still many different stimulant compounds exist in this brand and that requires more insight as to how it is meant to work.
Who makes it?
The company is called ByoRhythm and they offer a few brands for people in the fitness realm. They also claim in their about us section to provide products that may cost a lot, but you get what you pay for according to them.
The company is based out of Pennsylvania and they do offer a money back guarantee within 30 days. However the product must be returned unopened.
After looking into the brand it became clear that they changed their name, but used to be called Exclusive Supplements, Inc. In fact the address to where the shipping returns are sent to are still named after the original name. This might be due to the FDA concerns which were leaked out in a few letters. One letter was sent warning the company to stop using an unapproved drug that masked the effects of steroid use.
In 2023 another FDA warning came for a few of the companies brands over concerns of claims made which were unsubstantiated. Many claims were made for certain products which made unproven claims.  A lawsuit was actually filed against the company from a person claiming that AdrenaLean has false claims that are not proven.
Does AdrenaLean work?
Not surprisingly there are a few reports that supplementation with this brand were shown to work. Seeing the stimulant profile it would make sense. However some customers have added concerns over the quality of the effects felt. I'll go over it in the potential side effects portion.
Also since there has been FDA intervention and a pending lawsuit, both over the unsubstantiated claims on the manufacturer there is a lot of concern over all the reported positive effects actually working.
Long term weight loss is a goal that can be found in the right products.
AdrenaLean Ingredients and Dosage
The delivery system in which the product is said to produce maximum results is actually a fairly common addition. There are medium chain triglycerides which are good for absorption. Also common additives which provide minerals are included for a boosting effect.
Two pills are recommended a day before meals, this means one is getting 400 mg of coffee or about 2 to 3 cups of coffee a day.  Speaking of stimulants like coffee, there is Synephrine or bitter orange here and Yohimbine which are intended to burn fat. Combining Synephrine and caffeine does have effects on getting rid of fat, however they are often recommended not to be combined for potential side effects.
Hoodia Gordonii is also here to give fat burning properties and an increase in testosterone, however results for this have been incredibly limited.
Here is the supplement facts listing for the AdrenaLean brand: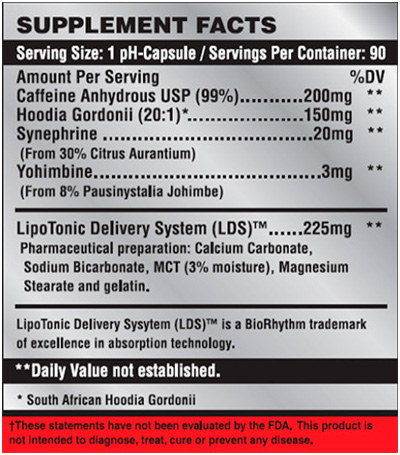 Are there possible side effects?
There are quite a few dangerous potential effects when mixing the ingredients present. For one as mentioned the combination of Synephrine and Caffeine is not to be taken lightly. There have been reports on many medical sites to never mix the two as it can cause some issues in some. This can include rapid heart rate, increased tremors, anxiety, stroke, heart attack and heart failure. So to take that into account alongside the other ingredients is often not recommended for supplementation according to websites like WebMD.
Yohimbine has also been shown to more than likely not effect weight loss, but it has shown a potential for increasing anxiety to an extreme degree. Keep in mind this is what it can potentially do alone. Combining it with 400 mg of caffeine a day is something that has shown to cause issues in certain people. It is no wonder there is a recommendation to seek a physician's assistance in case of any harmful side effects.
What is troublesome especially for this brand is that they claim there is no nasty side effects such as jitters. Jitters might be the last of one's concerns as there is a potential for stroke and heart failure. To combine all these stimulants together can potentially cause even more damage that is not studied. Major concern is raised when this product has a pending lawsuit over the beneficial claims. Until more information is revealed it remains to be seen what is the true potential for possible health complications.
Getting away from any and all side effects is possible when you supplement with the correct brands.
Conclusion
While there are major claims that the stimulants inside here will provide strong yet safe results, there are far too many red flags in the way. For example there is the potential for severe side effects in the combination of just a few of the ingredients. To combine them all together severely increases the potential risk factor.
Another issue to contend with are the numerous FDA complaints on this company's brands. Many issues have been reported over the lies made by the company, illegal banned ingredients used more than once, and finally a lawsuit over this very brand is currently being played out. So to take into account all these red flags it makes it clear, the company has been comfortable in the past with lying to customers about the good things their brands can do for you.
One more problem comes in the fact that the product is claimed to be free of any potential side effects at all. One quick Google search on the combination of Synephrine and Caffeine will clear that up quickly. Articles exist documenting people experiencing strokes and heart attacks. These events are not fabricated and they should be taken absolutely seriously. The fact the company claims no side effects are possible are a lie. This lie once again speaks back to their past history for making bogus claims on many of their brands. So it makes sense why it is no longer featured on their own website. Instead they allow other chain stores to sell it without providing their own reasoning as to why it is good. Simply put there is far too many potential risk factors in the form of safety and actual beneficial use to warrant a purchase. More must be revealed to go against their past of FDA complaints.
Quality top notch brands are featured in full inside this top listing of the very best in weight loss products.
Buy AdrenaLean
Top 10 Diet Pills of 2023
Top 10 Diet Shakes of 2023