Ab Cuts Review – How Safe and Effective is it?
Specialty or spot reduction weight loss has been marketed because of the allure of maintaining a specific tone and cut. Ab Cuts fits this profile and the intention is to produce visible abdominal muscles. There have been notes of controversy sorrounding this strategy due in part because some have said the body does not actually function in this fashion at all. However it is requested and customers flock to see if products like this actually produce the results and tone one would surely enjoy to have.
Abdominals of course mean one has low body fat percentage, so clearly it potentially could be a potential byproduct when taking weight loss tools. If the spot reduction ability is to be substantiated one needs the real proof, evidence and possibilities of its potential.
So all the research available is available in this review to assist your understanding on how Ab Cuts will perform.
You can then intelligently decide for your own demands if the ability and marketing speak each for itself, or if it needs more help.
What is it?
Given the name Ab Cuts one pictures a shredded physique, however these yellow soft gels have been created in order to provide a  simple combination of healthy fats. There's only 2 paragraphs offered by the company to explain what this product is exactly. However there is mention it will improve antioxidant function, increase one's metabolism and even help but not directly alter body fat.  All this in the form of an easy to digest liquid intended to be taken twice a day, with 4 maximum softgels daily.
So while the company assures no jitters(due to the lack of stimulants) since the formula is all oils it serves to fit a small market's demands. Of course the rate of harmful stimulation is surely a positive, but the company does not do a good job on marketing the product.
They do add diet and exercise are essential, once again meaning one cannot expect functional weight loss on this product alone. While the company has neglected to add much information there are countless resources available to inspect.
Who makes it?
Founded by the Corr-Jensen Labs Inc, company straight out of Colorado. Their flagship ingredient featured in their lineup is CLA(or Conjugated Linoleic Acid) which is often derived from meat or dairy sources. CLA is also added due to the reported belief that it can help fight obesity and even help regulate blood sugar levels.
A class action lawsuit was filed against the company for alleged false claims on the effectiveness for Ab Cuts on helping lose body fat. The suit claims the company exaggerated claims and that no evidence is provided at all to show that the fat loss is real. There's even claims by the prosecutors that the company's lineup of product can lead to cardiovascular issues and increase the rate of type 2 diabetes.
Does Ab Cuts work?
Scoping all the available reviews from companies is a mixed bag. First off the company does not feature any of their own testimonials or real proof of any sort. There is the mention of a few promising effects on metabolism and antioxidant function. However there is no cited reference of any kind to show if these claims hold any weight.
Taking anecdotal clues from consumers have this product reeling even further. A common complaint is that it does not work at all. Some have claimed they improved their diet and exercise(which the manufacturers add is essential) and still, zero changes.  Until much more in known about the source of their healthy fats it might suit one better to get the ingredients separately for cheaper.
Some customers did say they experienced some changes however this came at the expense of some potential side effects. More really needs to be known about the company's extraction methods to ensure the product is worth the money.
These Highly Rated Products fit customers demands for weight loss at their own terms.
Ab Cuts Ingredients and Dosage
This brand does not have any additives that could lead to a stimulated heart or uneasy mental fogginess. It does have fish oils which automatically excludes vegetarians. Also some have mentioned they experienced "fish burps" from the product. Unfortunately fish of any kind has mercury and some more than others. There's often a mercury level rating scale for fish related products. This product does not have a listed amount of mercury. This makes it hard to know what to expect. Seeing as how mercury can be detrimental it's important for customers to know in order to track their own needs.
The rest of the oils in sesame, flax, and borage are all decent, but they can be purchased for cheaper. Also similar to the fish oil, without knowing the manufacturers extraction methods it is hard to know what will happen inside one's body when taking this product.
Peering at the label one notices the emphasis on safflower oil. Unfortunately this can be found much cheaper solo and no indicators are given from the company as to how this particular extract is superior: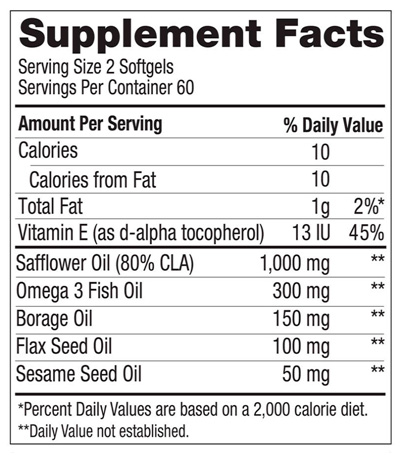 Are there possible side effects?
Taking a look at the available reviews one gets a feel for a few interesting potential side effects that may occur.  The minor ones being gas that leads to "fish burps". Slightly gross and surrounding people may not appreciate this very much. Other smaller issues are intestinal discomfort and bloating. This may be in part to the fish oil, typically low caliber fish extracts may be taken from low quality or inferior fish varietals.
With Amazon.com having 62 negative reviews it's no wonder there is questions as to the processing of this product. Until the company exposes their mercury levels in their fish oil and the extraction process, one may have to experience the side effects reported by several customers.
Taking the plunge into the most Elite Products showcases a side effect free weight loss experience.
Conclusion
The idea that the company had behind this product is to feature a list of ingredients without thermogenics to limit side effects. They added a combination of oils that have shown to be of a good value when treated properly. The issue is of course one does not know if the treatment process was done in a suitable manner. It's important to know how the product was extracted when considering there is mercury in any and all fish products. This one leaves customers in the dark and without a way to know exactly how much is inside. It's not just a finicky detail it is important to know what you are putting into your body. There's a reason why so many have experiences some gross potential side effects. The product says it does not have certain side effects. However it does not exclude other potential issues.
Overall the product is an interesting combination of healthy oils. Though no certification of it working is available. Certainly these oils properties can be bought separately for much cheaper. However the effects for long term weight loss have yet to be seen for this brand. Until more information is divulged it's hard to ever know if this product is all hype or if it is even functional in small forms. What is known for sure is that the company lacks real information and one cannot play with an unknown product.
Stronger yet not laden with any side effect issues; hard working and Top Rated supplements can provide results.
Buy Ab Cuts
Top 10 Diet Pills of 2023
Top 10 Diet Shakes of 2023